Koreas Successfully Implement September 2018 Comprehensive Military Agreement
The two Koreas successfully implement a historic Comprehensive Military Agreement.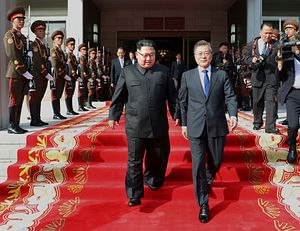 As of Thursday, November 1, the major provisions of the September 19 inter-Korean Comprehensive Military Agreement (CMA) took effect. The land-, sea-, and air-based tension-reduction measures took effect, with both countries taking steps as required by the agreement to prevent the odds of an accidental clash.
Per the agreement, the two sides will create a five-kilometer buffer zone—including a no-fly zone, with some exceptions—to decrease the probability of hostile incidents. Furthermore, the two sides will take measures to stop artillery and other training exercises along the Military Demarcation Line, the armistice line that has separated the two Koreas since 1953.
At sea, the two sides have moved to cover the barrels of their coastal artillery batteries and ship guns. To manage tensions in the East and West seas, the two have agreed to, starting Thursday, cease any and all live-fire and "maritime maneuver exercises" within specially designated zones.
The aerial provisions that went into effect on Thursday include a ban on live-fire drills involving any fixed-wing military aircraft and the firing of any air-to-ground ordnance within the designated no-fly zone.
The no-fly zone additionally restricts flight for "all aircraft types above the MDL" within specified markers. In the East Sea, the no-fly zone extends 40 km from the MDL. In the West Sea, the extension extends for 20 km.
In addition to the new provisions around the MDL, the CMA reaffirmed an older inter-Korean agreement, the 2004 agreement on the prevention of accidental military clashes in the West Sea.
The implementation comes after weeks of measures at the Joint Security Area (JSA) on the Military Demarcation Line, where the two sides, in conjunction with United Nations Command, successfully took demilitarization measures.
In accordance with Annex 2 of the inter-Korean CMA—the only portion of the agreement to explicitly involve the U.S.-led UNC—the sides removed landmines from the JSA and proceeded to disarm all military personnel at the JSA. Per the agreement, the two sides withdrew guard posts and removed surveillance equipment from the area.
The agreement's successful implementation marks a dramatic reduction in military tensions between the two sides and includes provisions that have never been included in similar inter-Korean agreements, including the minesweeping in the JSA.
For South Korean President Moon Jae-in, the agreement has enabled the conditions to allow this year's diplomacy to persist. The U.S.-South Korea alliance, in the meantime, has suspended several bilateral military exercises that North Korea regards as provocative.
Most recently, the alliance agreed to suspend this year's Vigilant Ace aerial exercises.