Is South Korea Considering Nuclear Weapons? 
Whether South Korea builds a nuclear bomb on its own or not, nuclear weapons are gaining greater importance in the national security thinking of many states in the Indo-Pacific.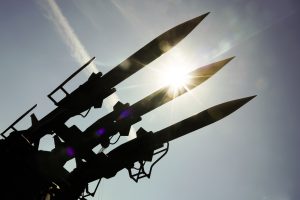 In a rather surprising move, South Korea President Yoon Suk-yeol publicly suggested the possibility of Seoul developing its own nuclear weapons in the face of growing nuclear threats from North Korea. He made the comment at an official policy briefing by South Korea's foreign and defense ministries on January 11. He reportedly suggested that South Korea could pursue its own nuclear bomb if the United States fails to deploy nuclear weapons in order to address the North Korean nuclear threat, saying this "would not take long" given the "technological prowess" of the South.
According to another report, Yoon reportedly stated, "It's possible that the problem gets worse and our country will introduce tactical nuclear weapons or build them on our own. If that's the case, we can have our own nuclear weapons pretty quickly, given our scientific and technological capabilities." 
Yoon's office fairly quickly clarified that South Korea had "no plans" to develop nuclear weapons. U.S. National Security Council spokesperson John Kirby highlighted the Korean clarification and added that both Washington and Seoul are in the process of making "improvements in extended deterrence capabilities." It is possible that Yoon's statement was intended to get a fresh reiteration from the United States on its commitment to augment its efforts in beefing up the extended deterrence capabilities. 
Such comments are demonstrative of the growing skepticism among U.S. allies on the credibility of U.S. security guarantees. Japan has also had such worries, and in fact there have been occasional comments from Japanese leaders that suggest that Japan is not entirely happy with its non-nuclear commitment. 
These comments are also indicative of the failure of the global non-proliferation architecture in curbing North Korea's nuclear and missile programs. The global nuclear non-proliferation order has clearly failed to place lasting limits on Pyongyang's nuclear weapons program. For all practical purposes, North Korea is a nuclear weapons state, strengthening its capabilities in terms of the size of the arsenal and delivery systems. North Korea has already conducted six nuclear tests, and there has been fear of a looming seventh nuclear test to potentially try out miniaturized versions of nuclear warheads that can fit on cruise missiles.
In addition, in 2022 alone, North Korea conducted more than 90 cruise and ballistic missile tests, breaking past records. Its nuclear arsenal appears to be steadily growing, with a number of new missiles being developed, including missiles with potentially intercontinental ranges, such as the Hwasong-14 and Hwasong-17. 
Given the overall state of its nuclear weapons program, the path to denuclearization of North Korea is clearly at a dead end. Washington's call for complete, verifiable, irreversible dismantlement is unlikely to yield results. Some U.S. officials have indeed suggested arms control with North Korea — which implies recognition of North Korea's nuclear weapon status in some form — though these comments were subsequently walked back by the U.S. State Department. These comments potentially heightened fears in Seoul that the United States was preparing the grounds for a change in policy toward North Korea. 
It is possible that this new reality is what is forcing South Korea to explore the possibility of developing its own nuclear weapons. According to some reports, several South Korean officials are keen on the U.S. deployment of its "strategic assets" on the Korean Peninsula with a "nuclear sharing" arrangement similar to U.S. arrangements in Europe. There are those in Seoul who tend to question the credibility of U.S. security guarantees and therefore want to acquire their own nuclear weapons. Reportedly, there are some U.S. policymakers who are open to such options. 
This is in recognition of the fact that North Korea appears to be in no mood to slow its pace of nuclear weapons development, including the delivery systems. Pyongyang has even lowered the threshold for nuclear use against the South in recent months.
The growing North Korean nuclear threat is pushing a change in both South Korean public opinion as well as among the political class. According to a media report, opinion surveys from recent years have seen a shift wherein "a majority of South Koreans supported the United States redeploying nuclear weapons to the South or the country's building an arsenal of its own." Yoon's own political party has been wanting South Korea "to reconsider a nuclear option." Between 2021 and 2022, there was a spike in the percentage of respondents supporting South Korea's pursuit of its own nuclear weapons program, with that support reaching 55.5 percent.
Survey results over the years show that the appetite for a domestic nuclear weapon rather than reliance on U.S. extended nuclear deterrence has been gaining greater traction. These surveys also reveal growing concerns about China, in addition to North Korea. 
Whether South Korea builds a nuclear bomb on its own or not, role of nuclear weapons is gaining greater importance in the national security thinking of many states in the Indo-Pacific. While North Korea may be providing fodder to the South Korean and possibly some of the Japanese internal debates, China and Russia and their efforts at nuclear modernization and saber-rattling do not help in reducing the role of nuclear weapons. On the contrary, Chinese and Russian actions have a spin-off effect on other nuclear weapon powers as well, resulting in an overall nuclear arms race in the Indo-Pacific. The Russian invasion of Ukraine, which voluntarily gave up its nuclear weapons back in 1994 in exchange for territorial security guarantees, is probably also adding to these fears.