Taiwan's Voters Have Dealt a Brutal Blow to the Ruling DPP
The KMT rode a "blue wave" in an election more about local concerns than the influence of China or the U.S.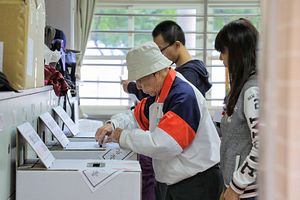 Taiwan's November 24 regional elections delivered a decisive victory for the opposition Kuomintang (KMT), along with a setback to supporters of marriage equality. The results leave the ruling Democratic Progressive Party (DPP) reeling ahead of the 2020 re-election campaign of President Tsai Ing-wen, who stepped down as party chairperson after her side's disappointing performance in Saturday's contests.
The KMT, which saw its mayoral candidate emerge victorious in Taiwan's southern city of Kaohsiung for the first time in 20 years and also took key contests in Taichung and New Taipei City, benefited from increasing dissatisfaction with the DPP over what voters saw as a failure to follow through on promises to stimulate Taiwan's faltering economy and implement pension and wage reform.
In Taipei, independent mayor Ko Wen-je won re-election in a closer than expected contest against two challengers. Meanwhile, referendum measures to legalize same-sex marriage in Taiwan's civil code and liberalize gender equity education failed, as did a proposal for the country's Olympic team to compete as "Taiwan" rather than "Chinese Taipei" in the 2020 Tokyo Olympics.
Saturday's results stunned many observers, but Tsai and her DPP had been lagging in public opinion polls for months. Pre-election momentum seemed to favor KMT challengers such as Kaohsiung's Han Kuo-yu, who trounced DPP challenger Chen Chi-mai in the city's mayoral contest by nine percentage points, and Lu Shiow-yen of Taichung, who ran away with a mayoral race that had been expected to remain close.
The sweeping KMT victory is being painted by some, including China's state-run tabloid Global Times, as favorable to Beijing. However, while some voters attribute Taiwan's economic stagnation in part to Tsai's refusal to acknowledge the so-called 1992 Consensus, the results more closely reflect local dissatisfaction with weak DPP candidates and a party platform that focused more on accusations of Chinese influence than clear and actionable policy proposals.
Fears of Chinese election meddling and disinformation dominated pre-election conversation among much of the Taiwanese public and especially among DPP legislators. The scope of Chinese influence on this year's campaigns remains unknown, but at present, there has been no hard evidence that interference from Beijing was a major factor in Saturday's results. Taiwan's position in the escalating U.S.-China trade conflict loomed large, however: the KMT, which favors eventual reunification, is seen as closer to China; the DPP, which traditionally favors independence, is striving to align itself with U.S. policy initiatives.
While the United States, which this year expanded its de facto embassy in Taipei, and the DPP have found common ground in promoting an alternate economic order in the Asia-Pacific, Taiwanese citizens were not convinced that the DPP's tack away from, and rhetoric against, China made for a fully formed policy platform.
Instead, voters focused on domestic failures such as a pension reform plan, which sparked major protests earlier this year, and an August response to flooding in Taiwan's south, which was panned as insufficient. Tsai's signature New Southbound Policy, meant to forge closer ties with Southeast Asian neighbors and decouple Taiwan's markets from China, has failed to impress voters, raising concerns over murky economic viability and inconsistent messaging on human rights. Taiwan has also seen its diplomatic allies poached by Beijing; it now has just 17 formal allies after the Dominican Republic, Burkina Faso, and El Salvador abandoned Taiwan in 2018 alone.
Ko Wen-je's pre-election remarks that Taiwan is "just a product on a shelf" for the United States, made in an October interview with Bloomberg, thus resonated with some voters. Many Taiwanese wish to maintain the status quo at present and wonder whether the DPP has failed to be calculated in detaching Taiwan from its cross-strait neighbor. Ko, a former trauma surgeon, won a second term as Taipei mayor by a razor-thin margin over KMT candidate Ting Shou-chung without backing from either major party. The DPP's Pasuya Yao drew a sizable protest vote, possibly due in part to Ko's now-infamous 2015 comments that the "two sides of the [Taiwan] Strait are one family."
This philosophical division points to a fissure in Taiwanese society over the island's geopolitical stance, along with the practicality of the DPP's anti-China positioning. In the 2020 presidential election, just 14 months away, Tsai could face a challenge from Ko, who seems hesitant to advocate for any particular closeness with either the United States or China.
There has also been speculation that Han, the incoming Kaohsiung mayor, could enter the race. The firebrand KMT ex-legislator ran a populist campaign, calling DPP-ruled Kaohsiung "old and poor" and offering radical proposals such as drilling for oil around the disputed South China Sea island of Itu Aba, which Taiwan claims under the name Taiping. Han embraces the KMT platform of recognizing the 1992 Consensus, and Beijing has already responded by pledging to send more Chinese tour groups to Kaohsiung.
While the DPP picks up the pieces from Saturday's resounding defeat, officials will surely question the party's 2017 reforms of Taiwan's Referendum Act, which saw 10 questions presented to voters along with ballots to select regional and local leaders. A chaotic day of long lines and ballot-box confusion saw voters ultimately reject marriage equality, keep the "Chinese Taipei" Olympic name, and support domestic nuclear power along with the continuation of a ban on food imports from Japan's Fukushima disaster areas. The new referendum process, which requires 25 percent of voters to vote "Yes" while outnumbering "No" voters to ensure passage, is now drawing unfavorable comparisons to Brexit less than one year after Tsai called its implementation a "historic moment."
The DPP now finds itself with just over a year to recover in the aftermath of its electoral losses which, shocking as they were, reflect a long-simmering sense of domestic dissatisfaction that has finally boiled over.