Mattis to Leave Trump Administration January 1, To Be Replaced by Patrick Shanahan
Trump has dismissed his inaugural secretary of defense over policy disagreements.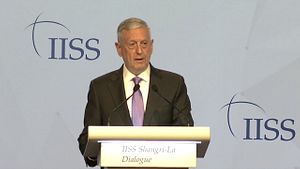 U.S. Defense Secretary Jim Mattis will be leaving President Donald J. Trump's cabinet effective January 1 despite his announced resignation date of February 28. On Sunday, Trump announced via Twitter that Mattis would leave office two months earlier than anticipated and be replaced by Patrick Shanahan, the current deputy secretary of defense, upon his departure.
"I am pleased to announce that our very talented Deputy Secretary of Defense, Patrick Shanahan, will assume the title of Acting Secretary of Defense starting January 1, 2019," Trump tweeted early on Sunday. "Patrick has a long list of accomplishments while serving as Deputy, & previously Boeing. He will be great!"
Trump's decision came nearly three days after Mattis announced his resignation on December 20. In his resignation letter, Mattis outlined divergences between himself and Trump and national security issues and noted that Trump should "have a Secretary of Defense whose views are better aligned with yours on these and other subjects."
"The end date for my tenure is February 28, 2019, a date that should allow sufficient time for a successor to be nominated and confirmed as well as to make sure the Department's interests are properly articulated and protected at upcoming events to include Congressional posture hearings and the NATO Defense Ministerial meeting in February," Mattis had written in a widely circulated resignation letter that underlined his fundamental disagreements with Trump on the appropriate overseas role for the United States.
According to a senior administration official cited by the Washington Post, Mattis was informed of his dismissal by U.S. Secretary of State Mike Pompeo who had been directed by Trump to inform the secretary of defense.
Mattis' departure on January 1 will mark the departure of one of Trump's most notable inaugural cabinet appointments. Mattis' resignation letter was delivered shortly after Trump's decision to announce a unilateral U.S. withdrawal from Syria and a decision to also leave the 1987 Intermediate-Range Nuclear Forces Treaty. Brett McGurk, the U.S. envoy to the international coalition combating the Islamic State in Iraq and Syria, resigned shortly after Mattis' decision.
Mattis' letter in particular emphasized the important role that U.S. alliances play in U.S. national security. His resignation comes ahead of the slated expiration deadline of the U.S.-South Korea Special Measures Agreement, the bilateral allied agreement that governs burden-sharing.
"We are substantially subsidizing the Militaries of many VERY rich countries all over the world, while at the same time these countries take total advantage of the U.S., and our TAXPAYERS, on Trade," Trump tweeted on Monday, one day after he announced Shanahan's appointment. "I DO, and it is being fixed!"