South Korea Once Again Choked by Dangerous Smog
The heavy pollution is a recurring issue, but there's no clear solution in sight.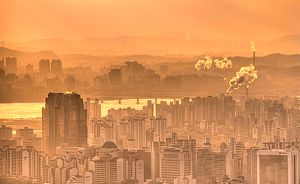 For the second year in a row, South Korea is starting off the new year with severe levels of toxic fine dust pollution. Starting last week, levels of particulate matter in Seoul spiked to a record-high daily average of 115 micrograms per cubic meter of air — for reference, the World Health Organization has set its guidelines at just 25 micrograms as a daily average, although they note that no level of fine dust pollution could be truly considered "safe."
As the amount of pollution grew, major cities across the country activated emergency measures aimed at reducing emissions, including capping thermal power plant output at 80 percent of normal operations, banning certain older diesel fuel vehicles from driving in city limits, and forcing half of public officials to leave their cars at home on alternating days.
On January 15, President Moon Jae-in met with leaders of major Korean companies and took a walk around the Blue House grounds amid the smog to discuss a range of issues, including research on how to curb South Korea's pollution problem. Samsung, whose vice chairman Lee Jae-yong was at the Blue House meeting, recently opened a fine dust research institute to look into possible solutions for the crisis. It's still unclear, however, what actual measures will be put in place to tackle the issue in a long-term, sustained way.
Part of the problem is that the years-long argument about who is to blame for the pollution rages on. Many blame China for causing the problem, saying that much of the pollution is blown over to Korea from industrial clusters on China's east coast. Indeed, this week's spike in pollution has corresponded with the annual increase in emissions China experiences in the winter, and studies have found that as much as 50-60 percent of the pollution in South Korea can be traced back to its western neighbor.
However, even if that's true, that still leaves a large chunk of the problem — and the solution — in the hands of South Korea. And some studies have even muddied the waters further, finding that South Korean investment into Chinese enterprises has contributed to an increase in emissions that eventually float back over to the peninsula.
Another factor that has allowed this issue to linger is its cyclical nature. Every few months pollution reaches severe levels, angering the public and prompting promises of drastic measures curb the problem. But after a week or two the smog dissipates, and the story disappears from the headlines, along with the urgency and public pressure to do whatever it takes to permanently put a dent in emissions. In fact, a group of South Korean citizens has brought a class-action lawsuit against both the South Korean and Chinese governments, accusing them of failing to take the problem seriously and take concrete steps to improve the situation.
In the meantime, South Koreans have focused on trying to cut down on the hazardous health impacts that fine dust can cause. Sales of particle-blocking face masks have spiked, as have sales of air purifiers. South Koreans generally still air-dry their clothes, but sales of clothing dryers have also seen an increase recently, especially models with air purifying functions. Huffington Post Korea has even prepared a handy guide on how to adjust your skincare routine to make sure all the nasty fine dust particles are removed from your face before bed.
It's clear that just curbing the number of drivers on the road or cutting back slightly on power plant output is not enough to address the problem, especially since those regulations only go into effect once the pollution has already reached dangerously high levels. And yet, South Korea seems to be in the same place it was exactly a year ago. Drastic, sustained policies are desperately needed if South Korea is to get out from under the blanket of smog that seems to reappear every few months.
Jenna Gibson is a doctoral student in political science at the University of Chicago and a Korea blogger for The Diplomat. You can find her on Twitter at @jennargibson.