KMT's Cross-Strait Peace Treaty Idea Sparks Controversy in Taiwan
KMT chairman Wu Den-yih's idea of a cross-strait peace agreement did not go over well.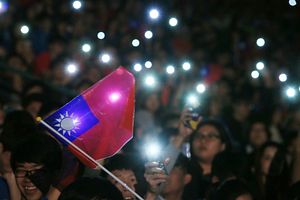 Taiwan's opposition Kuomintang (KMT) has taken heat after chairman Wu Den-yih floated the idea of signing a cross-strait peace treaty with China, just months after the party notched commanding victories in November's regional elections.
Wu said on February 14 that, should the KMT return to power in 2020, the party would consider pursuing a peace deal with Beijing. This would ostensibly cement a warming of cross-strait ties and resume the dialogue between Taiwan and China, which was severed by Beijing after President Tsai Ing-wen of the Democratic Progressive Party (DPP) took office in 2016.
Tsai's approval ratings remain low and opinion polls, while notoriously unreliable in Taiwan, have her trailing behind KMT presidential hopeful Eric Chu, whom she defeated in 2016, by up to 30 percentage points.
However, her administration's swift rejection of a cross-strait peace deal has proven popular with the public, who by and large support the DPP's stance toward China and reject the "1992 consensus," an alleged agreement that states Taiwan and China agree there is "one China" but are free to interpret what that means.
China did not comment on the proposed agreement until February 27, when Taiwan Affairs Office spokesperson An Fengshan said the activities of Taiwan independence advocates (a term often used by China to refer to the DPP, which favors eventual independence) remained an obstacle to cross-strait peace. An said the "one China principle" must be adhered to by both sides – a stipulation that remains a non-starter for the DPP and for most Taiwanese voters.
Did the KMT's Trial Balloon Pop Early?
Wu's comments sparked a round of debate among both major Taiwanese parties. In a February 20 press conference, Tsai said no cross-strait peace deal could be reached while Beijing refuses to rule out the use of force to assert sovereignty over Taiwan, adding that Taiwanese "would not accept any political agreements that would destroy or harm national sovereignty, or put an end to Taiwan's democracy."
Premier Su Tseng-chang, along with Taiwan's Ministry of Foreign Affairs and its Mainland Affairs Council, which governs cross-strait affairs, also spoke out against the proposed peace deal.
Chiang Huang-chih, a law professor at National Taiwan University, argued that a cross-strait peace treaty could lead to international matters undertaken by Taiwan, such as U.S. arms sales to the country, being considered domestic affairs of China, irrevocably harming Taiwan's sovereignty.
Chiang's argument went viral among Taiwanese citizens, the vast majority of whom do not favor ceding Taiwan's sovereignty to the rule of Beijing. Chinese leader Xi Jinping's pitch for a "one country, two systems" form of governance in a January 2 speech was received coolly in Taiwan, where 81 percent of citizens say they do not support such a framework, according to a January 9 survey by the Cross-Strait Policy Association.
KMT presidential hopefuls such as Eric Chu, until recently mayor of New Taipei, and legislator Wang Jin-pyng have spoken favorably of a potential cross-strait peace agreement. (Wu is also considered to be mulling a presidential run.) Kaohsiung mayor Han Kuo-yu – who has not signaled he is considering a run, but who is polling ahead of Tsai and other KMT candidates among the public – said recently a peace treaty with China is "inevitable" as "the dynamics of cross-strait relations are becoming more and more volatile."
The bevy of public comments could be appeals to the KMT's China-friendly base ahead of a bitter fight for the party's nomination. The idea may also serve as a trial balloon of sorts to test the public's affinity for the KMT's cross-strait platform, including its support for the "1992 consensus." While voters supported Tsai's January rebuke of Xi Jinping, November's elections showed they do not support the bulk of her administration's work in the domestic arena.
The DPP Proposes a Cross-Strait Referendum
Shortly after Wu's comments, Taiwan's DPP cabinet and legislature vowed to prioritize a bill that, if passed, would make any cross-strait peace deal subject to a national referendum.
Taiwan has a liberal referendum law that allows for publicly submitted plebiscites to easily reach the ballot. (Voters decided on 10 questions during November's elections and provided results rejecting core DPP policies on energy, food imports, and marriage equality, among others.) However, voters cannot use referendums to alter Taiwan's constitution, meaning it is presently impossible to hold a formal independence referendum.
A potential cross-strait referendum act would amend the Act Governing Relations Between the People of the Taiwan Area and the Mainland Area, which was passed in 1992, to require a referendum to be held before any peace deal with Beijing is formally signed.
Voters have been asked before to decide on cross-strait affairs at the polls. Prior to his 2012 re-election, former President Ma Ying-jeou said he wanted to put a potential cross-strait peace deal to a referendum following heavy criticism of the idea. In 2004, then-President Chen Shui-bian of the DPP proposed two referendums to counter China's military threat and urge a peaceful dialogue with Beijing. The referendums were boycotted by the KMT and the pan-Blue coalition and failed to pass due to insufficient voter turnout.
The DPP proposal, conversely, has received broad support. Wu has said he would not oppose a bill to mandate that any cross-strait deal is subject to a public vote.
Politically, the DPP could leave Taiwan's cross-strait fate in the hands of voters should it lose to the resurgent KMT, or an independent such as Taipei mayor Ko Wen-je, in the upcoming 2020 presidential election.
However, it remains to be seen whether Taiwan's Referendum Act survives in its current form. The country's referendum process was heavily criticized by observers in Taiwan and internationally after November's elections, and its election commission looks set to reform the public plebiscite process – meaning that the mechanisms of any public decision on Taiwan's cross-strait future remain hard to predict.