Taiwan Is Swept by the 'Han Wave'
The populist mayor of Kaohsiung is a cultural phenomenon who looks set to make his presence known in Taiwan's presidential race.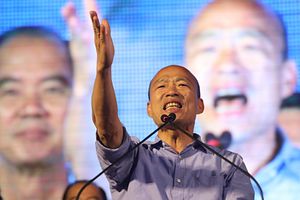 Han Kuo-yu is everywhere. To his supporters, he is a movement politician; a harbinger of hope smashing an ineffectual Taiwanese political order. To others, his rapid ascent from fringe figure of the Kuomintang (KMT) to mayor of Kaohsiung, Taiwan's second-largest city, is a civic catastrophe. Regardless, Han Kuo-yu is ubiquitous, dominating news cycles like no other public official in Taiwan.
In a poll published in February by the Chinese-language Apple Daily, Han, who has been mayor for less than three months, notched a 35.1 percent approval rating for Taiwan's upcoming 2020 presidential election, beating out other KMT presidential hopefuls and incumbent President Tsai Ing-wen of the Democratic Progressive Party (DPP). Han remains mum on whether he plans to run, but the fact Taiwan is having this conversation is itself astounding.
Han, 61, is not exactly a political novice. He had a stint as KMT legislator from 1992 to 2001, mostly nondescript other than an incident in which he assaulted then-lawmaker and future President Chen Shui-bian. Han was a KMT outcast for years before resurfacing as head of a farmer's association – in his mayoral campaign, he would call himself a "bald guy who sells vegetables." In May 2018, he was quietly nominated by the KMT to run for mayor in the DPP stronghold of Kaohsiung, one year after losing a bid for KMT chairman in which he picked up just 5.8 percent of the vote. He received almost no party support in a race seen as a surefire win for DPP candidate Chen Chi-mai.
The rest is history: Han surged to a shocking victory behind a campaign of grandiose economic promises, saying he would bring a Disney theme park and F1 racing to Kaohsiung to breathe life into a city which, despite its solid economic standing, he called "old and poor."
Han, who spent most of his career in the north of Taiwan, did not descend into Kaohsiung on a golden escalator, but his tough-talking and braggadocious style has drawn inevitable comparisons to other insurgent and unimaginably successful populist campaigns. His early track record of delivering on his campaign promises is, by his own admission, not good, and his penchant for racist and misogynistic remarks has drawn continuous scrutiny. Despite this, his popularity appears to be growing. Taiwan, for better or worse, is captivated by Han Kuo-yu.
President Han: A Possibility in 2020?
Nobody knows whether Han may find his way into a crowded KMT field, in which 2016 presidential candidate Eric Chu, legislator Wang Jin-pyng, and current party chairman Wu Den-yih are all expected to seek the presidential nomination. Han has refused to tip his hand, but his cross-strait views have already come into focus.
Han holds the core KMT position of supporting the "1992 Consensus," which states that there is "one China" but Taipei and Beijing are free to interpret what that means. Tsai Ing-wen and the DPP do not recognize the consensus, which Chinese leader Xi Jinping interpreted in a January speech as allowing a Hong Kong-like "one country, two systems" model to be implemented in Taiwan. Han has called peace talks with China "inevitable," staking out a position that fellow KMT hopefuls have waded into with varying degrees of hesitance. "Where does [Tsai] want to lead us?" he said in February. "Keep buying weapons, provoking the other side… This is the wrong approach."
The mayor, who has spoken of how Chinese cooperation can stimulate Kaohsiung's economy, is planning to visit Hong Kong, Macau, Shenzhen, and Xiamen on a six-day trip from March 22 to March 28. China's Taiwan Affairs Office said it "welcomed and supported" the plans. Han says the trip will not be political in nature; it may be a precursor to regular city-to-city cross-strait exchanges, a model pioneered by independent Taipei mayor Ko Wen-je that is popular among newly minted KMT mayors.
Han's warmth toward Beijing contrasts heavily with the attitude among the ruling DPP. Premier Su Tseng-chang told Han that while the government welcomes cross-strait ties between local governments, the mayor must not be "hemmed in by political frameworks imposed by a totalitarian Chinese government that has not given up annexing Taiwan by force." Han insisted on the campaign trail he would separate economic and political matters as mayor, but skeptics say his plans to turn to China to boost Kaohsiung's fortunes in a tense cross-strait climate range somewhere between hopelessly naïve and a threat to national sovereignty.
Han said earlier this week he was committed to serving his four-year term as mayor of Kaohsiung, only to blast as inaccurate subsequent reports claiming he would not run for president. His mayoral term has started on uneven footing. In a January city council meeting, DPP councilors grilled Han on how he planned to fulfill his campaign promises; the mayor offered little in the form of concrete plans. Han accused the Tsai administration of scuttling a February meeting with Malaysia's minister of agriculture, although the ministry said it had never scheduled a meeting with Han. A plan to invite Arnold Schwarzenegger to Kaohsiung was just put on hold.
If the grandiosity of Han the campaigner has truly collided with the realities of governance, this has not yet shown itself in the polls. Should Han run for president, he will have to navigate a party hierarchy that appears occupied with prospective candidates who have long awaited their turn – namely KMT heavyweights Wu and Wang, who are longtime purveyors of influence in opposing factions of the party.
Of course, the field of KMT hopefuls will hope to capture Han's magnetic popularity, a phenomenon dubbed the "Han wave" in Taiwan. Wang, a force behind several successful KMT candidates, aided Han during his mayoral campaign. Wu, the party chairman, said on Wednesday his party could consider drafting Han into the presidential race should his popularity continue to surge.
Han's viral popularity likely helped other KMT candidates through Taiwan deliver upset electoral victories in November. Any successful KMT challenge of the Tsai administration in 2020 will certainly have much to do with Han, regardless of whether he enters the race or not. The mayor, rapturous to some and noxious to others, is not going away anytime soon.