China Conducts Air, Naval Exercises off Southeast Waters
The exercises come after the approval of a major U.S. arms package for Taiwan.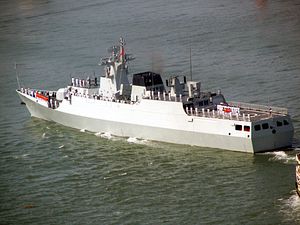 The Chinese People's Liberation Army Air Force (PLAAF) and People's Liberation Army Navy (PLAN) conducted joint exercises near the Taiwan Strait recently.
According to an announcement released on Sunday by the Chinese Ministry of Defense, the exercise took place "in the water and air space including China's southeast coastal areas in recent days," according to a short report on the exercise released on the Ministry of Defense website.
"The drills are routine arrangements according to the annual plans of the military force," the Ministry of Defense's statement noted. There was no further clarification, but the statement did not mention Taiwan or the Taiwan Strait specifically.
The exercises come days after the United States authorized a new large arms package for Taiwan — the largest such combined sale under the Trump administration.
As The Diplomat reported last week, the U.S. State Department notified American lawmakers that two sales were approved.
The first involved the sale of 108 M1A2T Abrams tanks, along with a range of support equipment and arms, including M2 Chrysler Mount machine guns, M240 machine guns, M88A2 HERCULES vehicles, and M1070A1 Heavy Equipment Transporters. This first package is valued at an estimated $2 billion.
In a separate package, the State Department also approved the sale of 250 Block I -92F MANPAD Stinger missiles and four I-92F MANPAD Stinger Fly-to-Buy missiles. This second package is valued at an estimated $223.56 million.
The Chinese government sharply criticized the sale. "Taiwan is an inalienable part of China's territory. China's firm opposition to the U.S. arms sales to Taiwan is clear and consistent. The U.S. arms sales to Taiwan severely violates [sic] the one-China principle and the three China-U.S. joint communiques," Wu Qian, a spokesperson for the Chinese Ministry of Defense, said.
In a separate statement, the Chinese Ministry of Foreign Affairs threatened that American firms involved in defense equipment sales to Taiwan would be hit with "sanctions."
"To safeguard our national interests, China will impose sanctions on the U.S. enterprises involved in the above-mentioned arms sales to Taiwan," Geng Shuang, a spokesperson, said on Thursday.
The announcement of the exercises also came amid a stopover by Tsai Ing-wen, the Taiwanese president, in the United States on her way to the Caribbean. Tsai visited New York from Thursday to Saturday and is expected to stop in Denver, Colorado on her return trip.
The 1979 Taiwan Relations Act has governed the United States' nonofficial relationship with Taipei and requires U.S. presidents to support Taiwan by providing "arms of a defensive character."
Formal U.S. diplomatic ties with Taiwan ended in 1979 when the second U.S.-China joint communiqué established formal Washington-Beijing ties.