Kim Jong Un's Horseback Stunt Is No Laughing Matter
Kim Jong Un's latest photo-op might inspire laughs, but it's an important sign.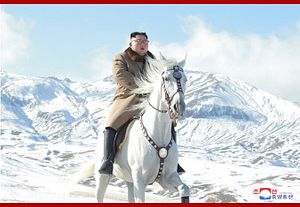 Headlines on Wednesday around the world have underscored the striking ridiculousness of North Korea's latest propaganda demonstration. Yes, that's indeed North Korean leader Kim Jong Un, astride a pale white horse, in the snow around the mythical Mount Paektu. But it'd be a mistake to brush off this latest North Korean spectacle as just another example of the country's seeming innate strangeness. The Kim-on-a-horse demonstration this week follows a long pattern of gradual and growing mythmaking around Kim Jong Un this year.
Following the failed U.S.-North Korea Hanoi summit in particular, North Korean state media has devoted considerable attention to building up Kim Jong Un. While as suryong, or the supreme leader, his authority is unquestioned atop North Korea's monolithic political system, Kim Jong Un's place in internal propaganda remains below that of his father Kim Jong Il and especially his grandfather — the national founder — Kim Il Sung.
In the days before the October 10 anniversary, which marks the founding of the predecessor to what eventually became the all-encompassing Workers' Party of Korea, North Korean state television ran a prominent new documentary lionizing Kim Jong Un. Entitled "The Shining History of Victorious Juche," the documentary showcased Kim giving economic guidance, underscoring his leadership of the ongoing ideological project outlined his in April 20, 2018, "new strategic line" to focus all efforts on the economy. (In April 2018, Kim declared that his prior line of byungjin, or the simultaneous pursuit of a nuclear deterrent and economic strength, had been successfully accomplished in 2017).
The new documentary isn't the only piece of evidence pointing to an all-round propaganda effort to elevate Kim. As Rachel Minyoung Lee, a North Korean propaganda analyst at NK News, notes, Rodong Sinmun, the national newspaper, featured two "rare, authoritative" articles on ideology. It published one such article in 2017, none in 2018, and none between 2003 and 2016. Separately, Rodong Sinmun editorials throughout the year, but especially after the Hanoi summit, have underscored Kim Jong Un's unique leadership contributions.
Kim's horseback antics also continue a prominent propaganda theme under his tenure so far. More so than his father, Kim has sought to connect himself in mannerism, attire, and apparently leadership to his grandfather, Kim Il Sung. The overcoat he's seen wearing, for instance, is a familiar one from previous wintertime guidance visits around the country by the North Korean leader: it resembles one that his grandfather would wear for similar activities.
North Korean propaganda isn't merely an aesthetic; it has a purpose. In context, Kim Jong Un's snowbound horseback joyride augurs a potential shift in national strategy in the weeks and months ahead. Indeed, with his New Year's Day warning this year of a "new way" ahead should diplomacy with the United States lead to a dead end, Kim may be getting ready to take his country down a different path.
The Korean Central News Agency's accompanying text to the images of Kim on a horse, however, tell an interesting story. The article references "headwinds" and "arduous struggle," the latter an evocation of the "arduous march," or late-1990s famine in North Korea. With relief from international sanctions appearing a remote possibility as talks with the United States go nowhere, the message here is that harder economic times may lie ahead. But the message isn't doom-and-gloom: KCNA suggests that the purpose of Kim's visit to Mount Paektu has to do with his will to pursue economic renewal "by its own efforts."
These themes evoke a message similar to what Kim delivered at the 4th Plenary Meeting of the 7th Central Committee of the Workers' Party in April this year. "He underscored the need to more vigorously advance socialist construction by dint of self-supporting national economy … so as to deal a telling blow to the hostile forces who go with bloodshot eyes miscalculating that sanctions can bring the DPRK to its knees," the Rodong Sinmun report on that event noted. Kim was telling the party that they'd have to buckle up and work hard; sanctions relief wasn't imminent. Now on horseback, he's reiterating that same message.
Finally, the closing lines of the English translation of the KCNA article accompanying Kim's horseback photos has drawn attention. Kim, it is said, has promised to "strike the world with wonder again." That sounds ominous, but it may not necessarily indicate something like an intercontinental-range ballistic missile or nuclear test, breaking the April 2018 self-enforced moratorium. Instead, given the economic themes of this event, Kim may be poetically presaging something like a satellite launch. The space program has mostly been dormant in the propaganda sphere since the February 2016 launch of the Kwangmyongsong-4 satellite. Under Kim Jong Un, the space program has received considerable attention and has been set up as the paramount exemplar of North Korea's self-reliant, scientific capabilities.
The first months of 2020 may have Kim looking to the stars once again.