South Korea's Cho Kuk Saga Ends
Justice Minister Cho Kuk stepped down after months of controversy and weeks of protests.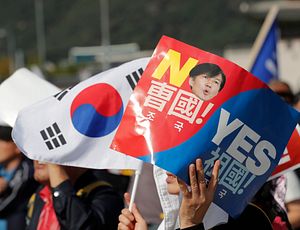 After months of controversy that led to weeks of massive protests both for and against him, embattled South Korean Justice Minister Cho Kuk has finally stepped down. 
Cho originally served as President Moon Jae-in's senior secretary for civil affairs until he was nominated for the position of justice minister in August of 2019. Cho's main agenda was to overhaul the national prosecutor's office, a branch of the Justice Ministry that investigates high-level and politically sensitive cases. 
The office has been unpopular among the Korean public for years, and subsequent administrations have vowed to reform it, to no avail. In particular, critics say prosecutors have too much power — in Korea, it is prosecutors who seek warrants for suspects under investigation, and prosecutors, not grand juries, issue indictments. In addition, critics charge that politics have infiltrated the office, and that whoever is in power can too easily use the prosecutor's office to suppress political opponents.
Ironically, Cho himself came under investigation by that very office after allegations came forward that his daughter may have gained unfair advantage in her admission to medical school. His wife was later implicated in both related and separate scandals. The accusations hit Cho particularly hard, as he was known for his advocacy of equality and for calling out politicians for unethical behavior. Many critics saw the alleged advantages his family gained through their connections and money as the highest form of hypocrisy.
Amid ongoing investigations into these allegations, Cho faced a grueling confirmation procedure in the National Assembly. Although the body eventually declined to endorse Cho, Moon pushed ahead with his appointment anyway. While National Assembly confirmation is not required for minister-level appointments, it is expected, and Moon's decision to flout their decision stoked controversy.
This anger brought conservative critics of Cho, and the Moon administration more broadly, out to the streets. At its peak, the anti-Cho protests may have drawn hundreds of thousands of participants, with huge gatherings taking place week after week. These rallies later sparked large counterprotests by Cho's supporters.
After hanging on for months amid these ongoing protests, Cho announced his resignation on Monday, but not before getting the ball rolling on long-promised prosecutorial reforms. Right before stepping down, Cho pushed through several major changes which were subsequently approved by the Cabinet. 
The changes will close four of the seven special investigation divisions within district prosecutors' offices, leaving the final three to be converted into anti-corruption divisions. Other changes include limits on late-night questioning and on calling subjects for questioning in public, a harrowing experience for high-profile suspects who face a media barrage on their way to be questioned. Some of the reform process is still ongoing, however — the National Assembly is still working on a bill that would create a new, separate agency to investigate corruption among prosecutors themselves.
"I have decided not to burden the president and government with my family issues anymore," Cho said in his resignation statement. His role was merely as kindling for prosecutorial reform, he said, a role he can vacate now that the process is in motion. 
While Moon was able to push through his original goal — reform of the prosecutors office — this incident cost him weeks of political foot-dragging and declining support. The controversy over Cho's nomination, appointment, and eventual resignation dominated headlines for weeks, overshadowing any of Moon's other policies. 
According to a survey of Korean adults conducted at the end of September, 53.7 percent of respondents said Moon made a mistake by appointing Cho, 29.2 percent supported the appointment, and 17.1 percent were reserving judgement. The issue has also bled into Moon's overall approval rating, which dropped an all-time low of 42.5 percent earlier this week. The number, while low compared to Moon's generally solid public support to this point, is comparable to approval rates previous Korean presidents during the middle section of their term.
Jenna Gibson is a doctoral student in political science at the University of Chicago and a Korea blogger for The Diplomat. You can find her on Twitter at @jennargibson.