India's Army to Deploy Third Generation Anti-Tank Guided Missiles in Jammu and Kashmir
The Indian Army has reportedly been inducting the Israeli-made Spike anti-tank guided missile system along the Line of Control in Jammu and Kashmir.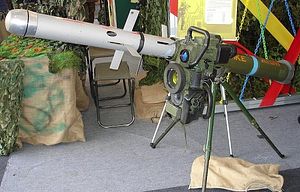 The Indian Army is deploying Israeli-made Rafael Advanced Defense Systems Spike medium-range (MR) anti-tank guided missiles (ATGM) along the Line of Control in Jammu and Kashmir to bolster the service's defense capabilities on the Pakistan border, according to local media reports.
The Indian Army has not officially confirmed whether the missile systems have already been deployed.
The service approved the import of 240 Spike ATGMs and 12 launchers as part of an "emergency purchase" to meet immediate operational requirements in April. (According to some Indian media reports, the Indian Army approved the purchase of an initial batch of 210 rather than 240 Spike ATGMs.)
The decision to buy the third-generation fire-and-forget weapon system fitted with a tandem-charge high-explosive anti-tank (HEAT) warhead and featuring an operational range of up to 4 kilometers was taken at the biannual Army Commanders' Conference in New Delhi in April.
"Following the February 2019 military standoff between India and Pakistan following the Balakot airstrikes, the Indian Army's vice chief of staff has been given authority to procure goods and materiel worth up to $72 million without prior approval from the Indian Ministry of Defense (MoD) under an emergency purchase provision," I explained at the time.
The "first lot" of 210 Spike ATGMs and a dozen launchers "arrived in India about ten days ago," the Times of India reported on October 4, citing an Indian defense official. The Army is reportedly also interested in procuring additional Spike ATGM systems.
In December 2017, the Indian government scrapped a $500 million deal with Rafael for 321 Spike ATGM systems and 8,356 missiles in favor of an indigenous ATGM system currently under development by India's Defense Research and Development Organization (DRDO). As I reported last year:
The cancellation of the deal has led to severe disagreements between the Indian Army's senior leadership and the DRDO, as the service remains deeply skeptical of the DRDO-developed man portable anti-tank guided missile (MPATGM). The Indian Army leadership has reportedly stated that it does not think that the MPATGM will meet the service's operational requirements. It is also concerned about likely delays in the induction of the new weapon system. 
"The order will be repeated if the man-portable ATGM being developed by DRDO is not ready by next year. We don't want to be slowed down any longer in plugging our critical operational deficiencies by DRDO," an Indian Army source was quoted as saying in October of this year.
DRDO conducted the third successful test firing of the MPATGM system in September 2019. Serial production of the MPATGM is expected to begin in 2021.