Japan Pins Energy Hopes on Australia
Tokyo has ambitions to become a hydrogen fueled society by 2050 and Australia is a key aspect of achieving that goal.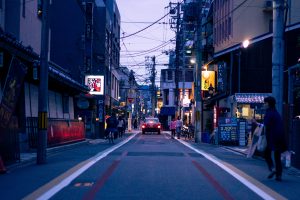 When Australian Prime Minister Scott Morrison makes an official visit to Japan in January, one of the key issues he is bound to discuss with his counterpart, Shinzo Abe, is the two countries' cooperation on hydrogen energy. The burgeoning collaborative partnership between the two countries on what is seen as one of the major clean energy sources of the future will consolidate their increasingly close strategic ties and potentially provide the impetus for Australia to move away from its reliance on coal exports.  
Japan's ambition is to become a predominantly hydrogen fueled society by 2050. By introducing a fleet of hydrogen-powered buses at the 2020 Tokyo Olympics, Japan plans to showcase hydrogen's potential. Beyond this, Tokyo has set a target of having 200,000 hydrogen-powered vehicles on its roads by 2025, and increasing this to 800,000 by 2030. The Japanese government has started to view hydrogen power generation as the only viable option it has to reduce its carbon emissions. The country's geography makes it ill-suited to the large-scale production of renewable electricity, and after the Fukushima meltdown in 2011 public opinion has soured on nuclear power. 
This strategy, however, would make Japan highly reliant on other countries for energy. This is not something that is new to Japan; since Fukushima the country has reverted to coal and natural gas imports for most of its power generation (only nine of Japan's 54 nuclear reactors are currently in operation). However, Tokyo's ability to find reliable partners in a new and not well-established industry is a potentially difficult proposition. 
Which is where Australia comes in. As a country with an abundance of the resource Japan is wishing to build its energy future on, Australia is viewed by Tokyo as an important energy partner that has the capability to quickly establish a sophisticated industrial hydrogen production industry, and most importantly, be trusted to be able to deliver for its ambitious energy revolution. Already Japan has begun making considerable investments in facilitating this hydrogen trade with Australia. In mid-December Japan launched the world's first purpose-built liquid hydrogen carrier ship, the Suiso Frontier (suiso being the Japanese word for hydrogen). The vessel will make its first commercial voyage in early 2021 to the Port of Hastings in Victoria, where a hydrogen liquefaction plant is currently being constructed by a consortium of Japanese companies. 
With Japan's ambition and its investment, Australia has begun to seriously embrace the potential of hydrogen energy generation as an industry of potential significant future importance. 
In late November, the Australian government released its National Hydrogen Energy Strategy. The strategy mapped out the path Australia should follow in being able to develop its capabilities, create a regulatory framework, and find considerable export markets (South Korea is also an interested country, alongside Japan). The report suggests that with "medium demand" hydrogen exports could provide around $2.7 billion of direct and indirect economic benefits to Australia by 2040. 
And, of course, there is also the environmental benefit. However, with this there is a catch. While hydrogen produces no carbon dioxide when used (only releasing water), the production of hydrogen from procedures such as the gasification of coal (one of the most effective ways to produce the gas) still needs considerable energy to produce, requiring this process to be fueled from renewable sources to be considered truly "clean." There is also the potential for carbon to be captured and stored to achieve the goal of emissions reduction, but while the technology for this exists, it is still developing for large-scale industrial processes. 
The other major hurdle for the development of a considerable hydrogen energy industry is the price. The cost to produce hydrogen is currently far greater than that of traditional energy sources, creating a lack of incentive for private investment. Yet, as with most products, this is bound to shift as technology improves and production lines gain efficiency. Japan's decision to invest heavily in pivoting its energy consumption significantly toward hydrogen should lay much of the groundwork for these improvements in production methods, and subsequently push hydrogen toward becoming a mainstream energy source. Australia seems enthusiastic enough about its own future as a hydrogen energy power to work with Japan toward this goal. 
This collaboration on establishing a major hydrogen industry in Australia that can fuel Japan's future also symbolizes the significant trust that has developed between the two countries. Australia and Japan increasingly see each other as their most reliable partners in the Indo-Pacific region; maintaining similar strategic perspectives, seeking to forge closer defense ties, and always looking to consolidate and enhance their already significant trading relationship. Morrison's official visit to Tokyo in January will be designed to further advance this bilateral energy cooperation as the two countries seek to power their joint future.