US Navy F-35B-Carrying Amphibious Assault Ship Arrives in Japan
The USS America arrived at its new homeport in Sasebo, Japan on December 6.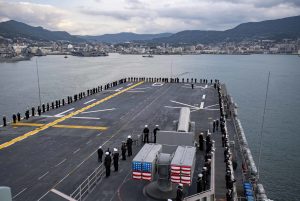 The lead ship of the U.S. Navy's newest class of amphibious assault ships, the 45,000-ton USS America, designated Landing Helicopter Assault (LHA) 6, arrived at its new homeport, the U.S. naval base of Sasebo, Japan, where it joined the U.S. 7th Fleet forward-deployed amphibious force, on December 6.
The USS America will form the core of U.S. Navy's Amphibious Squadron 11, part of Expeditionary Strike Group 7, which also gained the San Antonio-class amphibious transport dock ship USS New Orleans (LPD 18) earlier this month.  The USS America squadron will be paired with the 31st Marine Expeditionary Unit and 1st Marine Aircraft Wing. It will serve as the flagship of Task Force 76, which includes all of the 7th Fleet amphibious forces.
The America is replacing the older Wasp-class amphibious assault ship, USS Wasp, as the biggest forward-deployed big deck in the U.S. Navy's 7th Fleet. The USS Wasp departed the U.S. 7th Fleet area of operations as part of a scheduled transition in early September and returned to Norfolk, Virginia in the middle of last month.
The America-class flattop can carry F-35Bs, the U.S. Marine Corps variant of the supersonic fifth-generation F-35B Lightning II Joint Strike Fighter, capable of vertical or short takeoffs and vertical landings without requiring a catapult launcher. The ship is an aviation-focused small surface combatant and was built with increased space for jet fuel and aircraft equipment. Prioritizing its aviation focus, the America-class was developed without a well deck that floods to launch landing craft.
"America was designed from inception to maximize the capabilities of the U.S. Marine Corp's F-35B Joint Strike Fighter," the U.S. Navy said in a December 6 statement. "America is adaptive and flexible with superior aviation facilities; advanced communications, combat systems and command and control equipment; and incredibly capable medical facilities." As I noted elsewhere:
The new warship is armed with 12 defensive weapons systems, including two rolling aircraft missile RIM-116 Mk 49 l launchers; two Raytheon 20mm Phalanx CIWS mounts; and seven twin .50 cal. machine guns. The ship's most potent weapon system, however, is the (…) fifth-generation F-35B Joint Strike Fighter (JSF). In November 2016, the U.S. Navy conducted operational testing of the F-35B aboard the ship, followed by a number of weapons load tests involving the fifth-generation fighter jet.

[T]he USS America, next to the F-35B, can accommodate MV-22 Osprey tiltrotor aircraft, CH-53 Super Stallions, and UH-1Y Huey helicopters. In detail, an America-class amphibious assault ship can carry up to nine F-35Bs, four AH-1Z Viper attack helicopters, four CH-53E Super Stallion helicopters, 12 MV-22 Ospreys, and two MH-60S Search and Rescue helicopters.
The U.S. Navy plans to deploy a fleet of 11 America-class amphibious assault ships in the coming decades.
"With the 60th anniversary of the U.S.-Japan Mutual Defense Treaty fast approaching, USS America arrives at an important juncture in the history of our alliance, and she would be hard-pressed to find a port more welcoming than the one here in Sasebo," John C. Taylor, principal officer for the U.S. Consulate in Fukuoka was quoted as saying in the December 6 press statement.