'Don't Be Dead': China Mourns Kobe Bryant
The basketball legend's sudden death shocked his millions of die-hard fans in China.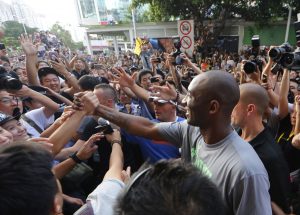 On January 26, basketball legend Kobe Bryant died in a helicopter crash in California, along with his 13-year-old daughter and seven other people. His sudden death reverberated half a world away, in China, where Bryant had a legion of die-hard fans.
"Kobe is Dead" was the top trending hashtag on Weibo, a top Chinese social media platform, by January 27. As of this writing, there were nearly 190 million posts with the hashtag and those posts collectively had been read more than 3.7 billion times.
Among the posts were thoughts from Chinese basketball stars, including Yi Jianlian, a former player in the U.S. National Basketball Association (NBA) and the all-time leading scorer for the Chinese Basketball Association. "We both suffered a fractured finger. I rested for a month and a half, and you did not rest for a single day. Since then I learned from you what persistence meant," Yi wrote, addressing Bryant in the second person.
People's Daily issued its own tribute, noting in a Weibo post that Bryant had personally inspired many Chinese people's love for basketball. More than his basketball skills, Bryant was remembered fondly in China for his work ethic, with many fans giving personal accounts of how his legendary devotion to his craft had inspired them to word hard in their own careers. Many posted comments using the hashtag "eternally 4 a.m." in reference to Bryant's famous dedication to working out in the early morning.
"Your fearlessly striving spirit, whether in basketball or in life, is worthy of remembrance," People's Daily wrote.
Bryant's immense popularity in China was legendary. Judy Seto, Bryant's physical therapist, described the passion from Chinese fans as "like nothing I've ever seen." She noted that at one venue over 15,000 fans had gathered by 9 a.m. – and Bryant "wasn't going to appear until 4 in the afternoon."
"…When we went to Europe, they weren't chasing him. He didn't feel like he couldn't go out. People would still recognize him, things like that, but in China, it's crazy," Seto recounted.
That popularity, for many, was epitomized in a viral video from 2013 of a Chinese man sobbing in a news interview, openly overwhelmed by the experience of merely seeing Bryant from a distance.
Bryant's popularity in China was not an accident born simply of his basketball prowess, however. He devoted substantial time and energy to cultivating both his brand and the NBA as a whole in China. In Bryant's own words, he has visited the country "almost every year" since his first visit in 1998, including a final trip in October 2019. "It almost feels like a second home now," he added.
He also launched the Kobe Bryant China Fund all the way back in 2009, with proceeds going to youth programs in China, further winning goodwill from Chinese fans.
In October 2019, a tweet from the general manager of the Houston Rockets, an NBA team, in support of the Hong Kong protests sparked controversy and even rage on mainland China – especially after NBA commissioner Adam Silver defended Morey's right to tweet according to his personal beliefs. Some Chinese fans threatened to boycott the NBA. The incident sparked a wave of op-eds in the West accusing the NBA and individual players like Bryant of "selling out" their values in favor of Chinese money. But in China, Bryant's efforts to build his Chinese fanbase were viewed differently: as a positive example of an athlete having a true affection for the country, rather than trying to make a quick buck.
That's why the Hong Kong-based South China Morning Post mused that Bryant's death was such a tragedy for China:
At a time when China needs all the positive and understanding foreign voices it can muster, they have lost a kindred spirit with a huge global profile. They lost someone who had an insatiable curiosity and profound respect for their culture. They lost someone whose bond grew stronger over time. You can't replace a Kobe Bryant in China. You can only honor his legacy.
Bryant's final posting on his personal Weibo account, a message wishing "Happy New Year to my dear friends in China," had over 977,000 thumbs up as of this writing. Many of the top comments, apparently posted as the news of his death was breaking, were messages of disbelief. "Kobe, you're ok, right? Send a Weibo!" one commenter wrote. Another posted simply, "Don't be dead, ah."