Harvard Researcher Charged Over Undisclosed China Links
Charles Lieber, a prominent Harvard University nanoscience researcher, was arrested and charged on Tuesday.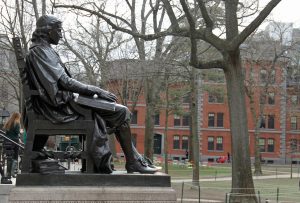 On Tuesday, the U.S. Department of Justice announced charges against a prominent American nanoscience researcher at Harvard University. Charles Lieber, the chair of Harvard's Department of Chemistry and Chemical Biology, was arrested and charged with one count of "making a materially false, fictitious and fraudulent statement."
The charges against Lieber allege that he concealed contacts at a China-based research institution. According to U.S. federal investigators, the outreach to Lieber was conducted under what's known as the Thousand Talents Program (TTP), an initiative by the Chinese government to recruit researchers outside of the country to gain access to sensitive intellectual property.
Alongside Lieber, the U.S. Department of Justice also announced charges against two Chinese nationals, Yanqing Ye and Zaosong Zheng. Ye, who is in China, was charged with "one count each of visa fraud, making false statements, acting as an agent of a foreign government and conspiracy," according to a U.S. Department of Justice statement. Zheng, meanwhile, was arrested last month while trying to leave the United States with 21 vials of biological research samples. He was indicted on "one count of smuggling goods from the United States and one count of making false, fictitious or fraudulent statements."
According to the criminal complaint against Lieber, he was linked to the Wuhan-based Wuhan University of Technology as a "Strategic Scientist," a position for which he was compensated with $50,000 per month on top of approximately $158,000 in living expenses. Simultaneously, Lieber had received "more than $15,000,000" in research funding from the U.S. National Institutes of Health (NIH) and U.S. Department of Defense.
According to the U.S. Department of Justice, Lieber's U.S. federal government grants "[required] the disclosure of significant foreign financial conflicts of interest, including financial support from foreign governments or foreign entities." Lieber did not disclose his involvement with the Wuhan University of Technology to federal investigators, U.S. prosecutors note in the complaint. In April 2018, Lieber told U.S. Department of Defense investors that while "he was familiar with China's Thousand Talent's Plan … he had never been asked to participate in the program."
U.S. federal investigators have made counter-intelligence and countering intellectual property theft a priority in recent years. Also this week, a former researcher based at Los Alamos National Laboratory, a U.S. federal government lab involved in the design and handling of nuclear weapons, pleaded guilty to making a false statement to the U.S. government. The former researcher, Turab Lookman, was also alleged to have been a part of China's TTP outreach.
Last year, a Texas-based cancer research center ousted three scientists over concerns that they were actively trying to steal scientific research funded by U.S. federal funds. The researchers in that case were also thought to have been participants in the TTP.
U.S. officials have argued that the TTP is a major effort sanctioned by the Chinese Communist Party's Organization Department to accelerate economic espionage in critical technologies to benefit China's indigenous development of specific technologies.