China, Australia, and the Soft Power of Rugby in the South Pacific
Samoa will host a rugby tournament, thanks to Chinese funding. But Australia sees the sport as its own soft power advantage.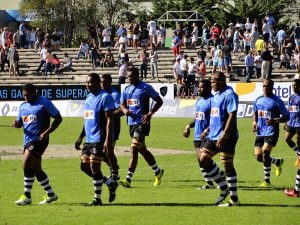 Last week's announcement of the inaugural World Nines Confederation Cup tournament in Apia, Samoa, highlights the centrality of sport to the China's soft power offensive in the South Pacific.
Funded by Chinese investment and played in a stadium constructed using Chinese money, the tournament will be one of the largest officially sanctioned international rugby league tournaments in the Pacific islands. The tournament, scheduled for October 2020, will feature a combination of traditional rugby league-playing nations alongside newcomers including China and India.
Announcing the tournament, Samoan Prime Minister Tuilaepa Sailele Malielegaoi stated, "While this will focus on international interest on Samoa as a sporting nation, it will also portray our capacity to host world events, and demonstrate the capabilities of our sports personnel and infrastructure that have made it possible to conduct and facilitate several international sporting events in the past."
"The tournament will benefit not just our athletes, as esteemed media coverage of Samoa as the Host County will benefit Samoa as a whole, while opportunities to expand knowledge of local coaches and referees in the rugby league code will be acquired at no cost," Tuilaepa continued. "These were crucial elements in government's decision to host this tournament in Apia."
The growing popularity of rugby league in the South Pacific, alongside the predominance of Pacific heritage players in Australia's premier National Rugby League (NRL) competition, and the success of Tonga on the international stage, has positioned the sport as potential agent of soft power influence.
Stadium and sports diplomacy has long been a feature of China's attempts to make inroads into the Pacific region. Shortly after the Solomon Islands switched diplomatic allegiance from Taiwan to the People's Republic of China, it was revealed that Beijing would provide a $70 million grant to construct a new stadium for 2023 Pacific Games in the nation's capital. The growing popularity of table tennis in Papua New Guinea — interestingly the only country in the world with rugby league as a national sport — is also indicative of China's growing influence.
China is not alone in utilizing sport as an agent of soft power influence; Australian Prime Minister Scott Morrison ran water during an Australian XIII game versus Fiji in Suva. The Australian government is also funding a new Fiji-based team to enter the New South Wales rugby league pyramid and has promised to take an increased number of preseason NRL and international games to the South Pacific. The importance of these steps should not be understated.
Speaking to Reuters last year, an anonymous Australian government source said that "the prime minister sees rugby league as a central component of his soft-power plan as China's influence in the Pacific grows."
Thomas Wilkinson has a Master's in Asian politics.