Can China Deliver What Solomon Islands Wants?
As Honiara denies its new security pact with China poses a threat to the Pacific, it would behoove the West to consider what it is the Solomons want and need from their partners.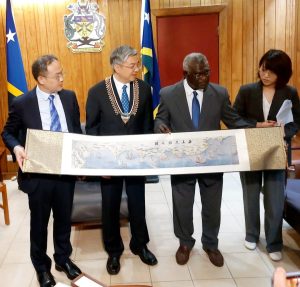 Solomon Islands has denied its new security pact with China poses a threat to the Pacific, and has criticized Australia for withdrawing funding for vital services. 
Earlier this month, Solomon Islands Prime Minister Manasseh Sogavare inked a raft of deals during his trip to China, upgrading the two nations' relationship to a "comprehensive strategic partnership." The deal comes four years after the Pacific nation switched diplomatic ties from Taiwan to Beijing
Amongst the nine deals signed when Sogavare met with Chinese Premier Li Qiang was a police cooperation pact, allowing China to extend its police presence in Solomon Islands until at least 2025. 
Australia, the United States, and New Zealand raised concerns about the bilateral partnership. A joint statement from Australian Prime Minister Anthony Albanese and New Zealand Prime Minister Chris Hipkins said they expressed concern at the deal, noting it could "undermine the Pacific's agreed regional security norms." 
Sogavare, who must be said is no shrinking violet and has reveled in the attention of the two regional powers, reacted with disdain to their concerns. The Australian Broadcast Commission (ABC) reported that he stated critics should "respect our sovereignty and right to make our own decisions."
"The narrow and coercive diplomatic approach of targeting China-Solomon Islands relations, and I want to use this word, is unneighborly … this is nothing but interference of foreign states in the internal affairs of Solomon Islands," he said. 
"Solomon Islands Government fails to see how the improvement of [the Royal Solomon Islands Police Force] traffic control and management system in Honiara, provision of police equipment, or the completion of the Forensic Autopsy Lab is a threat to the Pacific region peace and security." 
A spokesperson for Sogavare highlighted the pact's role, saying it would plug security gaps that were exposed during the anti-government riots in the capital, Honiara, at the end of 2021.
"We have suffered enough because of these security gaps," the spokesperson said in a statement.
In May, Sogavare called for a review of the 2017 security treaty with Australia, which has provided policing support to the Pacific nation. This included the deployment of police in 2021 to quell the riots. Since then, China has increased their police training activities in Solomon Islands. 
The riots, which were flagrantly anti-Chinese, came as a result of China's growing influence on the nation. Three bodies were found in a burnt-out building and large sections of Honiara's Chinatown district were destroyed.
Tensions in one of the poorest nations in the Pacific have been further inflamed by the animosity between the residents of the Solomons' most populous island, Malaita, and the central government, based out of Honiara on the island of Guadalcanal.
One of the biggest critics of the Sogavare's relationship with China has been the recently ousted premier of Malaita, Daniel Suidani. As I wrote in February, he has attracted the support of conservatives and anti-CCP hawks, who have lauded him for his "principled" stance. 
Nonetheless, Sogavare has pushed on with deeping the bilateral partnership with China, arguing that Chinese funds are helping to build the country, as other nations have withdrawn their support. One of these is Australia, which he claims has withdrawn funds that were budgeted to the nation.
"Some of our donor partners who have committed to providing budget support to us this year have since changed their position and delayed their assistance for us, and we are struggling to finance the 2023 budget," he said.
"This has left this country and people in a predicament. But I am glad to announce and delighted to announce the People's Republic of China have really stepped up to provide this budget support needed for 2023."
Australia strenuously denied this characterization, with a Department of Foreign Affairs and Trade (DFAT) spokesperson telling the ABC, "Australia has delivered on our budget support commitments to Solomon Islands this year."
"We continue to discuss development and budget support needs with the Solomon Islands government."
China is helping build up infrastructure in the Solomons. A Chinese construction firm is set to redevelop the port in Honiara, and telecom company Huawei is constructing a cellular network, financed by a $66 million Chinese Export-Import Bank loan. 
In light of Solomon Islands' warming relationship with Beijing, the United States has committed to reopening its embassy in Honiara. Other allies have also tried to increase their presence in the region. There does seem to be a sense of external powers only being interested again once China attempted to move into the area. 
The argument against Chinese expansion in the Pacific is obvious to some, who claim that the Belt and Road only makes poorer nations subservient to China. Furthermore, there is a worry that Chinese military expansion is dangerous to the region.
However, one can look at it from another angle. Western expansion hasn't always worked well for many groups throughout the Pacific, especially native residents. Being told to be subservient to Western nations might make sense to many, but for countries that desperately need infrastructure, being picky over who builds it isn't always an option.
Another argument is that being tied to China through debt is not that dissimilar to being tied to the West through World Bank loans.
Some Western commentators and think tanks, as well as the Australian government, would do well to consider what the Solomon Islands, and its people, want. 
As a possibly apocryphal Kenyan official once said: "Every time China visits, we get a hospital; every time Britain visits, we get a lecture."