Mamai 'Banned Everywhere' as Court Clarifies Suspended Sentence Terms 
The court clarified that Mamai, a noted opposition politician, is indeed banned from all conceivable forms of participation in social or political conversations in Kazakhstan.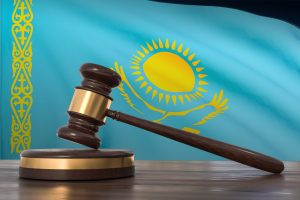 When the trial of Zhanbolat Mamai, leader of the Democratic Party of Kazakhstan, an unregistered political party, concluded in April, he was given a suspended six-year sentence. In lieu of prison time, he was subject to a broad ban on social and political activity.
This week, Mamai's wife — activist and journalist Inga Imanbay — announced in a Facebook post that the Bostandyk District Court in Almaty had considered a petition from Mamai to clarify the restrictions imposed on him.
Mamai reportedly sought clarification of whether the ban on social, political, and journalistic activities included the ability to write and publish books, conduct trainings, participate in conferences, produce online reviews of books, give interviews, engage in human rights activities — such as monitoring courts — and post on social media on topics not related to sociopolitical issues. 
According to Imanbay, Judge Elena Kvan ruled unequivocally that Mamai was banned from all of the aforementioned activities. When asked why he was banned from writing and publishing books, the judge reportedly told Mamai that she considered that "social and political activity." The judge, according to Imanbay's post, "recommended that Zhanbolat serve his sentence without violations, recalling that otherwise he faces a real prison sentence."
Mamai was arrested in late February 2022 after organizing a demonstration to honor the more than 200 people who died during Qandy Qantar, or Bloody January. He was sentenced to a 15-day jail term for orchestrating an unsanctioned public event, but instead of being released in March 2022, he was re-arrested on new charges including insulting law enforcement officers and distributing "false information." 
He was ultimately convicted of organizing mass unrest during the January 2022 protests, spreading false information, and insulting a government representative. His appeal of the verdict was dismissed in June.
Earlier this month, Mamai's lawyer appealed to the Constitutional Court, arguing that his right to defense had been violated when prosecutors reclassified the indictments against him after issuing them, ratcheting up the severity. It's unclear if the court has responded.
Imanbay in her post decried that Mamai was "banned everywhere" and would be until 2029.
Kazakhstan's next presidential election is slated for 2029, following legislative tinkering and a snap election last year that confirmed current President Kassym-Jomart Tokayev's hold on power. In early September 2022, Tokayev called for a snap election, stating it was necessary to achieve a new mandate in order to carry out reforms and build a "Just Kazakhstan." Two weeks later, Tokayev signed into law legislation that altered the presidential term from a possible two five-year terms to a single seven-year term. In the November 20, 2022 vote Tokayev captured 81.3 percent of the vote against a field of nobodies.
Mamai's political party — the Democratic Party of Kazakhstan — has long sought official registration, but has been denied repeatedly and its leaders and members have faced significant pressure. In 2020, activists involved with the Democratic Party were arrested on their way to take part in what was supposed to be the party's founding congress.
In recent years, Kazakh authorities have reformed the registration requirements for political parties, for example by lowering of the party registration threshold from 40,000 members to 20,000 in 2020 and then again to 5,000 in 2022. But it was only after the 2022 snap presidential election that the country's Justice Ministry registered two new parties, Baytak, a green party, and Respublica, which The Diplomat's Paolo Sorbello remarked was "a party without a clear political agenda that looks more like a publicity stunt by its founders."
Meanwhile, the Democratic Party remains unregistered and its leader is banned from political activity as noted above. Other opposition parties, like Alga Kazakhstan (Forward Kazakhstan), continue to be stonewalled by the government. In July 2023, Alga Kazakhstan was denied registration for a 16th time since May 2022. The Justice Ministry, in rejecting the party's registration, merely said that its list did not meet the legal requirements, without specifying how its list of more than 3,000 names failed to meet a 700-name registration requirement. 
There remains little space for official opposition in Kazakhstan.