Abe Can't Afford to Mishandle Japan's COVID-19 Response
The prime minister's political legacy is at stake amid the coronavirus epidemic.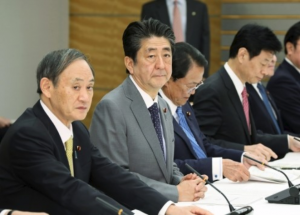 For Japanese Prime Minister Abe Shinzo, 2020 was supposed to be a banner year, featuring the much-awaited Olympic Games and Chinese President Xi Jinping's maiden state visit to Japan. Instead, Abe's political energy has been hijacked by the colossal challenge of COVID-19, which has morphed into a pandemic since the disease emerged in December 2019. Abe's leadership is being put to the test as international attention shifts to Japan, particularly its flawed quarantine of the Diamond Princess cruise ship, following Professor Kentaro Iwata's criticisms.
As the scale of epidemic unfolded exponentially, it called for bold decisions. However, the initial response from Abe sparked dissatisfaction. That led some to argue that the eventual decision to close schools nationwide was aimed more at salvaging his reputation, not to mention the prospects of the Olympics. With more than a thousand cases in Japan and 18 deaths, including infected patients from the cruise ship, COVID-19 is a litmus test for Abe.
The outbreak has presented an enormous challenge for the Japanese economy as well. In March, the Organization for Economic Cooperation and Development (OECD) downgraded the global growth outlook from 2.9 to 2.4 percent and Japan is expected to grow just 0.2 percent in 2020. In January, Nomura Research Institute estimated that inbound-related losses stemming from COVID-19 will be around 776 billion yen ($7.4 billion). These projections are based on the conjecture that, COVID-19 will be under control within a few months. If the outbreak lasts for a year, Japan will register a GDP loss of 2.47 trillion yen.
In addition to the ongoing economic contraction caused by the U.S.-China trade war, falling demand from China and supply chain disruptions, especially in automotive manufacturing, are creating stress for the economy as the new virus spreads. There is speculation about a recession. Prior to the outbreak, Japan was already navigating the pressure exerted on consumer spending from a hike in the consumption tax from 8 percent to 10 percent in October 2019. The Cabinet Office in March confirmed that Japan's GDP for October-December 2019 reflected annualized contraction of 7.1 percent in real terms.
The Japanese economy is banking on the Olympic Games, often touted as the Recovery and Reconstruction Games. As per audit reports, Japan has possibly spent $12.6 billion for the Games. The Olympics is supposed to push foreign tourism and increase construction investments associated with the event. Companies have shelled out billions of dollars in sponsorship and broadcasting rights. Following the outbreak of COVID-19, there is some speculation regarding a possible postponement of the Games, as indicated in comments made by Olympics Minister Hashimoto Seiko in the upper house of parliament. A recent study by SMBC Nikko Securities Inc. in March projected that cancelling the Olympics would shrink GDP growth by 1.4 percent.
Even if the Games are held as planned, the economy will still have to absorb the severe blow inflicted on the tourism industry. Even as Japan targets 40 million tourists in 2020, one of the immediate effects of the epidemic is a waning inflow of tourists. As par Japan Tourism Agency (JTA) records, in 2019 foreign tourists increased by 2.2 percent to 31.9 million and they spent around $44 billion. China alone sent 9.6 million tourists, accounting for 36.8 percent of overall tourism expenditures. But this year, strict quarantines in China decimated outflows during the high tourist season of Lunar New Year, and global tourism to Asia has plummeted amid fears of COVID-19.
The stakes are high both for Japanese economy and Abe's political legacy. He cannot afford to mismanage the COVID-19 epidemic. The historic political legacy of being the longest serving prime minister risks being eroded by Abe's lack of effective leadership in containing the epidemic just before Olympics. If the crisis aggravates further, it may also end his political journey.
At a time when Abe's Liberal Democratic Party (LDP) is already marred by a series of corruption scandals eroding public trust in his Cabinet, Abe has navigated criticism and stepped up. He invested political capital in building consensus on revising a special measures law to tackle new diseases, creating more room to prepare for the worst-case scenario and declare a state of emergency if needed. In addition, Japan has managed emergency financial packages, and finally implemented border controls, despite initial reluctance to impose extensive restrictions on Chinese travelers.
But are these steps enough to restore public confidence in his leadership or is it too little too late? Chronic political corruption, a struggling economy, and now a governance deficit in managing the coronavirus outbreak are shaping up to be Abe's toughest challenge yet. This may very well intensify the political discourse on post-Abe Japanese leadership, both within the LDP and across the political divide.
Dr. Titli Basu is an Associate Fellow at the Manohar Parrikar Institute for Defense Studies and Analyses, India.