COVID-19 Is a Test for World Leaders. So Far, Japan's Abe Is Failing.
The pandemic has exposed feeble leadership on the part of Prime Minister Shinzo Abe.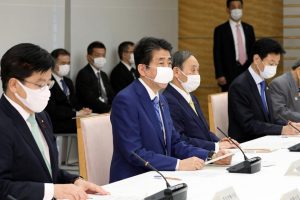 Like many world leaders, Japan's Prime Minister Shinzo Abe has not managed the COVID-19 outbreak very well. On April 7, Abe belatedly declared a national emergency in seven prefectures. On April 16 he extended this nationwide, but only after public pleas from prefectural governors and public opinion polls indicating broad dissatisfaction with his handling of the coronavirus outbreak. A mid-April Kyodo poll found that 80 percent think Abe waited too long to declare a state of emergency. His support rate has dropped by almost 10 percent since early March, landing at 40 percent.
Abe's move was an acknowledgement that the half-measures taken so far have not worked.
Back in early February, when the Diamond Princess cruise ship was transformed into a coronavirus incubator due to botched quarantine procedures, Japan had a wake-up call about the coming pandemic. Alas, the government has not used the time to adequately prepare.
Since then the Abe government has come under fire for limiting testing and downplaying the crisis in what critics see as a bid to save the Tokyo 2020 Olympics. This limited testing left the government shooting in the dark in trying to contain the outbreak, while prioritizing the Olympics slowed the pandemic response.
The Japanese are now paying the price for this negligence. Numerous media reports warn that Japan's healthcare system is on the verge of collapse.
The governor of Osaka pleaded for the public to donate raincoats because doctors have resorted to wearing trash bags as protective gear in dealing with COVID 19 patients. In response, the local Hanshin Tigers baseball team donated 4,000 ponchos — not ideal, but more than the central government has managed.
And at Tokyo's gateway Narita Airport, after incoming travelers are tested many are now forced to stay in cardboard boxes for a couple of days until they get the results.
Raincoats and cardboard boxes? Really? This is not the Japan most imagine. Many nations have shortages of personal protective equipment (PPE) like masks, gloves, and face shields, but the plea for raincoats was shocking given that Osaka prefecture at the time had just 900 COVID-19 cases. How could that overwhelm the healthcare system for the nation's third largest metropolis in a prefecture of 9 million residents?
This is a national problem, as in 43 out of 47 prefectures hospitals are already running out of coronavirus-care capacity. Japan has only half as many ICU beds per 100,000 people as Spain does; Germany has six times more. By ignoring early warning signs, the government failed to beef up preparations, leaving frontline healthcare workers scrambling to cope with an escalating outbreak.
A majority of Japanese are critical of Abe's crisis management. In a recent Mainichi poll, 70 percent believe that he waited too long to declare an emergency, losing precious time to manage the outbreak.
In an Asahi poll from April 18-19, 57 percent said Abe has failed to provide leadership during the outbreak and 77 percent believe he should have declared a national emergency sooner.
In declaring a limited state of emergency on April 7 Abe acknowledged the healthcare crisis, one that emerged due to his unwarranted complacency about COVID-19. That complacency set the tone for the government's tardy crisis response. Compared to resolute regional leaders in Taiwan, South Korea, Singapore, Vietnam, New Zealand, and Australia, Abe dithered and failed the COVID-19 leadership stress test.
At a time when the public sought clarity, Abe sent a mixed message, stressing the need for social distancing to lessen transmission but in the same breath endorsing business as usual. His government's stimulus package left many disappointed and others forgotten. Subsequently, Abe flipflopped on household support payments, moving from targeting the neediest to a one-time $900 payment for everyone. With no income replacement program, and limited telecommuting options for many workers, as of mid-April 60 percent of workers in greater Tokyo are still commuting because they must, with many riding trains where social distancing is impossible. Another survey found that only 18 percent of people nationwide have stopped going to work as people balance the transmission risks of commuting against losing their incomes.
Abe has also been savaged on social media for his mask distribution policy, dubbed Abenomask, a reference to his sputtering Abenomics policy. The gesture to send two cloth face masks to each household in Japan was announced soon after NHK aired a documentary that showed how Taiwan distributes masks far more efficiently and has outperformed Abe's crisis response across the board.
Abe's wife didn't help matters by attending a cherry blossom party when everyone else was told to stay home. Then Abe tweeted a video of himself coping with the lockdown by cuddling his dog, sipping tea, and channel surfing, provoking a torrent of criticism zinging a leader seemingly oblivious to public anxieties and deprivations.
This is reminiscent of his blasé approach to lost pension records back in 2007 when he downplayed the issue and ignited a fierce backlash from worried citizens who hammered the LDP in the Diet elections. At the time Abe's sobriquet was KY (kuuki yomenai), meaning clueless.
Leaders around the world are often prickly about criticism, and indeed Abe is fighting back. Buried in the government's coronavirus stimulus package is $22 million to fund AI monitoring of his overseas critics so that the Ministry of Foreign Affairs can correct any "wrong information."
Allocating taxpayer money to contain the plague of criticism is indicative of a government that has handled COVID-19 more as a PR challenge than a profound public health crisis. Tokyo should be using AI to better deal with the pandemic, not to massage perceptions. Containing the outbreak, treating patients, and helping all those whose lives have been derailed by this crisis should be the priority, rather than going to war with the press.
Jeff Kingston is Director of Asian Studies at Temple University Japan