China Pushes Back on US Accusation of Lasing P-8A Off Guam
The Chinese side rejected U.S. accusations.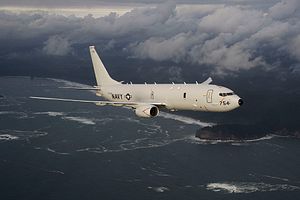 The Chinese Ministry of Defense has pushed back on a U.S. Department of Defense statement that a People's Liberation Army Navy warship was involved in targeting a U.S. P-8A Poseidon maritime surveillance aircraft with a laser in the Pacific Ocean.
Following the release of a statement by the Pentagon on the incident, which took place last month, the Chinese side responded, with a Ministry of National Defense spokesperson, Ren Guoqiang, saying that the U.S. report did not "accord with the reality."
"The Chinese warship's operation was safe and professional, which was also in line with relevant international laws and common practices, while the American aircraft's behavior was unfriendly in intention and unprofessional by operation, which severely threatened the safety of the vessels, aircraft and crew of both sides," Ren said, according to a Xinhua report.
"We demand that the U.S. side should immediately stop such provocative and dangerous acts, and cease making groundless accusations and smearing against China in order not to harm the overall relations between the two countries and armed forces," he added.
The U.S. side noted that U.S. Secretary of Defense Mark T. Esper spoke with Chinese Minister of National Defense General Wei Fenghe to discuss the incident, which allegedly took place on February 17.
According to a U.S. Department of Defense statement, Esper "raised concern over an incident on February 17 in which a U.S. Navy P-8A Poseidon maritime patrol aircraft was lased by PRC navy destroyer 161 while flying in airspace above international waters approximately 380 miles west of Guam."
As The Diplomat previously reported, accusations involving the unsafe use of a laser against U.S. military operators are not new. "In 2018, the Pentagon said that two U.S. airmen experienced 'minor' injuries as a result of a lasing incident off Djibouti, where China has its only overseas naval base."
The February 2020 incident, however, is the first of its kind to take place in the Pacific Ocean, in waters relatively close to the U.S. territory of Guam, which hosts a major naval and air base.
In recent years, the United States has also accused Chinese military aircraft and warships of engaging in unsafe and unprofessional maneuvers. The two sides have come close to aerial collisions and collisions at-sea.
In a notable incident in 2018, a Chinese warship appeared to maneuver dangerously close to a U.S. warship conducting a freedom of navigation operation in the Spratly Islands in the South China Sea, according to the Pentagon. The U.S. Department of Defense later released video footage of the incident.