COVID-19 Aggravates an Already Tense Korea-Japan Relationship
Just when things were looking up, the outbreak — and dueling travel restrictions — has complicated ties yet again.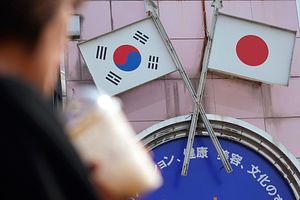 President Moon Jae-in said Japan was South Korea's "closest neighbor." Prime Minister Shinzo Abe echoed this sentiment, calling Korea Japan's "most important neighbor." After both speeches in January, it appeared that at least the two leaders were keen to start mending ties between their two countries.
Not anymore.
On March 5, Abe announced that all arrivals from South Korea would need to remain in quarantine for two weeks after entering Japan in an effort to contain the spread of the novel coronavirus, know as COVID-19. The restriction, which also applies to visitors from China, where the virus originated, sparked immediate anger in Seoul. Within a day, South Korea unveiled its own measures — completely doing away with visa-free entry for Japanese citizens and increasing restrictions on all visitors flying from Japan to South Korea.
South Korea has been one of the hardest hit countries by the outbreak, with 7,775 cases and 60 deaths as of March 11. That puts South Korea fourth in the world in both number of cases of COVID-19 and deaths from the disease. Japan only has 639 confirmed cases, although the situation there may be escalating.
Japan is not the only country to impose restrictions or even outright bans on travelers from South Korea. Some countries, including Australia and Singapore, have banned entry from visitors who have been in South Korea in the 14 days prior to arrival. Others, including Taiwan and Vietnam, require such travelers to spend 14 days in quarantine after arrival. Nevertheless, the bitter row between Seoul and Tokyo over the last year means that Japan's entry restrictions have a bit of an extra sting to them.
While relations between Seoul and Tokyo have ebbed and flowed over the years, 2019 marked a particularly low point. The latest issue was sparked initially by a series of rulings by the South Korean Supreme Court on reparations for forced labor during World War II, essentially opening the door for individual Korean citizens to sue Japanese companies for compensation. Last spring, after two such companies — Nippon Steel & Sumitomo Metal Corp. and Mitsubishi Heavy Industries — refused to pay ordered compensation, local courts greenlit the seizure of corporate assets in South Korea to pay the plaintiffs.
Over the summer, Japan announced major economic restrictions on the export of certain products — mostly chemicals used to manufacture smartphones and semiconductors — to South Korea. Japan later removed South Korea from its "white list" of preferred trading partners, putting further administrative barriers on trade between the two countries; Seoul immediately followed suit. The dispute escalated outside of the economic realm in August, when South Korea notified Japan that they would be pulling out of the General Security of Military Information Agreement (GSOMIA), a military intelligence-sharing pact meant to help monitor and respond to North Korea. Seoul later reversed course, but only after intense lobbying from the United States.
The spat sparked massive public outcry and widespread boycotts in South Korea, ranging from consumer products to tourism. Clothing store Uniqlo saw sales decline 40 percent. Sales for Japanese car companies Toyota and Honda dropped 59.1 percent and 80.9 percent for August, respectively. Sales of Japanese beer plunged 97 percent.
The two sides met several times throughout the end of 2019 to discuss easing the situation, but to no avail. Nevertheless, the speeches by Abe and Moon in January struck a conciliatory tone, hinting that the two leaders wanted to at least attempt to mend ties between their countries. With the emergence of COVID-19, however, the industries that already had to adjust to greater restrictions and boycotts are now being hit again as the economic impact of the virus continues to spread. And these new travel restrictions mean that, politically, an improvement in ties between Seoul and Tokyo seems to be out of reach for now.