How Chinese Millennials Are Remaking the Mall
What one Chinese mall can tell us about the world's most powerful consumers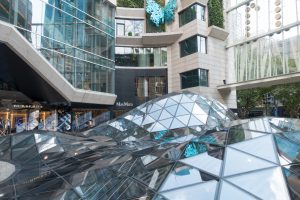 China's young consumers are digital natives driving global luxury sales and retailers have invested in their online touch-points. But a deeper analysis of their underlying motivations paints a more complex picture. An ethnographic study of the K11 mall in Shanghai uncovers this multifaceted reality.
The article is based on research that started about two years ago, when I spent a few months studying the K11 mall, accompanying, observing, and interviewing customers and staff so as to further understand China's high-end consumer trends. Since then, I have continued observing this whenever I could. Unbeknownst to me when I started monitoring this microcosm of Chinese urban society, I was really observing the beginning of a significant shift in consumption habits.
The Chinese retail landscape, driven by demanding young consumers and a strong digital ecosystem, has invited polarizing opinions over the years. Retail gurus of the last decade preached the imminent death of offline retail. Indeed, e-commerce has grown at staggering rates, making China the largest e-commerce market in the world, worth $1.94 trillion in sales.
But instead of decimating the brick and mortar experience as some predicted, today even e-commerce retailers have rethought any illusion of a digital-only strategy, giving rise to "new retail" and the omni-channel experience. For luxury goods especially, most final purchases still end up being offline.
What has happened instead is a refocusing on what really makes China's young consumers tick. The symbols for status and success have shifted. No longer concerned only with convenience, brands, or bling, they instead seek social confirmation through knowledge about culture or quality, in addition to authenticity and uniqueness in their products. And all of this must come with a seamless online-to-offline connection and sharing on social media.
Located in a popular Shanghai shopping district since 2013, K11 is part of a growing group of malls based on these principles. By blending digital touchpoints with a museum, picturesque interior designs, a members' club, and classes in areas ranging from wine tasting to art history, it has become "a global high-end lifestyle brand operator," as billed on its official website, and a community for stylish youth, focusing on the experience of shopping itself.
One of the key reasons behind K11's popularity is that aside from the usual luxury brands, K11 focuses on unique, artisanal, and niche luxury products and gadgets that are sold in a space designed more like a market than a traditional mall. Brands are "curated" (as described by the mall's leasing manager) rather than just sold, meaning that K11 has become a key partner to construct relevant narratives for its consumers.
This works because young consumers, fueled by a growing sense of individuality, are seeking out more niche or customized experiences and products. Luxury is not just a brand anymore as income levels have risen, instead, it is having something that no one or very few other people have.
Another key reason for the mall's high footfall was that shoppers wanted to spend their time in an aspirational, Instagram-able setting. K11 was one of the first malls to encourage visitors to pass long hours at the mall and to take pictures that could be shared on social media. This meant that simply being at the mall could enhance one's social status. This applied just as much to the social-scape of the mall — visitors cared about the fact that other shoppers were equally "cool."
So while China's young consumers may choose online channels to kill time at home and on the subway, or for the convenience of deliveries, this has not necessarily fulfilled this generation's need for social confirmation. Those with high-end aspirations worked toward their social goals in this environment, while those with a high-end lifestyle could reconfirm their own identity and values, both for themselves and their social circle.
Finally, aside from the appealing setting and trendy reputation, the key factor behind K11's popularity comes from the way in which it has mixed retail with culture – in the form of art exhibitions and various lifestyle classes, which appeal to visitors not only for the sake of learning about art or fine wines, but because they are able to use this knowledge to grow their social standing.
This shows that, like seeking quality through artisanship and niche products, the ultimate luxury now means hobbies and interests, like being able to talk about culture and being able to differentiate between a Picasso and a Rembrandt  or a Chianti and a Rioja – or at least, to post on WeChat about this.
Yet the real question is, how will these consumers change in the coming years?
While there is no crystal ball, there are several factors that can already be observed today. For example, just last week, my Chinese friend was explaining her Taobao  purchases to me and mentioned what I have observed more and more frequently – that among the usual Western brands, she also opted for many Chinese brands, which she said were either made in the same factory as all the other brands or more natural and artisanal than imported goods.
This growing sense of regard for local brands comes despite years of mistrust in local producers, as a general sense of national pride is increasing alongside local quality standards. In many cases, China's local brands are much more able to tap into local stories and narratives. Considering that the geopolitical tensions and even the recent coronavirus outbreak are further fueling this sense of national pride, it is likely that as well as catering to exciting and unique offline experiences, appealing to this new identity will be increasingly important.
Whatever the shape of these future trends, retailers' success will depend on how well they can continue to understand and meet their customers' underlying desires or motivations, and to become a useful, meaningful part of their quest for identity, social confirmation, and social capital.
Laura Grunberg was a Yenching Scholar at Peking University, where her research focused on Chinese consumers, the retail sector and China's cultural industry. She also holds a BA in Human, Social and Political Science from the University of Cambridge and today, she handles a number of digitalization initiatives across East & South East Asia.