COVID-19 Presents Opportunities for Australia-South Korea Relations
The global pandemic and the absence of international leadership in addressing it give Canberra and Seoul a chance to shine together.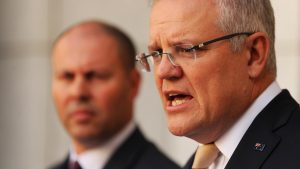 It is unfortunate that it has taken a global pandemic for South Korea to capture Australia's political and public imagination for reasons other than North Korean provocations or the U.S. president's showmanship. Yet Seoul's widely lauded response to COVID-19 is a timely reminder for Australia of South Korea's importance as a regional actor and its attractiveness and competency as a global partner. To use a popular turn of phrase, policymakers on both sides would be well-advised not to "waste a good crisis," and should seize upon several opportunities created by the global pandemic to boost cooperation at the bilateral and multilateral levels. 
Having coped comparatively well with the pandemic themselves, and with a history of middle power cooperation already under their belts, Australia and South Korea are well-placed to marshal collective support behind a range of international initiatives to address the global pandemic. Considering the abdications of responsibility and global leadership by China and the United States alike, and given that other states traditionally regarded as eminently capable in international crisis scenarios such as this are among the hardest hit and most internally focused, there is presently a clear opportunity for Canberra and Seoul to re-energize bilateral ties, galvanize a more coherent and robust global economic response, and potentially build international support behind an international enquiry into the pandemic's origins.
I have argued previously that of Australia's four "first order" relationships identified in the 2017 Foreign Policy White Paper, South Korea has unquestionably received the least attention. Canberra's approach to the Korean Peninsula in recent years has been in need of a reset for some time. While promising developments in the months before the pandemic's global eruption were welcome, efforts to reinvigorate ties arguably remained short on impetus — the sort that only dedicated, top-level leadership engagements can provide. It's worth noting that having met with the Indonesian president in February and flagged leadership engagements in India and Japan for early 2020, there were no public plans for a summit between Australian Prime Minister Scott Morrison and South Korean President Moon Jae-in this year, threatening to extended a near six-year gap between leadership engagements in either country in a specifically bilateral context. Fortunately, a recent telephone conversation between the two leaders earlier this month might have changed things. Morrison reportedly proposed a virtual leaders' summit within the year "to discuss how to overcome the coronavirus crisis, how to cooperate with vulnerable countries, and how to develop the two sides' trade relationship," a proposal with which Moon accepted. In the meantime, the two agreed to work toward facilitating "essential [economic] cooperation and exchanges"  despite the difficulties posed by COVID-19. 
However, the two need not wait until the end of 2020 to explore substantial cooperation. Put simply, Australia and South Korea should seize on the present opportunities created by the pandemic to collaborate on a range of diplomatic initiatives aimed at addressing shared challenges relating to the global pandemic. Doing so could not only give the contemporary bilateral relationship greater context beyond the history and geography of the Korean Peninsula, but could also go some way to galvanizing both a more robust international economic commitment, as well as an international enquiry into the origins of the virus.
Specifically, Australia and South Korea could collaborate more closely within the G-20 to better address pandemic-induced geoeconomic challenges. There is precedent for this. The two countries worked to have the G-20 replace the G-7 as the globe's premier economic forum, while Australian and South Korean leaders also collaborated in urging members to sustain global efforts to address the long-term economic challenges wrought by the Global Financial Crisis. Indeed, the most recent G-20 Joint Communique was disappointing for the absence of the very sort of critical "economic stimulus measures, regulatory reforms, and [commitment to] a standstill on protectionism" adopted in 2008/2009. Canberra and Seoul have each already sought to energize the G-20's response to the global pandemic, though their calls to action were not necessarily coordinated. The next logical step might be for Australian and South Korean officials to collaborate in marshalling fellow middle power members behind a collective push for more decisive and substantive action.
That both countries are already partnering with such powers through other multilateral forums might provide additional avenues for building support. Both, for example, recently issued a statement alongside Indonesia, Mexico, and Turkey (i.e. MIKTA) on the need to collaborate on pandemic-induced challenges, including through the G-20. South Korea is now also a participant in something resembling a "Quad Plus" alongside the likes of Australia, India, Japan, and Vietnam, with weekly video calls canvassing vaccine development, technology sharing, and mitigating the pandemic's economic impact. Drawing on these existing sources of collaboration to build a consensus within the G-20 could be an appealing route of action. Ultimately, although the G-20 presently faces several significant challenges from within and without that could reduce the chances of a similar middle power push succeeding in the present, this is nevertheless exactly the situation that calls for greater middle power activism. Australia and South Korea should act not only to offset the crippling impacts of great power rivalry, but to maintain the integrity of the very institutions that have historically magnified the their influence.
Collaboration through the G-20 and other fora could also be useful in the context of assembling an independent investigation into the origins of COVID-19. Australian Foreign Minister Marise Payne recently called for an impartial international enquiry, one which was predictably rejected by Beijing as part of a U.S.-led "anti-China crusade." Though the proposal in its current form is a nonstarter in China, Australia nevertheless remains committed to the idea, and Morrison and Payne have both done their best to frame the issue as politically neutral and of significance regardless of the virus's geographic origin. Experts have argued that Australia should seek to establish this enquiry in concert with other European and Asian middle powers, both in order to lend any investigation as much credibility as possible, and so as not to leave Australia vulnerable to Chinese recriminations. The greater the number and the more diverse the politics of countries that can be marshalled behind these efforts, the harder it will be for China to resist investigation or justify unilateral punishment against Australia or other states on the basis of pandering to U.S. whims. As the poster child for pandemic management, South Korea ought to be foremost among these partners. Seoul visibly enjoys increasing global influence on anything COVID-related, and has become the world's "go-to" source for reliable medical supplies and advice on containment strategies. Tapping into that diplomatic authority among regional groupings and individual powers alike could act as a force-multiplier in cooperative efforts to build momentum behind an international enquiry. 
Seoul, however, has yet to call publicly for an international enquiry itself, and it is unclear whether it would join such efforts so early on given the stakes in its own China relationship. The Blue House remains committed to hosting Xi for a scheduled visit later this year, and may thus fear taking actions that could be received negatively in Beijing. Nevertheless, South Korea also has clear interests in assembling and observing a politically neutral, scientifically verified enquiry into the pandemic's origins. As one of China's immediate neighbors, South Korea was one of the first states to report the cross-border transmission of COVID-19 (and, for that matter, SARS in 2003) and clearly has a direct stake in ensuring that the chances of similar crises occurring in future are minimized. Additionally, cooperation toward an impartial investigation would provide further opportunities to bolster South Korea's favorable international profile, particularly among states more severely afflicted. The these ends, Seoul should consider even quiet, "behind the scenes" cooperation with Australia. 
Evidently, COVID-19 has provided Australia and South Korea with a chance to enhance bilateral relations and pursue greater international cooperation for the global good. To act upon these opportunities would impart additional momentum to recently reinvigorated ties and set the scene favorably for a leadership summit later this year. Though recent developments on the Korean Peninsula could again conspire to thwart aspirations for an enhanced partnership, Canberra and Seoul should nevertheless maintain their focus on the bigger picture at this crucial time. 
Tom Corben is a resident Vasey Fellow at Pacific Forum, where he is researching defense cooperation between Australia and the Republic of Korea. Tom was previously with the United States Studies Centre in Sydney, Australia.