At Eurasian Economic Union E-Summit, Tokayev Finds His Voice
Kazakh President Tokayev pushed back on Moscow's timelines for the EAEU's 2025 development strategy.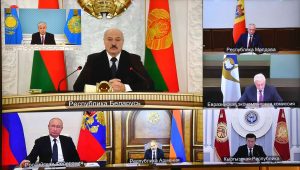 Kazakh President Kassym-Jomart Tokayev criticized aspects of a new strategy for the development of the Eurasian Economic Union (EAEU) this week. While the Central Asian nation's membership will certainly continue, the criticisms are noteworthy as they demonstrate that EAEU member states are willing to push back against Moscow's attempts to use the Union to spread its influence in Eurasia.
Tokayev's comments took place on May 19, when the EAEU heads of state held a virtual summit to discuss the future of the union and the region's response to the coronavirus pandemic.
During the e-summit, the Kazakh leader spoke about the EAEU's 2025 development strategy, currently in draft form. He said, "given the particular importance of this document, which lays the main lines of integration for years to come, it seems advisable to discuss it further and adopt it in person: sooner or later we will see each other," according to the Kazakh president's website.
Some media outlets reported Tokayev's annoyance as "representatives of the commission recently announced the adoption by the heads of state of a strategy. I think this is an inappropriate run ahead. Presidents should be given the opportunity to discuss and decide for themselves whether we will adopt a strategy or not." The Kazakh president added that, "in general, I support the idea of ratification, yet in my view there are several issues that require further discussion and elaboration."
Tokayev's remarks were a rare criticism of the Moscow-led initiative. Moreover, they highlight how the new head of state, still in his first year in office, is willing to maintain a friendly attitude toward Kazakhstan's neighbors and respect the country's membership to international organizations, but he will not be "pushed around."
Kazakhstan has historically maintained a friendly neutrality toward the EAEU and its fellow member states. Tokayev is a regular visitor to Moscow and has maintained a cordial personal relationship with President Vladimir Putin since coming to power. His first trip abroad as president was to the Russian capital. 
On the other hand, Nur-Sultan does not want to be tied down by an alliance, and the Kazakh government has also politely refused Russian offers to build a nuclear plant in the country, as it would be one more method via which Moscow can bring the Central Asian country back to its sphere of influence. (On the other hand Uzbekistan has accepted Moscow's offer for a similar plant).
"Tokayev now, naturally, is trying to demonstrate to everyone that he has his own voice, that he can, let's say, speak out from the point of view of the national interests of Kazakhstan. I think that to some extent Tokayev is trying to earn political points," said, the Kazakh political analyst Dosym Satpayev, director of the Risk Assessment Group, in an interview with Radio Azattyk about the Tokayev's remarks. 
Moreover, these statements will likely help the Kazakh leader at home, as the general population has yet to benefit from the EAEU. It was supposed to provide easier access to the Russian market. 
"For example, on Facebook: a large number of people who directly or indirectly sympathize with Tokayev began to actively sing praises about [his speech]… They are actively trying to demonstrate that Tokayev, unlike Nazarbayev, has finally 'begun to defend the national interests of Kazakhstan,'" Satpayev added.
As for the EAEU's future, it is unclear if the five-member group will become a team of six. Uzbekistan, which now holds observer status, has flirted with the idea of full membership. A March 2 commentary in The Diplomat by Umida Hashimova argued that Tashkent may have settled on observer status. (This is ironic, as it was not that long ago that it was assumed that Tashkent would certainly become a member). Apart from Uzbekistan's loss of interest and Tokayev's remarks, another source of tensions is gas: Armenia, Belarus, and Russia disagreed over gas transportation prices during the recent e-summit. 
While the Eurasian Economic Union will not dissolve, and its member states will try to find a way to make the arrangement work, the recent summit was a loss for Moscow as it attempts to secure support for the Union's 2025 strategy. As for Kazakhstan, Tokayev is no stranger to foreign policy. He is a former two-time foreign minister and already a year in executive office; he knows how to handle his country's multivector foreign policy. Tokayev's push-back against Moscow's efforts is very intriguing and could hint at the birth of a new type of Kazakh foreign policy.
Wilder Alejandro Sanchez is an international security analyst who focuses on geopolitical, defense, and cyber security issues in the Western Hemisphere and post-Soviet regions. The views expressed in this article belong to the author alone and do not necessarily reflect those of any institutions with which the author is associated.