Fingers, Boots, and Lines: Understanding the 2020 India-China Border Tensions
What's driving the latest bout of India-China tensions?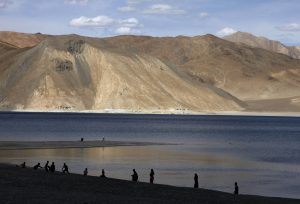 The Diplomat's Asia Geopolitics podcast host Ankit Panda (@nktpnd) speaks to M. Taylor Fravel, the Arthur and Ruth Sloan Professor of Political Science and Director of the Security Studies Program at the Massachusetts Institute of Technology, about the ongoing India-China tensions along the Line of Actual Control. The podcast covers the history of the Sino-Indian border, the terrain involved in the 2020 standoffs, and possible pathways out for both sides.
Click the play button to the right to listen. If you're an iOS or Mac user, you can also subscribe to The Diplomat's Asia Geopolitics podcast on iTunes here; if you use Windows or Android, you can subscribe on Google Play here, or on Spotify here.
If you like the podcast and have suggestions for content, please leave a review and rating on iTunes and TuneIn. You can contact the host, Ankit Panda, here.