Darkening Mood in Delhi Over China
Opinions in New Delhi are hardening, even among sections of elite opinion-makers who are not seen as hyper-nationalists.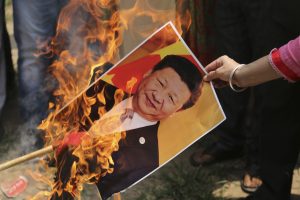 The Sino-Indian border confrontation may fundamentally alter Sino-Indian relations, if the darkening mood in New Delhi is any indication. Diplomatic and military negotiations have been ongoing since the June 15 clash at the Galwan River, but they do not appear to be yielding much progress. Not only has there been no troop disengagement on the border, both India and China appear to be sending more troops to the border.
China is also reported to be building up forces opposite the Indian state of Arunachal Pradesh, hundreds of kilometers to the east of the current confrontation. Adding to an already complex situation, Pakistan is sending almost 20,000 troops to territories it controls on India's western flank opposite Ladakh, confronting India with a possible two-front problem. Pakistani radars are also reported to be active. Citing military sources, reports say that the Skardu air base in Pakistan Occupied Kashmir (POK) has been active as well. China is reportedly in talks with cadres of terrorist groups such as Al Badr to possibly stir-up violence in Jammu and Kashmir. The Indian Air Force and the Navy are also reportedly on high alert.  
The so-called areas of "friction" under discussions include the north bank of Pangong Tso, Galwan Valley and the Gogra Post-Hot Springs pockets.  Meanwhile, there has also been the meeting of the Working Mechanism for Consultation and Coordination (WMCC) on June 24  and according to news reports, this will be done on a more regular basis. At the 15th  meeting held on June 24, it was reportedly decided that the WMCC will be active in finding terms of disengagement, non-violation of the current but differing perceptions of the LAC, and adherence of the existing border mechanisms such as the 1993 and 1996 agreements.  
Reports quoting Indian Army sources say that the "Army is preparing for the long haul and the standoff is expected to continue well into the winter." Commenting on the last meeting of the military officials on June 30, the Indian Army Public Affairs Directorate is reported to have said that both sides "have emphasised the need for an expeditious, phased and step wise de-escalation as a priority." With the Ministry of External Affairs (MEA) and the Ministry of Defense (MoD) making no formal statements, "army sources" paint a rather a gloomy picture of the meeting.
The crisis has impacted the broader Sino-Indian relationship. Several Indian infrastructure projects in which China won the contract have been revoked or cancelled. Examples include the Shanghai Tunnel Engineering Company of China which received a contract to build the underground portion of the rapid rail project between New Delhi and Meerut, a city about 60 kilometers away.  Similarly, the Bihar government cancelled a deal for the construction of a new mega bridge because two out of the four contractors had Chinese partners, China Harbour Engineering Company and Shaanxi Road Bridge Group Company (JV), even though they had earlier been cleared by the Central Cabinet Committee on Economic Affairs. There are also calls by the Maharashtra government to boycott Chinese investment. For instance, memorandum of understanding (MoU) worth 50.2 billion Indian rupees (INR) ($670 million) signed with three Chinese firms, Hengli Group (2.5 billion INR), Great Wall Motors (37.7 billion INR), and PMI Electro Mobility Solutions, a joint venture with Foton (10 billion INR) is already on hold.
Opinions in New Delhi are hardening, even among sections of elite opinion-makers who are not seen as hyper-nationalists. Ajai Shukla, a prominent defense analysts usually critical of the Modi government, tweeted that "India's military has to fight this out, or New Delhi becomes vassal to Beijing and the Middle Kingdom." Another moderate voice, Lt. Gen. H.S. Panag argues that with diplomacy reaching a dead end, "it is logical that India may have to exercise the military option to restore status quo ante April 2020."
Similarly, Shivshankar Menon, National Security Adviser under the previous Congress party-led government of Prime Minister Manmohan Singh, noted that China's behavior today is different, something that has not been seen in a very long time.  As he put it, this crisis "is serious . . .  And it is even more serious because it is a part of a broader Chinese behaviour, not just vis a vis us, but with other people as well." India's deterrence appears not to be working, he suggests. The question then becomes "how do you then deal with it politically because this is more than just a military problem, this is diplomatic, political, it's a much broader challenge."
Gautam Bambawale, former Indian Ambassador to China, also argues that the current PLA offensive is different because China has come in large numbers up to areas of their perceived Line of Actual Control (LAC). He charges that China's PLA has violated "all the principles, norms, standard procedures which have evolved over the past 25 years to maintain peace and tranquility in the border areas. They have displayed how little store it sets by agreements signed by its own government." In an earlier interview, he said that "For minor tactical gains on the ground, China has strategically lost India." More pertinently, he makes a clear call for "India as a country, as a people, including, of course, the government in the lead" to do "a fundamental reassessment of its China policy, make changes in it, and then implement it at the earliest."
What is important is that these are voices that had usually supported stronger, mutually beneficial even if clear-eyed, relations with China. Whether these opinions will necessarily lead to changes in India's long-term policy remains to be seen. C. Raja Mohan, one of India's most important foreign policy commentators, has suggested that "the potential direction of the Sino-Indian relationship is likely to depend on how the current military confrontation in Ladakh is resolved." But there is little doubt that, much like the Sino-Indian war of 1962, fundamental questions are being asked in New Delhi of India's China relations.