Japan's Approach to Ghana Is a Blueprint for African Development
Japan's "tech-centric" development strategy provides an alternative option to the assistance China offers.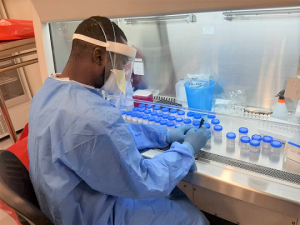 Foreign aid and development assistance are contentious subjects for some, since loans on offer sometimes impoverish countries rather than support economic development and improvements in standards of living. However, Japan's relationship with Ghana is a blueprint for African countries, largely due to Japan's decision to prioritize key areas such as health care, education, labor laws, and agricultural mechanization. The concept of "tech-centric" development has formed the basis of Ghana-Japan relations.
Not only has Japan donated 11.2 billion yen ($102 million) in loans to build infrastructure and enhance economic ties with Ghana, it has also funded a 2.3 billion yen health center to improve Ghana's responsiveness to disease outbreaks. Among other things, Japan has ensured that Ghana's workforce is better trained and equipped to facilitate economic development, whilst leveraging its technology in that regard.
Ghana, like many other African countries, is a beneficiary of large Chinese loans, which are nonetheless crucial for its development over the long run. However, recent experiences in Australia illustrate that China will not hesitate to employ economic tools to achieve its geopolitical objectives. The Belt and Road Initiative (BRI) and the China-Pakistan Economic Corridor, the star project of the BRI, are examples of China's ambitious vision for Asia, Africa, and Europe.
On the other hand, Japan has taken a different approach to Ghana's development, emphasizing infrastructure, technology, and skills transfer.
Ghana's foreign affairs and regional integration minister, Shirley Ayorkor Botchwey, has emphasized the critical, if not indispensable, role of technology in Japan-Ghana relations. As one of the most technologically advanced countries in the world, Japan is both logistically willing and technically capable of facilitating a transition to advanced IT-driven industries in Ghana. Japan's rigor and proven capabilities will benefit the Ghanaian economy, strengthen economic linkages, and augment positive spillovers across both economies.
Japan's Approach to Development Aid
Japan's distinctive approach to development aid, combining poverty reduction under a tech-driven neo-liberal framework, will enable strategic and economic convergence for Ghana over the long run. Its experiences as a latecomer and history of successful industrialization can credibly offer Ghana the chance to benefit from best practices across a range of sectors spanning manufacturing, health care, R&D, and transportation.
Japan's technology can transform a growing manufacturing base that can compete with Chinese products while increasing Ghana's geopolitical reach on the continent and creating a ready market for Japanese products over the long run. The Japanese government has been seeking to improve market visibility for Japanese technological excellence while achieving U.N. sustainable development goals of economic opportunity and eradication of hunger.
Similarly, agricultural mechanization has served as an anchor for the relations of both countries. In 2015, agriculture machines worth $5.1 million were sent by the Japanese government as grants, with the goal of reducing Ghana's imports of rice and raising domestic production to meet demand. As such, Japan's approach to aid can be seen to address structural imbalances in the economy that will achieve broader developmental goals and reduce Ghana's trade deficit.
Development aid is sometimes regarded as counterproductive due to its tendency to address issues like gender equality and female empowerment amid cash-strapped and sometimes terribly poor citizens. But while Japan is addressing health care and manufacturing via several initiatives, it also created a platform for the sustainable future of cocoa with the aim of reducing child labor. This will ensure that cocoa exports from Ghana, worth around 7 percent of GDP, are ethically sourced. Such double-pronged efforts help the perception of Japan in comparison to other donors that appear to relate to Ghana from a paternalistic debt-driven narrative.
The Fight Against COVID-19
Additionally, Japan built the Noguchi Memorial Institute for Medical Research, in memory of one of its scientists who died in Ghana while studying yellow fever. Not only has the center come to illustrate Japan's tech-oriented preference for development, but the institute has also been pivotal in the fight against COVID-19. It equally trained a new generation of biologists and virologists, who have played an indispensable role in providing medical assistance since the onset of the pandemic.
Medical personnel who completed the Japan International Cooperation Agency (JICA) training are now working toward combating the virus in their home countries. The training helped the participants gain valuable knowledge, insights, and experience, which are now being turned into concrete action plans such as the implementation of accurate PCR tests, improved hospital case management, and improved care for COVID-19 patients. Moreover, these participants developed a network during their JICA training, and resultantly have contacts spread across varying developing countries, enabling them to engage in virtual knowledge and experience sharing across the globe.
The insights gained from Japanese initiatives have made the Noguchi Memorial Institute one of the most innovative centers in Ghana when it comes to COVID-19, leading the way in the execution of precise PCR testing. The JICA notes that 80 percent of PCR testing has been carried out by the institute. Even after the pandemic subsides, Ghana will continue to benefit from Japanese expertise as well as pharmaceutical equipment, as better health care practices are being adopted across Ghana.
Ghana is one of the largest and most innovative economies in Africa, which explains Japan's tech-centric approach to economic development. Nevertheless, this approach is likely also linked to Japan's preference to address important issues such as child labor as well as offer its machinery to facilitate the country's leapfrog.
With issues such as child labor and industrialization being addressed simultaneously, a more skilled workforce will emerge — one that would be able to leverage technological progress and benefit from the fourth industrial revolution. In the absence of such a dual approach to economic development, the current digital divide would exacerbate structural inequities in education, health care, and economic opportunity.
Japan's approach attempts to prioritize education, upskilling the workforce, and industrializing economic activity simultaneously. That strategy can address future labor market needs and accelerate economic convergence toward emerging market status. Ghana stands to benefit from Japan if it continues on a tech-centric path to economic development. For Japan's part, as Ghana becomes wealthy, it will be able to afford to buy more of the already tested Japanese products.
It is difficult to find a win-win in diplomacy, but Japan's blueprint for development on the continent – i.e. prioritizing knowledge and skills transfers instead of economic development alone – is a more productive way for countries to think about development aid. Ghana has understood Japan's ambitions and vice versa, and their relationship will become central to Ghana's development in the coming decade.
Henri Kouam is a fellow in Economic Affairs at the Nkafu Policy Institute. He currently works as an economic consultant for Global Wonks, a global expert network. Before this, he was an economist and macroeconomic strategist at Roubini Global Economics, one of the leading economic research providers in London.
Sarmad Ishfaq works as a research fellow for the Lahore Centre for Peace Research. He has a master's degree in international studies from the University of Wollongong in Dubai.