Sino-Indian Competition in the Indian Ocean Region Intensifies
As competition intensifies in the Indian Ocean Region, India loses touch with Sri Lanka and solidifies relations with the Maldives.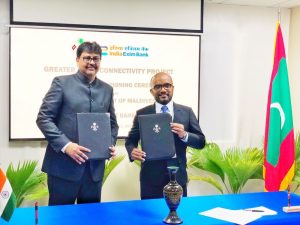 India has recently faced some stiff competition from China for influence in its South Asian neighborhood. China's increasingly visible footprint in Sri Lanka since the return of the Rajapaksas has made India's position a little shaky. While New Delhi's relations are being put to the test in one Indian Ocean state, India has had better luck with the Maldives, another key state in the region.
With the Rajapaksas back in office, Sri Lanka appears to be once again on the verge of rebuilding a stronger Sri Lanka-China relationship. Last week, a group of senior officials led by top foreign policy official Yang Jiechi, a member of the Chinese Communist Party's Politburo and the director of the Central Committee's Foreign Affairs Commission, its top policymaking body, visited Sri Lanka. The visit was part of a four-nation tour by Chinese officials, which included visits to the UAE, Algeria and Serbia. 
In a statement, Sri Lanka's foreign ministry reportedly lauded this "first ever Chinese visit in the South Asian region since the global coronavirus epidemic," and looked forward to strengthening cooperation between Sri Lanka and China, "in the areas of combating the global pandemic and revival of economic relations." The high-powered delegation met with both President Gotabaya Rajapaksa and Prime Minister Mahinda Rajapaksa in Colombo.  
Since the Rajapaksas returned to power, China-Sri Lanka relations have been warming up. Following Mahinda Rajapaksa's landslide victory, China welcomed him as the prime minister and pledged complete support, stating that "Beijing looks forward to advancing its strategic cooperative partnership with Colombo." After he took office, Chinese foreign ministry spokesperson Zhao Lijian stated during a press briefing that two countries enjoyed a "traditional friendship" and that the two have been advancing their "strategic cooperative partnership based on sincere mutual assistance and ever-lasting friendship." 
China's influence in Sri Lanka will remain a cause of concern for India. The Rajapaksas have been generally perceived as close to China. The fact that the Hambantota Port development was given to China by Mahinda Rajapaksa during his previous term in office as president continues to be a sore point for India. While this has been worrying enough, that the Sri Lankan government signed the Hambantota Port to China on a 99-year lease is even more of a concern in New Delhi.

With China giving high-profile attention to Sri Lanka, Colombo is slowing down some of its planned projects with India and Japan. Reports have suggested that China believes that Colombo must maintain some distance from New Delhi and Tokyo. Accordingly, Sri Lanka has decided to pause or slow down some of the development projects involving India and Japan, such as a Japanese-funded light rail project and the East Container Terminal (ECT) project in Colombo, which is backed by both Japan and India. In the latter case, this came despite the fact that the three countries signed an MoU for the project more than a year ago. Since the recent change in political dispensation in Colombo, there is no assurance that these projects will go through.
In contrast, India appears to have got a bit of a breather in the Maldives. In fact, the Maldives may be one of a couple shining spots for India in its immediate neighborhood. India has been pitching a number of economic, connectivity and capacity-building projects in the Maldives. While many of the recently announced projects are economic in nature, the Indian objective is to limit China's footprint in India's backyard. Earlier in the week, the EXIM Bank of India entered into a line of credit agreement for $400 million for the Greater Male Connectivity Project. This is reportedly the largest of the infrastructure projects in the Maldives, connecting Villingili, Gulhifalhu and Thilafushi islands. This comes in addition to $100 million that India has promised for the project, which involves the construction of a 6.7-kilometer bridge and causeway network linking Male with the other three atolls. It is reported to be second most important connectivity project in the Maldives, after the China-Maldives Friendship Bridge linking the airport island of Hulhule with the capital's island.
India announced its assistance for the project in a virtual meeting between External Affairs Minister S. Jaishankar and Maldives Foreign Minister Abdulla Shahid in August. Thanking India for this assistance, the Maldivian foreign minister tweeted, "The Greater Male Connectivity Project will lead to greater possibilities. It is the gateway to a more developed & economically resilient nation." The current assistance package comes in addition to a previous line of credit of $800 million, which is one of the largest loan packages that India has given to any nation in its  neighborhood.
Earlier in July, India also gave the Maldives a symbolic check providing assistance for nine projects, through the High Impact Community Development Projects (HICDP) scheme. India has signed several bilateral MoUs for the construction of fish processing and bottled water plants, and the establishment of tourism zones. Prior to this, New Delhi had offered Male $400 million through an extended currency swap arrangement in order to deal with its liquidity crisis. India is also reported to have granted the Maldives $1.4 billion in budgetary aid to negate the adverse economic impact of the COVID-19 pandemic.  
Things have turned around for India in the Maldives since the 2018 elections, when Ibrahim Mohamed Solih was elected president. But another change in political dispensation could just as easily sour relations with India. So, while things are still working in its favor, India is trying to do its best to bring Male under its wing. Whether these aid and assistance efforts can maintain a positive role for India in Male over the longer term is unclear. But for the time being, the Maldives remain a relative success story for Indian diplomacy. More importantly, the course of events suggests that competition with China has forced India to up its diplomatic game in the region.