Chinese Foreign Minister Visits South Korea After a Two-Day Visit to Japan
The Chinese foreign minister arrived in Seoul on Wednesday night for a meeting with his Korean counterpart and President Moon Jae-in.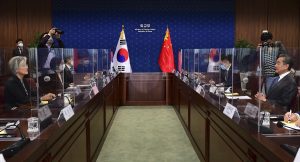 Chinese Minister of Foreign Affairs Wang Yi arrived in Seoul on Wednesday for meetings with his Korean counterpart Kang Kyung-hwa, and President Moon Jae-in on Thursday after a two-day visit to Japan this week. 
The last Chinese official to arrive in South Korea was foreign policy chief and Politburo member Yang Jiechi in late August. 
Experts say the main purpose of Wang's visits to Japan and South Korea was to check on major U.S. allies in East Asia. Chinese concerns revolve around their potential to join the United States in its criticisms of China, which are anticipated to continue into the new U.S. presidential administration. Some also say Wang's visit presages a summit meeting between the leaders of China and South Korea before U.S. President-elect Joe Biden's inauguration in late January to discuss issues such as disputes between Washington and Beijing, and North Korea's nuclear missiles. 
"My government will not stop working with the international community including China for the end of war in the Korean Peninsula and the complete denuclearization," said Moon during the meeting this week.                    
Moon also expressed his gratitude for China's constructive support for and cooperation with the peace process in the Korean Peninsula. He added that he hopes both countries develop a cooperative partnership by enhancing collaboration on economic, personal and cultural exchanges.
Wang said the reason for his visit to Seoul was "for showing the faith that we can completely defeat the coronavirus" and delivered the regards of Chinese leader Xi Jinping and Prime Minister Li Keqiang.
Moon and Wang exchanged perspectives on the relationship between the two countries and issues they both face, according to local news media.
After the meeting with Kang, his counterpart,  Wang said "as soon as conditions are created, I believe the Chinese leader's visit to Korea can be achieved." He did not specify what conditions he was actually talking about, but he added that people are still wearing a mask, referring to the status of the coronavirus in the country, according to local news media.
As the country is facing a third outbreak of the coronavirus, recording 583 new coronavirus cases on Thursday, Wang's comments are being interpreted as meaning it would be impossible for Xi to visit Seoul for a summit meeting before the end of the year.
He also said that "as strategic partners, China and South Korea should coordinate and cooperate in all directions," checking Seoul's potential move with Washington against Beijing. 
However, experts suggest that it would be difficult for Seoul to split from Washington, even with regard to China, under the incoming Biden administration.
Park Won-gon, a professor of international relations at Handong Global University in South Korea, told The Diplomat that it could be more difficult for Seoul to play a role between Washington and Beijing neutrally. 
"The two words that President-elect Biden consistently emphasized in his phone conversation with the leaders in Asian countries were the 'Indo-Pacific region' and 'liberal democracy.' Based on the value of democracy, if the Biden administration cooperates with its allies to keep China in check, Seoul is likely to be part of Biden administration's moves and I think this will be very inconvenient for China," Park said.
Considering Biden's diplomatic philosophy – not "America First" as under Trump but a greater emphasis on alliances — now is a very important period for Beijing. It has a small window before the inauguration of the Biden administration.
In the process of confronting China, the Trump administration encouraged its allies to join the anti-Chinese movement, but not many allies actively participated. The Trump administration has been very unilateral in its actions, giving allies little or no justification for participating in the demand.
The Biden administration, however, would provide strong motivation and reasons to his allies for joining the possible anti-Chinese movement if necessary, Park said.
"It is difficult for Seoul to side with either Washington or Beijing due to geopolitical, political and diplomatic reasons. Seoul, of course, should get along well with Beijing, too." 
Experts predict that it would be more challenging for Moon to handle North Korea issues, especially on the North's denuclearization, when Washington and Beijing have more conflicts. 
Leif-Eric Easley, a professor at Ewha University in Seoul, told The Diplomat that the Moon administration needs to approach the ways of resolving issues regarding North Korea differently.
"Rather than prioritizing a premature summit with North Korea or looking for a path to Pyongyang that goes through Beijing, Seoul could offer to host a multilateral summit of Indo-Pacific democracies or participate in a 'Quad-plus' meeting," Easley said.
"The Quad is not a military alliance but a set of initiatives by like-minded states supporting the rules-based order in Asia."
Providing global public goods — coordinating on cyber and maritime security, addressing climate change, and restoring trade and travel — can actually encourage cooperation with China and show North Korea incentives for denuclearization, Easley said.