Israeli Semiconductors and the US-China Tech War
With its strong tech industry, Israel has emerged as a rare beneficiary of the U.S.-China rivalry – for now.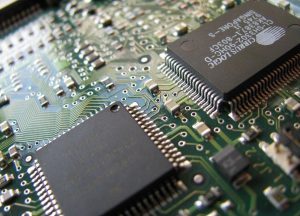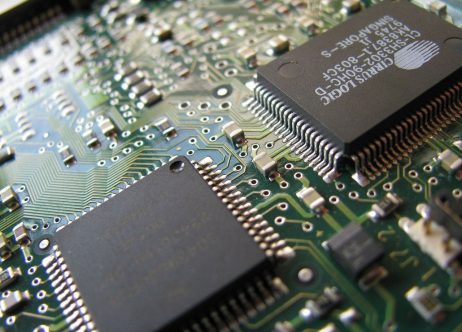 As the United States and China find themselves locked in a battle for technological superiority, Israel's semiconductor industry could become the next "chip" on Washington's shoulder.
Semiconductors, the building blocks of modern digital technologies, hold the key to achieving breakthroughs in everything from artificial intelligence (AI) and big data to robotics and virtual reality. Concerned that advances in Chinese semiconductor technology benefit the People's Liberation Army, and seeking to maintain America's technological edge over the People's Republic of China, Washington has gone on the offensive.
Chinese telecom giant ZTE was among the first to be hit with crippling sanctions in early 2018, after violating U.S. embargoes on Iran and North Korea. The move prevented ZTE from acquiring critical components from American semiconductor manufacturer Qualcomm. A year later, the Trump administration slapped export controls on Huawei, banning the sale of U.S.-made chips without prior license approval. In September 2020, the United States expanded its "Entity List," imposing restrictions on China's largest state-funded chipmaker, Semiconductor Manufacturing Industrial Corp (SMIC). Washington believes these companies are aiding the Chinese Communist Party in conducting espionage and supporting China's civil-military integration efforts.
U.S. pressure has forced Taiwan Semiconductor Manufacturing Co to turn its back on its biggest customer, halting sales to Huawei. Japanese chipmakers have suffered a similar fate and have found themselves scrambling to find new clients. Meanwhile, in Europe, the United States has effectively blocked Dutch company ASML from selling its most advanced lithography machine to SMIC. As shockwaves ripple through the semiconductor industry, Israel has seemingly emerged unscathed. In fact, "Silicon Wadi" has found itself among the few benefactors of the fallout from the Sino-American tech-rivalry, for now.
2018 saw Israel's semiconductor exports to China rise by 80 percent. Much of this growth has been attributed to Intel's increasing sales to China from its recently upgraded Israeli plant, which some have argued served as a way around U.S. trade tariffs. But Gu Wenjun, chief analyst at Shanghai-based semiconductor consultancy ICWise, suggests that in the face of U.S. export restrictions, Beijing has been looking to Israel to acquire these advanced technologies. Gu told the press that "because of the trade war, China and Israel's cooperation is closer than it has been before."
China has indeed emerged as Israel's second-largest trading partner country, and semiconductors have become an important component of their economic relationship. According to Israel's Export Institute, the start-up nation sold $2.6 billion worth of semiconductors to China by the close of 2018, accounting for 56 percent of Israel's exports to the eastern giant. That same year, Chinese purchases of inspection equipment for semiconductor manufacturing from Israel climbed 64 percent, reaching $450 million. Eli Assoolin, CEO and co-founder of Israel start-up Newsight Imaging, told the media his company has "sold hundreds of thousands of chips to Chinese companies, and the future looks very promising."
Chinese interest in Israel's semiconductor industry is driven by Xi Jinping's conviction that semiconductors are "essential in China's plan to dominate the world's core technologies." However, China's domestic semiconductor production lags far behind other countries in terms of design and manufacture of advanced microchips, which are technologically sophisticated and very difficult to produce. With local chipmakers only satisfying 16 percent of China's domestic semiconductor demand, China has become the world's largest buyer of chips – spending roughly $300 billion annually since 2018.
China seeks to address this vulnerability by becoming more self-sufficient regarding chip design and technology production. As it happens, the strength of the Israeli semiconductor industry lies in the very things China wishes to acquire: superior design, cutting edge R&D, and the ability to integrate chips that interact smoothly between technologies. Many of the world's most advanced chips in the semiconductor industry were and are being developed in Israel. These include the Pentium MMX, Centrino, and Sandy Bridge from Intel, Sandisk latest flash technologies, Texas Instruments' Bluetooth chip, and Motorola chips for cellular phones.
Chinese multinationals have noted these achievements and have set out to acquire their share of Israeli know-how. Huawei has been running an R&D center in Israel since 2016, when it bought Toga Networks. Xiaomi followed suit, establishing a presence in the Israeli market around the same time it started manufacturing its own semiconductors in 2017. Chinese funds have since joined in on the action, with Neng Yang spending $35 million in 2019 to acquire Advanced Dicing Technologies (ADT); an Israeli company that develops specialized machinery for cutting silicon-based chips and microelectronic components. Chinese entities, including Baidu, Pingan, Qihoo, Shengjing 360, and Yongjin Group, have all invested in Israeli venture capital firms that fund Israeli semiconductor companies.
China's growing presence in Israel has not gone unnoticed. Since labeling China a "strategic competitor" in its 2017 National Security Strategy, the United States has been increasingly pressuring Jerusalem to curb its ties with Beijing, especially regarding critical infrastructure and advanced technologies. Israel established a mechanism to vet foreign investment into potentially sensitive industries in 2019. Still, this has not allayed U.S. concerns. In May 2020, Secretary of State Mike Pompeo told Israeli media that America does not "want the Chinese Communist Party to have access to Israeli infrastructure, Israeli communication systems, all of the things that put Israeli citizens at risk." He warned that engaging with China in sensitive areas could threaten intelligence sharing with the United States.
Semiconductors are particularly sensitive in this context due to their dual-use nature. At the same time, not all chips are created equal. Military technologies require custom chips, different from those of consumer electronics and more difficult to produce. This is why not all Chinese semiconductor companies have been placed on the U.S. Entity List and why chipmakers like Intel have been granted licenses to continue selling certain chips to those that are. This disparity suggests that Israel has some room to maneuver provided it maintains well thought out controls to prevent dual-use transfers to China. Still, as relations between the two great powers become increasingly adversarial, even with these controls in place, Israel risks finding its U.S. ally less forgiving of its delicate balancing act.
Dale Aluf is a political psychologist and the director of research and strategy at SIGNAL, Sino Israel Global Network & Academic Leadership, a member of China's Silk Road Think Tank Association SRTA.