Atambayev Headed for Retrial in Batukayev Case After Supreme Court Cancels Conviction
Atambayev's June conviction has been overturned, but he'll be headed back to court for the Batukayev release case, and others.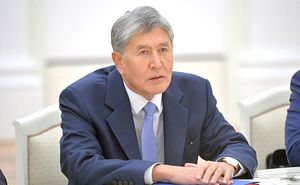 Late on November 30, the Kyrgyz Supreme Court cancelled the conviction and 11-year sentence handed down to former Kyrgyz President Almazbek Atambayev in June over his alleged involvement in the 2013 early release of Chechen crimelord Aziz Batukayev. The case is headed for a new trial, as if Atamabyev doesn't have enough court engagements in his social calendar these days.
Atambayev is also facing a litany of charges including kidnapping and murder, along with several others, related to the chaos of August 7, when Kyrgyz authorities attempted and failed to detain him at his compound in Koi-Tash. Atambayev had refused three summons from the Interior Ministry to be interviewed regarding the Batukayev case. After three refusals, the authorities had the remit to detain him for questioning. Atambayev and his supporters resisted the authorities on the evening of August 7, in a dramatic botched raid live-streamed by local media outlets. In the chaos, a security forces officer was shot and killed and Atambayev's supporters took a group of other security officers hostage. The next day, the hostages were released and Atambayev surrendered.
Atambayev is facing more recent charges, too, for organizing "mass riots" on October 9. In the early morning of October 6, Atambayev was busted from jail amid the post-election unrest. On October 9, as Kyrgyzstan writhed with political tumult, Atambayev joined Omurbek Babanov, a former political foe, at a rally in Bishkek. A riot broke out as supporters of rival politicians – many reports point to supporters of Sadyr Japarov – stormed the stage. As Atambayev left in a car, a still-unidentified man aimed a pistol and shot at the vehicle. Atambayev's supporters called it an assassination attempt. The next day, Atambayev was taken back into custody along with most of the other jailbroken politicians – except Japarov, who instead went on to become prime minister, then acting president and, after resigning both posts in mid-November, now a presidential hopeful.
As recently as August, a Bishkek court had upheld Atambayev's sentence. A reason for the Supreme Court's cancelling of the Batukayev case verdict against Atambayev has not been reported. Atambayev's lawyers reportedly made the request, and the Supreme Court granted it, but the grounds on which the case has been sent back to trial are not clear.
While Atambayev's lawyers argued that he should be released to house arrest, as ordered in the Koi-Tash case, it appears that Atambayev will remain in jail for at least several more days until a lower court in Bishkek receives and restarts the case. It seems likely he'll be kept in custody.
After the news of the cancelled conviction came out, Atambayev supporters gathered near the Supreme Court. 24.kg reported that a fight broke out between an Atambayev supporter and a Japarov supporter. 
The Koi-Tash trial has been delayed several times due to Atambayev's health issues and the pandemic, as well as his theatrics, such as refusing to participate.