Japan's COVID-19 Spike Raises Alarm for Elderly and At-Risk Groups 
The controversial "Go To" domestic tourism subsidy has come under the microscope for possibly facilitating the nation's explosion of coronavirus cases.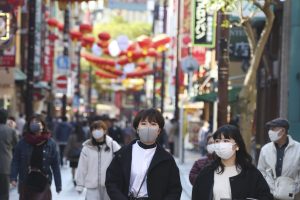 Japan is in the grip of its third wave of surging COVID-19 cases with the rate of infections showing no signs of slowing down in the hardest-hit area, Tokyo. As Japan's ultra-aging society enters the winter season, the number of people over 65 catching the virus and falling seriously ill has surpassed the number of infections during the peak of the second wave in the summer.
Overall, elderly people with underlying health conditions such as diabetes, high blood pressure, and heart disease accounted for 90 percent of those critically ill with coronavirus in heavily concentrated areas such as Sapporo in Hokkaido, Aichi prefecture, Osaka prefecture, and Tokyo. On Thursday, December 3, Tokyo logged 533 new COVID-19 cases – the highest count of daily infections since the outbreak began – with 54 seriously-ill cases and 36 deaths.
For the first time in two months, Tokyo has raised its coronavirus alert to stage four, the highest level, warning residents that the virus is rapidly spreading. The government is urging people over 65 and those with pre-existing health conditions to refrain from using the controversial "Go To" travel and "Go To" eat government discounts. On December 3 the Ministry of Tourism announced that those with underlying health conditions can cancel their bookings by December 13 and have cancellation fees waived. Tokyo's Governor Koike Yuriko also urged residents to avoid unnecessary outings and requested restaurants and bars in Tokyo to shorten business hours to 10 p.m. until December 17.
Japan has managed to maintain a relatively low COVID-19 mortality rate, 2,261 deaths in total in a population of 126 million (compared to the U.K., which has recorded over 60,000 coronavirus deaths in a population of 67 million). Since November 18, Japan's COVID-19 death toll has risen rapidly with an additional 327 deaths.
As the number of critically ill patients rises, so does the length of hospital stays and the need for respirators. Tokyo has recorded 4,174 active coronavirus cases with a tightening hospital capacity of 5,910. Currently Tokyo has 150 beds allocated for critically ill patients. The Tokyo municipal government is bracing for a rise in seriously ill patients and has requested that hospitals designate an additional 50 new beds. Hospitals have already added 310 additional beds for patients showing mild symptoms, for a total of 2,800 beds.
A shortage of medical personnel has meant health facilities are unable to keep up with trace and cluster testing amid the rapid increase of COVID-19 cases. There are approximately 1,200 dispatch health personnel registered nationwide to help health centers trace and track cluster infections, but if 2,800 medical facilities were to operate at full capacity, the current number of staff is just a drop in the bucket.
There are fears that the government's domestic tourism discount campaign, "Go To Travel," launched in July as the pillar of Japan's economic revitalization strategy, is behind the explosion of cases in  Sapporo, Tokyo, Osaka, and Japan's central Chubu region. While Prime Minister Suga Yoshihide has denied any causal link between the new tourism campaign and the surge in COVID-19 cases, some medical experts believe it could have been a trigger and have requested the campaign be halted to prevent collapse of the medical system.
Osaka, Chubu, and Sapporo have now been temporarily excluded from the Go To Travel campaign. Tokyo Governor Koike said she originally pushed for a ban preventing people over 65 and those with underlying health conditions from embarking on their planned domestic holiday but settled for "self restraint" in consideration for the economic impact of cancellations for many hotel operators, who see the Go To campaign as a lifeline.
The main COVID-19 countermeasures rolled out nationwide consist of free masks, social distancing, inspections, and observation. But the cost effectiveness of Japan's coronavirus measures has come into question, with the total cost of coronavirus measures amounting to 42 percent of GDP.
According to the Ministry of Health, there were 386 hospital-acquired infections nationwide and 452 infections at long-term care facilities, making them a major source of cluster outbreaks. As a part of cluster prevention measures, in late November the government requested municipalities spend two days inspecting medical facilities treating elderly coronavirus patients. Although the cost of inspections are halved by the central government, municipalities have been reluctant to undertake the mammoth inspection task with funds running low as a result of spending on contingency measures during the second wave.