How to Control the Masses by Silencing the Press
Press freedom is at a low in Southeast Asia – and the region's governments all seem to be following the same playbook.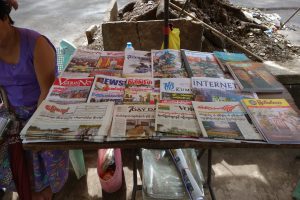 2020 was not a good year for journalism in Southeast Asia – nor for the entire Asian region for that matter. But even before COVID-19 entered the picture, further hampering journalists' abilities to report freely and independently, press freedom in Asia was at a dangerous low. According to Reporters Without Borders, the Asia-Pacific region saw the greatest rise in press freedom violations from 2019 to 2020, with Singapore and Hong Kong making significant contributions to the gloomy score.
The last decade has been particularly rough on independent media and journalists, and with every year that passes, press freedom in the region receives fresh blows. As an onlooker, it is striking how the different regimes seem to take inspiration from one another, almost as if they were following the same playbook.
The first chapter of such a playbook would likely focus on "lawfare": the use of the law to shackle the press. One tool is existing laws for media regulation that, with the right usage, can rein in free and independent media. In Vietnam, China, and Singapore, for example, a license is needed to run a media business and a press card is mandatory for journalists. This contrasts with other countries, where a press card serves to expand the rights of journalists but is not in itself a requirement. Such a licensing system often propagates self-censorship as media will feel inclined to hold back on critical journalism to avoid losing their license – and thereby the foundation of their business.
Such laws may also skew the competition within the media market. In many countries in Southeast Asia, state- or government-owned media work side by side with privately-owned media. Without a balanced system of regulation, the state is in a position to decide on the levels of access to information and award unfair economic advantages to the media it owns. This creates an uneven playing field for independent, critical media who can be denied access to government-held press conferences or officials, advertising revenue or favorable tax terms.
The playbook also prescribes the usage of laws that were not intended to be used against the media and journalists. One example is national security laws, which, given their vague wording, are often used as a springboard to file lawsuits against media and to stop them from publishing stories that are deemed a threat to the nation's security. The blatant attacks seen on pro-democratic media in Hong Kong since August are a textbook example of such practices.
The same goes for defamation provisions in criminal laws that are being used to force media to retract stories to avoid being taken to court for slander. This tool is frequently employed across the region, often with a local twist: In Thailand journalists are often brought to court under the lese-majeste law, while in Pakistan blasphemy is the main excuse.
The fight against disinformation and "fake news" has also led to cross-border authoritarian inspiration. New laws that aim to criminalize the spread of malicious or misleading content have been introduced, but given their often broad wordings, decision-makers have gained an alarming amount of power to launch prosecutions and punish media for publishing anything the authorities deem objectionable, false, or misleading. Naturally, this can be detrimental to press freedom, freedom of speech and public debate. Singapore led the way with its "Protection from Online Falsehoods and Manipulation Act" in 2019, and last year, Cambodia, Thailand, Indonesia, and Vietnam followed suit with similar provisions and regulations. Officially introduced to fight misinformation about the novel coronavirus, these measures have in reality been used more broadly to silence critical voices.
Other chapters of the authoritarian playbook recommend the use of more covert tools to control independent media. Powerholders may get faithful supporters to buy up media to control their editorial line, or they target media revenue streams by forcing distributors to cancel contracts or advertisers to drop their agreements with "blacklisted" critical outlets.
As media have increasingly become dependent on the internet and social media for distribution, opportunities for censorship have also increased. By shutting down access to Facebook or other similar platforms, governments have been able to drastically limit the reach of media in the blink of an eye. In such cases it is less about withdrawing licenses from media outlets than simply cutting them off from their audiences. In some cases, regimes have gone one step further and simply switched off the internet altogether – often with the excuse of seeking to prevent social unrest or uprisings. Such actions have been apparent in Myanmar's conflict-torn Rakhine State since 2019.
If all else fails, governments can take the drastic choice of flipping to the playbook's chapter on harassment and attacks. Media workers are especially vulnerable to attacks because they are on the frontline, delivering the critical stories that attract the wrath of those exposed. Going after the journalists writing the stories – rather than the media that publishes them – is a way for perpetrators to send a message to other journalists that they are on a dangerous path. This particular tool is employed widely throughout the region, often with impunity for its perpetrators.
In addition to perpetuating self-censorship amongst journalists, this continuous level of threat also deters many young people from seeking a career in journalism. Who really wants to be a part of a profession that has seen 259 journalists lose their lives in Asia since 2010, according to UNESCO?
Even if threats do not end up in loss of life, there is still the risk of physical attacks, threats, and harassment. This is also an area in which new digital technologies afford powerholders plenty of repressive options. Many media workers, particularly women, experience online abuse on a daily basis. Maria Ressa, founder of the online news media Rappler in the Philippines, reportedly received hundreds of threats daily from trolls and bots after her media criticized President Rodrigo Duterte.
The utilization of bots and troll armies also has a big role to play in the spreading of dis- and misinformation that actively counters the work of journalists to uncover the truth. Again, this is something that has not been lost on authoritarian regimes, which have seen the value in moving propaganda efforts online. The most shocking example of the detrimental consequences of the spread of disinformation online took place during the Rohingya crisis in Myanmar in 2017, when false stories about the Rohingya Muslims fanned the flames of hatred against the minority group and subsequently resulted in deadly attacks on civilians and the mass burning of villages, something that the United Nations says may amount to genocide.
But disinformation – or the fear of disinformation – can also be used for other purposes. Inspired by the U.S. President Donald Trump, populist leaders such as Duterte from the Philippines and Cambodia's Hun Sen have instigated rhetorical attacks on the press labeling them as "fake news" in an effort to undermine public trust in the media – unfortunately, with some degree of success.
With the utilization of the repressive tools described above, the outlook for press freedom in Asia looks bleak. Despite the obstacles, however, there are still journalists and media out there willing to fight for independent journalism that serves the public good. For some, this means making use of new distribution platforms or softening the framing of stories to avoid retaliation. For others, this means actively fighting mis- and disinformation, beefing up fact-checking efforts or incorporating media literacy elements in their journalism as a way of educating their audiences, and giving them the tools to spot and decipher manipulative or false information.
Yet, fighting for good journalism is one thing. Another is challenging the repressive laws and populist rhetoric that are slowly undermining not just press freedom but also democratic progress and human rights across the region. This is a battle that the media cannot wage alone. They need support and assistance from both democratic leaders across the region and the international community. The people of Southeast Asia deserve unhindered access to relevant and reliable information. They and the journalists who work tirelessly to serve them deserve our support to ensure that press freedom and basic human rights are not further diminished. Let us show them that we have their backs and do what we can to promote press freedom in the region. We need to let authoritarians know that suppression of the press and basic human rights does not lead to long term prosperity, growth and a satisfied public – however tempting the tools of the playbook might be.
Emilie Lehmann-Jacobsen holds a PhD in media studies and works as program development advisor on Asia at IMS (International Media Support).