Amid Farmer Protests, India's Sedition Law Is Back in the Headlines
The colonial-era law has long been used to quash dissent. It's happening again in the wake of a violent episode in the farmer protests.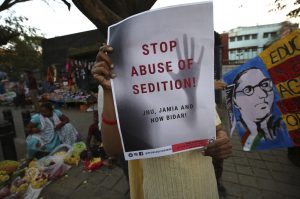 Sedition charges have been filed against a Indian National Congress member of parliament and seven journalists for their reporting and tweets on the violent clashes that broke out between protesting farmers and the police in New Delhi on January 26.
Multiple complaints charging them with sedition, criminal conspiracy, promoting enmity between communities, and assertions harmful to national integration, among other charges, have been filed in various parts of the country. According to one complaint, "they tried to build insurrection against the Indian Republic and tried to sow the seeds of enmity, violence and create a riot-like situation between communities."
Tens of thousands of farmers have been camping in the outskirts of Delhi over the last couple of months to protest new agricultural laws enacted by the Bharatiya Janata Party (BJP) government. On January 26, even as India was celebrating Republic Day with a grand parade, the farmers staged a tractor rally in the capital. Several went on to break security cordons to enter the historic Red Fort, where they hoisted a Sikh flag.
Scores of protestors and police were injured in the violence that day and one protestor was killed. Social media was rife with speculation over his death. Some of the tweets by the accused had initially attributed his death to police firing but subsequently, when it turned out that he had died when his tractor overturned, they did correct their reports and tweets.
According to the complaints against them, they "deliberately" spread fake news to cause "a large-scale riot and communal violence."
Although the complaints were filed in different parts of the country, their contents were similar, raising questions over the possible coordination of the targeting of the journalists. The five states where complaints were filed are all ruled by the BJP.
Journalist groups have protested strongly against the effort to "intimidate, harass, browbeat and stifle the media." They have called on the government to withdraw the sedition charges and to scrap "the anti-democratic sedition law."
Indian governments have a long history of using sedition laws to intimidate and silence dissent and criticism.
Thousands of sedition cases have been filed against Indian citizens under both the Congress-led United Progressive Alliance (UPA) government and the present BJP-led National Democratic Alliance government. Under UPA rule, dozens of human rights defenders and anti-nuclear activists, writers, and political cartoonists faced sedition charges.
However, filings of sedition cases have soared under the BJP.
Since 2010, 816 sedition cases have been filed against 11,000 individuals. Of those, 65 percent were filed after the BJP under Prime Minister Narendra Modi came to power in 2014. Also since 2010, 405 people have faced sedition charges specifically for criticizing the government, 96 percent of which were filed after 2014. That most of the sedition cases were filed in BJP-ruled states suggests that filing "sedition charges were a de-facto strategy for many of these governments, each time they encountered public criticism and protests," writes Kunal Purohit, drawing on a database released by Article14.
The government's intolerance of criticism and dissent seems to have emboldened people and police to file sedition cases on the flimsiest of grounds.  In Bidar, in the southern state of Karnataka, a woman was jailed on charges of sedition because her 9-year-old daughter had criticized the Citizenship Amendment Act in a school play.
Sedition is dealt with in Section 124(a) of the Indian Penal Code.
"Whoever, by words, either spoken or written, or by signs, or by visible representation, or otherwise, brings or attempts to bring into hatred or contempt, or excites or attempts to excite disaffection towards the Government established by law in India" shall be punished with jail terms ranging from three years to life imprisonment, it states.
In 1962, in a judgment in the Kedarnath Singh vs State of Bihar case, India's Supreme Court clarified that disaffection, however strongly worded, was not seditious unless it incited public violence. In 2015, in the Shreya Singhal vs Union of India case, the apex court drew a clear distinction between "advocacy" and "incitement;" only the latter was punishable as sedition.
India's sedition law was enacted by the British to deal with Indians challenging colonial rule. Independent India retained this law and over the decades, it has been a useful weapon in the hands of successive governments to harass and intimidate critics, and stifle dissent.
Thankfully sedition charges have rarely culminated in convictions. According to National Crime Records Bureau data, since 2016, only four sedition cases resulted in convictions.
"Governments are not really interested in convictions," says senior Supreme Court advocate Sanjay Hegde. The sedition law, he says, is used "against show-piece dissenters so that the rest fall in line. It is the charges' "chilling effect on people who think and speak freely" that is the objective of governments, he says.
There are growing calls for repealing the sedition law. Constitutional experts have said that "it has no place in democratic India."
The Law Commission of India, which is the government's top-most advisory body on laws, has called for a "rethink or even repeal [of] Section 124A." In a consultative paper on sedition, it pointed out that "dissent and criticism of the government" are vital for "a robust public debate in a vibrant democracy," If sedition charges are slapped on a person "for merely expressing a thought that is not in consonance with the policy of the government" there is "little difference" between a colonial government and the government of a free India, it said.
The Modi government, however, has ruled out repealing the sedition law. "There is a need to retain the provision to effectively combat anti-national, secessionist and terrorist elements," Union Minister of State for Home Nityanand Rai told the upper house of the Indian parliament in 2019.
Proponents of the sedition law have said it is needed to protect the state and prevent anarchy.
Even a slogan against the state should not be taken lightly, they say.
"If the raising of anti-India speeches and slogans are permitted, they may not instantaneously arouse passion to revolt but may build circumstances which may gain momentum at a subsequent stage," G. L. Verma, an advocate in the Supreme Court, argued. Verma made a case for retaining the sedition law in India as the country faces many challenges from terrorists and secessionists.
While some believe that the sedition law must be scrapped completely as it is anti-democratic, others say it is necessary for democracy to survive in India. "Restrictions" are needed to prevent people from abusing the country, former Solicitor General of India Santosh Hegde said in 2016. Stressing that he was a patriot, he expressed support for the sedition law.
Back in 1922, Mahatma Gandhi, famous around the world for his non-violent philosophy, was put on trial for sedition by the colonial government. "Affection cannot be manufactured or regulated by the law," he said at the trial. "If one has no affection for a person, one should be free to give the fullest expression to his disaffection, so long as he does not contemplate, promote or incite to violence."
Gandhi's words are unlikely to strike a chord or appeal to those keen to bandy around the sedition laws to crush differences of opinion and dissent.
There are many in India who equate patriotism with support for the BJP and its policies. Retaining the sedition law is necessary to enforce their brand of patriotism, their ideas and views on others. To them, the sedition law is a useful weapon, which they cannot let go.