Nepal's Democracy in Crisis
With the prime minister's unilateral move to dissolve Parliament last December, Nepal was thrown into political chaos – with its democracy hanging in the balance.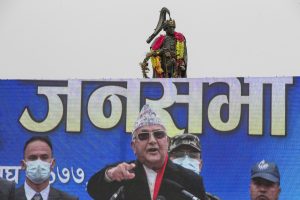 Nepal's democracy is in crisis. When a long-simmering row within the ruling Nepal Communist Party (NCP) flared up last December, Prime Minister Khadga Prasad Sharma Oli dissolved Parliament —a move critics decried as unconstitutional. Then, on February 3, Oli moved to consolidate control over key constitutional bodies that are supposed to serve as checks and balances to the government. These actions have led critics to question whether elections for a new Parliament, slated for April 30 and May 10, can be held freely and fairly. Much still remains uncertain as the country awaits a Supreme Court verdict on the constitutionality of Oli's maneuvers.
The recent events have been a setback for China, which supported the NCP and sought to keep it unified. India, the United States, and the European Union, which stand to benefit from China's loss of influence, have remained mute about Oli's actions.
Nepali democracy has experienced many trials and travails over the past two decades. Multi-party democracy was established in 1990, but it was challenged by a Maoist insurgency that began in 1996. In 2005, the then-king ousted the democratic government in a royal coup, claiming he needed emergency powers to fight the rebels. This led to a rapprochement between the Maoists and other political parties, and in 2006, popular street protests forced the monarch to step down, paving the way for elections to a Constituent Assembly, tasked with drafting a new constitution, in 2008. Political disputes, centered on whether or not to adopt federalism and questions about the rights of Nepal's various ethnic minorities and so-called low castes, delayed the constitution-drafting process; the Constituent Assembly's term expired and a second Assembly was elected in 2013. In 2015, Nepal promulgated a controversial new constitution, adopting secularism and federalism.
To understand the recent NCP split and Oli's maneuvers, it is necessary to go back to 2017. Ahead of general elections that year, the Maoist Party and the United Marxist Leninist (UML) Party agreed to campaign together — an alliance that eventually led to their full-fledged merger as the NCP. The Maoists were led by Pushpa Kamal Dahal, also known as Prachanda, a former rebel commander and skillful behind-the-scenes power broker who had twice served as prime minister during the constitution-drafting period. The UML party, a more conservative outfit, was led by Oli, a fiery orator known for his populist aphorisms and nationalist stance against an informal Indian blockade on Nepal during his first term as prime minster, in 2015-16.
In the 2017 elections, the NCP defeated its chief opponent, the Nepali Congress Party, in a landslide, gaining nearly two-thirds of seats in Parliament. Supporters welcomed the NCP's solid victory as a chance for national stability after dozens of short-lived coalition governments over the previous three decades. Oli and Dahal agreed to share the party's chairmanship and take turns as prime minister during the government's five-year term. Oli would go first.
Soon after taking office, Oli began to consolidate power in his own hands. In March 2018, he took the unprecedented step of bringing the national agencies for intelligence, tax fraud investigation, and money laundering investigation directly under his own control — a step that worried critics for its authoritarian undertones. The government began to intimidate online journalists and bloggers through novel interpretation of an old law, the Electronic Transactions Act, and proposed several new bills that critics say would threaten free speech and allow the government to spy on citizens with little oversight.
Meanwhile, Dahal and other NCP leaders grew increasingly concerned as they watched Oli leverage power not only for the government, but for himself within the NCP party. When Oli issued two controversial ordinances in April 2020, Dahal and other NCP leaders objected, plunging the party into a crisis. The deadlock ended only when the Chinese ambassador to Nepal mediated the NCP dispute.
But the Dahal-Oli rift festered, with each leader seeking to undermine the other and shore up their own support within the party's ranks. Oli prorogued Parliament in July 2020.  After NCP legislators from Dahal's camp sought an emergency session of Parliament to hold a vote of no-confidence against Oli on December 20, Oli announced that he was dissolving Parliament with snap polls to be held on April 30 and May 10. The NCP split in two, though Dahal and Oli remain locked in battle over who will inherit the party's name.
Then on February 3, Oli moved to unilaterally appoint the heads of constitutional bodies like the country's anti-corruption watchdog, the human rights commission, and the election commission — organizations which, in theory, are supposed to be independent of politics and serve as a checks and balances on government. Though Parliament usually appoints these positions, Oli claimed his right to do so by invoking an ordinance he issued earlier, days before dissolving Parliament.
The Supreme Court is now considering whether Oli's Parliament dissolution was constitutional. A simple reading of the charter suggests that it was not. In contrast to Nepal's old constitution, which allowed the prime minister to dissolve Parliament at his discretion, the new code states that he can do so only when he "fails to obtain a vote of confidence or the Prime Minister cannot be appointed." Because Oli did not give his rivals time to create a new coalition government, his opponents argue, his move was unconstitutional. Oli's lawyers have used circuitous, and sometimes unclear, arguments in his defense. Meanwhile, the prime minister himself has said that the Supreme Court does not have authority to hear the case because the dissolution was a "political matter,"  and submitted an apparently forged document to justify his actions. Opponents have filed a contempt-of-court case against Oli, while his supporters have filed similar cases against Dahal and, separately, against four former chief justices for issuing a joint statement decrying Oli's move as unconstitutional.
Most Nepalis see the NCP split as driven by the leaders' egos rather than any political ideology. Indeed, former members of the left-leaning Maoist party, such as Home Minister Ram Bahadur Thapa, have joined the more-conservative Oli camp. Likewise, former UML heavy-weights Madhav Kumar Nepal and Jhalanath Khanal have joined Dahal. The current dispute is unrelated to earlier political fights over federalism or the rights of indigenous people, low-caste groups, and the marginalized Madhesi group. Both Dahal and Oli are high-caste men from the hills — just as all of Nepal's other prime ministers since 1990 have been.
It remains unclear when and how the Supreme Court will rule. The chief justice, Cholendra S.J.B. Rana, is widely seen as close to the prime minister, as is another justice handling the case, who previously served as Oli's attorney general. If the Supreme Court sides with Oli and the country moves ahead with elections, some fear that the prime minister will wield the anti-corruption watchdog and other constitutional commissions as a political bludgeon against his opponents. The elections will also be logistically challenging amidst COVID-19 and they will be expensive, costing more than a third of what the country expects to spend on its vaccine drive.
While Nepal's political crisis is a setback for China, India seems to be waiting with cautious optimism. New Delhi's longtime influence over Kathmandu politics waned with the rise of the NCP, which cultivated close ties to Beijing and even held trainings on "Xi Jinping Thought." Last spring, Nepal and India had a diplomatic spat over the disputed territories of Lipulekh, Kalapani, and Limpiadhura, along Nepal's western border. But as the NCP's internal dispute escalated, Oli seemed to begin courting Indian favor. The Indian intelligence chief, army chief, and foreign secretary all visited Kathmandu in the months before Oli dissolved Parliament, and in December, Indian diplomats declared the dissolution an "internal matter." Then, in late January, India became the first country to donate COVID-19 vaccines to Nepal, delivering 1 million doses that are now being administered to the country's health workers. Though the border dispute remains unresolved and many average Nepalis are resentful of India, New Delhi seems to be on the front foot in Kathmandu.
The United States, too, stands to benefit from Nepal's political crisis and has not criticized the prime minister's recent actions. Like India, the U.S. seeks to increase its influence in Nepal as a counterweight to China. Previously, the NCP was divided over whether to accept hundreds of millions of dollars in U.S. aid through the Millennium Challenge Corporation (MCC), a special funding mechanism, with Oli for and Dahal against the agreement. The NCP breakup and new political alignments could create an opening for the United States to push the MCC forward. Still, critics argue that the U.S., India, and the EU —the world's largest democracies —are being hypocritical by remaining silent on Oli's moves to consolidate his power .
Over the past two and a half months, towns and cities across Nepal have seen a series of protests against Oli's move. However, most demonstrations — such as a nation-wide strike called by Dahal's supporters on February 4 — have an expressly partisan flavor, lacking broad support from across political parties and civil society. Some argue this is because the movement's goal is unclear: Is it to shore up the foundation of democracy? Or just to install a new prime minister?
Dahal, a likely candidate to replace Oli, was no great supporter of democratic institutions during his previous stints in office. The main opposition party, the Nepali Congress, is floundering, with its leaders divided over whether to condemn Oli's actions as unconstitutional, support his government, or go into full campaign mode in the hope they can win back seats they lost in 2017.
At a recent protest event in Kathmandu, Kedar Bhakta Mathema, a widely respected academic and former ambassador, expressed dismay at the lack of activism among fellow intellectuals. Democracy, he argued, will gradually slip away if it is not defended: "When democratic values are trampled upon, pushed back, and thrown away, civil society needs to stand up."