China Wades Into Nepal's Political Crisis
With the Nepal Communist Party cracking apart, Beijing is scrambling to preserve its interests.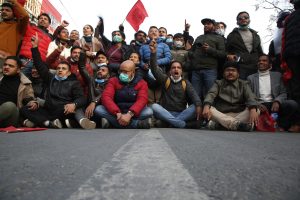 With the political and constitutional crisis in Nepal escalating by the day and the ruling Nepal Communist Party (NCP) undergoing a vertical split, China has stepped up its self-assumed role as mediator in the crisis.
Beijing has dispatched Guo Yezhou, a vice minister of the International Department of the Chinese Communist Party, to Kathmandu at the head of a four-member team. Since landing in Kathmandu on December 27, Guo's team has held talks with Nepali President Bidya Devi Bhandari, Prime Minister Kharga Prasad Oli, and NCP leaders Pushpa Kamal Dahal and Madhav Kumar Nepal. The team is likely to meet leaders of opposition parties like the Nepali Congress's (NC) Sher Bahadur Deuba too. The Chinese team is reportedly "taking stock" of the situation in Nepal.
However, there is more on the agenda of the Chinese mission.
According to Dahal's secretariat, in addition to the current situation in Nepal, the visiting Chinese team discussed the possibility of reuniting the NCP. China-Nepal cooperation is also said to have figured in the talks.
Guo played a major role in bringing together the Oli-led Communist Party of Nepal (Unified Marxist-Leninist) (CPN-UML) and the Pushpa Kamal Dahal-led Communist Party of Nepal (Maoist Center) (CPN-MC) in 2018 to form the NCP. Guo negotiated with the leaders of Nepal's two main communist parties in 2017-18 to get them to contest the 2017 election on a common plank
Known to enjoy considerable influence with NCP leaders, Guo has been dispatched on a mission to Nepal now to reunite the divided NCP.
His visit has come at a particularly difficult time for Nepal.
Only a week ago President Bhandari dissolved the House of Representatives on the recommendation of Prime Minister Oli and announced fresh elections to be held on April 30 and May 10. The 275-member house, which was elected in 2017 for a five-year term, has been dissolved two years ahead of the completion of its term.
The decision has been widely criticized in Nepal, with constitutional experts, politicians and civil society activists describing it as "irresponsible," "unconstitutional and undemocratic," even a "constitutional coup."
The 2015 Constitution does allow for dissolution of the House ahead of completion of its five-year term but only in the event of a hung House. The NCP had nearly a two-thirds majority in the House when Oli recommended its dissolution. Oli's decision is therefore unconstitutional.
Oli recommended parliament's dissolution because he did not enjoy support in parliament. Most NCP parliamentarians and leaders of its powerful Standing Committee and other bodies have been opposed to his leadership. Apparently they were considering introducing a no-confidence motion against Oli in parliament. Apprehensive that he would be ousted from power, Oli pre-empted them by dissolving the House. If he was going to be prevented from remaining prime minister, he would prevent his bête noire, Dahal, from taking over the reins.
Personal considerations thus drove Oli to recommend dissolution of the house.
Over a dozen petitions challenging his decision have been filed in the Supreme Court and mass protests have erupted in Kathmandu and other cities.
The apex court has begun hearing the petitions. Should it declare the dissolution of parliament as constitutionally valid, then Oli will continue at the helm of the interim government until general elections. Protests may then gather further momentum.
The possibility of Oli deploying force to quell the unrest cannot be ruled out. He is also likely to get ordinances passed to strengthen, perhaps even prolong, his grip over power.
All this means a period of prolonged uncertainty for Nepal, dashing hopes that the NCP's resounding electoral victories after the passage of the new constitution meant a new era of stability.
Nepal has struggled with political instability for decades. Restoration of multi-party democracy in 1990 increased instability as parties and politicians extended and withdrew support to governments based on personal ambitions rather than principles or an agreed upon agenda. This resulted in governments falling frequently.
Between 1990 and 2002, when King Gyanendra imposed direct rule, for instance, the country saw 10 prime ministers come and go, with the NC's Girija Prasad Koirala alone holding the reins over three terms in this period. Parliament was dissolved three times over a span of 12 years.
Hopes for political stability rose in 2017-18. Not only had the 2015 Constitution put in place provisions to ensure that a government with a majority would complete its full term but also, elections gave the NCP 174 seats in the 275-member house. For the first time in several decades, it did seem that the long elusive political stability was within reach.
However, such hopes did not materialize as Oli's administration triggered instability. His reluctance to share power with Dahal and other NCP leaders, poor administration, weakening of democratic institutions and authoritarian rule prompted criticism and opposition to his leadership from within his party. Over the past year, his ouster from power seemed imminent several times. With the House dissolved, the prospects of political stability have been further damaged.
The year-long feud in the NCP and Oli's recent decision, taken without consultation of his party, has triggered a split in the party just two years after its initial formation.
The Dahal faction has expelled Oli from the chairmanship of the NCP. Both factions have laid claim to being the legitimate NCP. The impact of the dissolution of parliament and the split in the NCP has begun to be felt on NCP governments at the provincial level as well.
Clearly, Nepal is staring at a period of intense and prolonged instability. Its fragile democracy is under strain – not only because Oli undermined institutions and processes but also because people's faith in democracy is eroding.
Anti-democratic forces could make hay in the current situation. Small groups are already out on the streets calling for restoration of the monarchy and an end to the federal, democratic, secular republic that the 2015 Constitution put in place.
Instability in Nepal is of serious concern to its two neighbors, India and China, as well.
India has a long, porous border with Nepal and a deterioration in the law and order situation there could spill over into bordering Indian states. Anti-India insurgents could take sanctuary in a restive Nepal.
Moreover, India is apprehensive that political instability in Nepal will expand space for China to intervene in Nepali politics, allowing it to shape a government in Kathmandu that is favorable to Beijing.
Unlike India, China's influence in Nepal is of more recent origin. Sino-Nepali economic ties began to grow in 2015 but it was in 2018 that China's influence in Nepal began to gather momentum. Having played an important role in the NCP's formation, Beijing came to wield enormous influence over the NCP government.
This influence manifested itself in China's mounting role in the Nepali economy. Chinese investment in infrastructure projects under the Belt and Road Initiative grew rapidly. It resulted in China ousting India as Nepal's number one investor.
Importantly, Nepal's foreign policy under the NCP government became strongly pro-China. Indeed, Oli began to take hostile positions vis-à-vis India, even provoking New Delhi by accusing it of grabbing Nepali land, issuing maps that showed disputed territory as part of Nepal, and getting these changes included in the Constitution. The NCP government has therefore benefited China's interests.
These gains could be in some peril due to the NCP split.
Neither of the rival NCP factions is in a position to form a government on their own or to win enough seats in an election to do so. They will need the support of the NC, widely perceived to be close to India.
It is for this reason that Beijing is desperate to see the NCP reunite.
Over the past year, China's ambassador in Kathmandu, Hou Yanqi, has repeatedly mediated between the NCP's rival factions to hold the NCP together to ensure the government's survival.
While these attempts were initially successful, they ultimately failed.
With the NCP heading for a split soon after parliament's dissolution, Hou resumed her mediatory efforts.  With that effort running aground, Beijing has dispatched Gou to Nepal.
Although some sections in India see the NCP split as a setback for China, Beijing cannot be written off. Gou's presence in Kathmandu indicates that Beijing is not going to give up its hold over Nepal.
While it does seem at this point that differences between Oli and Dahal are too deep-seated for the NCP to remain united, China's efforts to bring this about should not be underestimated. It has invested heavily in Nepal and has the requisite deep pockets necessary to bring around squabbling politicians.
In the ongoing "game of thrones" in Nepal, China is not backing any particular politician or party but will be open to any permutation or combination that is mindful of Chinese interests. Whether it is Oli, Dahal, Deuba, or even a royalist politician who comes to lead the next government, China is unlikely to loosen its grip over Nepal.