What to Expect From US-Taiwan Relations in 2021 (and Beyond)
In an exclusive interview, Taiwan's Ambassador Hsiao Bi-khim discusses U.S.-Taiwan ties under the Biden administration.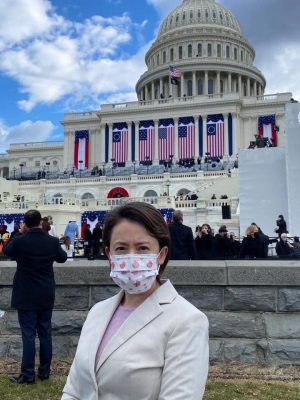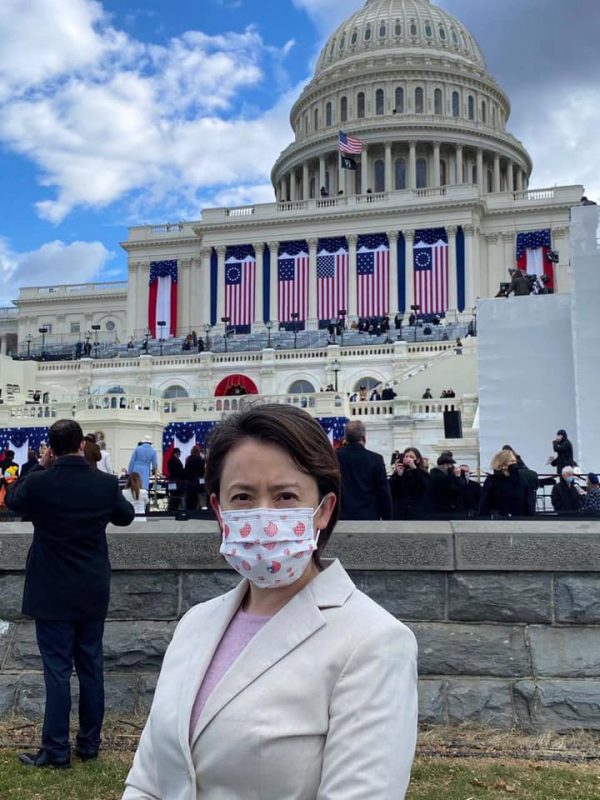 It's been a busy six months for Hsiao Bi-khim. The former legislator assumed the post of Taiwan's representative to the United States in July 2020, in the middle of the COVID-19 pandemic. Despite complications arising from the global crisis, Hsiao's tenure has already seen several major developments in the U.S.-Taiwan relationship, from Taiwan President Tsai Ing-wen's big bet on a U.S.-Taiwan trade breakthrough to high-profile Taiwan visits by the U.S. health secretary and an undersecretary of state. All the while, China has stepped up its pressure campaign, including in the military realm.
All these issues will factor into Taiwan's approach to the new Biden administration in the United States. "The first thing we want to do is establish a good working relationship with the new U.S government and multiple issues of interest," Hsiao told The Diplomat in an exclusive interview on February 9. "The first priority is in the general defense and security area. The second area would be our economic relationship, and the third being the international participation and the other political partnerships that we have."
On defense and security, Hsiao repeated several times that the defense partnership is an issue of "survival" for Taiwan. "It's no secret that the Chinese are exerting increasing military coercion, including the provocative fighter jet intrusions into Taiwan's air defense identification zone," she said. "So we are under increasing pressure from the PRC, and strengthening Taiwan's deterrence capacity is of tremendous importance for our continuing survival."
Hsiao is encouraged by what she's seen from the Biden administration thus far, including the repeated use of the phrase "rock-solid," which "seems to be a new keyword used frequently by members of the new team." (The term appeared, for instance, in a January 23 press release from the State Department urging "Beijing to cease its military, diplomatic, and economic pressure against Taiwan.")
Arms sales occupy the lion's share of public attention when it comes to the U.S.-Taiwan relationship. On that front, Hsiao cautioned that "we're too early in the [Biden] administration to assess how that will work but our hope is that it will continue." One thing she particularly hopes to see carried over from the Trump administration is the new practice of a "needs-based review system," which responds relatively quickly to separate requests for military equipment from Taipei, rather than following the past practice of packaging requests into a single mega-sale every few years.
"Taiwan's Overall Defense Concept involves asymmetrical warfare and it requires adaptability, quick flexibility, and at times adjustment in our needs and the urgency of our needs," Hsiao explained. "And so we do appreciate a needs-based review and that's something we hope will continue in the years to come – right now there's no indication that it won't."
"I'm rather cautiously optimistic that this will continue on as a practice of a strong defense relationship."
Deepening economic relations is another point of emphasis, especially as Taiwan's president took a big – and politically risky – step forward in that regard already. In August 2020, Tsai unilaterally announced Taiwan would lift previous restrictions on imports of U.S. beef and pork – long a U.S. prerequisite for any trade agreement. In so doing, Hsiao said, the hope was both to demonstrate "Taiwan's commitment to meeting international trade standards and practices" in general and to "remove a barrier that has been blocking our trade relationship from advancing to a new stage for over a decade." But the decision, she admitted, had been "politically very painful for us in Taiwan. It's still painful because, you know, agriculture issues are always political, in every country in the world. There is tremendous resistance and opposition to this."
Taiwan's opposition has been keen to pounce on the backlash, even pursuing a referendum that would seek to reverse Tsai's decision. With that in mind, seeing some quick dividends on U.S.-Taiwan trade ties would help insulate Tsai from the political impact.
But Taipei is well aware that "President Biden has indicated that he's not going to be negotiating broad trade agreements in the initial phase of his administration," according to Hsiao. "But we want to lay down the groundwork and prepare Taiwan for any opportunities that may arise in the future. We certainly want Taiwan to be considered as a priority partner given the close economic partnership that we have."
In the near term, Taiwan is hoping for a resurrection of the U.S.-Taiwan Trade and Investment Framework Agreement (TIFA) talks, which deal with trade issues between the two countries. "We haven't had a TIFA meeting since the last Obama administration," Hsiao said – talks originally planned for 2020 were scrapped as the pandemic unfolded. "We hope that this is something that will resume as soon as possible hopefully as soon as the new USTR [U.S. Trade Representative] is confirmed and the new team gets in place." Holding a TIFA discussion would be "short of a whole negotiated [trade] agreement" – and, the implication is, more politically feasible in the short term for the Biden team – "but is something that is quite consistent with bipartisan sentiments here in the United States," Hsiao said. She also stressed Taiwan's willingness to meet high standards on issues of particular concern to the Biden administration, including labor rights and environmental protection.
Overall, Hsiao projects optimism about the future of U.S.-Taiwan ties under the new administration – countering perceptions in some quarters that the Biden team would be less forward-leaning in its support for Taipei. The Biden administration has done its part to belie such assumptions, with Hsiao securing a historic official invite to the inauguration. One lingering question had been whether new Secretary of State Antony Blinken would keep in place outgoing Secretary Mike Pompeo's last-minute decision to lift restrictions on U.S. engagements with Taiwan. When asked that same question at his confirmation hearing, Blinken indicated that he wanted to see "that process through to conclusion if it hasn't been completed, to make sure that we're acting pursuant to the mandate in the [Taiwan Assurance] Act that looks at creating more space for contacts."
Hsiao pointed to those comments as a hopeful sign in her interview with The Diplomat. "I think we're moving in a direction where continuing engagement in our working relationship with my counterparts here in Washington as well as American counterparts in Taiwan – there will certainly be more room for that," she said. When asked specifically what sort of exchanges Taiwan would like to see, Hsiao pointed to past Cabinet-level interactions – a trip by the Obama administration's Environmental Protection Agency administrator Gina McCarthy in 2014 and last year's visit by Health Secretary Alex Azar – as "very meaningful." But she implied that Taipei would not be pushing on this in particular:
In the spirit of broadening the room and space for contact and interaction we are taking things one step at a time. President Tsai has said that while we appreciate more room and space to engage, Taiwan will not be rash and we will take a prudent attitude… We have many issues to deal with, and close interaction and engagement definitely goes into that context.
One area that is particularly ripe for engagement is the Biden administration's stated focus on a "coalition of democracies" and potentially a global summit for democracies to be held later this year. Taiwan is interested, Hsiao said, but at the moment the details – "the format, the timing, the type of people or countries that will be involved" – are not clear. "We'll have to work on this as we go along and as there are more details about this initiative coming out," she said.
In practice, Taipei will need those questions answered to determine the scope for its involvement. For example, meetings involving civil society groups and NGOs would leave more space for Taiwan's participation than a formal summit involving heads of state or government.
But it's clear from Hsiao that Taiwan is eager to find synergy between the Biden administration's focus on democracy and Taiwan's reputation in that regard. "Taiwan has come a long way in terms of becoming one of the most liberal, global societies in East Asia," she said. "…It's not just the institutional infrastructure for democracy; it's also social values and respect for diversity and openness that has become an important characteristic of Taiwan." As an example, she pointed to progress on gender equality – Hsiao herself is the first woman to serve as Taiwan's top representative in the United States, and Tsai is Taiwan's first female president – as well as on LGBT rights.
More broadly, Taiwan is a young democracy, where older generations have the lived experience of "the transition from authoritarianism to democracy." That, combined with the "constant political coercion and pressure from the PRC," Hsiao said, has given Taiwan a unique appreciation that "our democracy is also vulnerable" – something the United States learned the hard way this past year. Democracy is "not something that we can take for granted," Hsiao emphasized. "We have to constantly work on strengthening our democracy and public confidence in our democratic system… it's a constant rigorous project and working with others is also a very important aspect of Taiwan's survival as a democracy."
There's that word "survival" again – a reminder that for Taiwan, the question of strong relations with the United States is viewed not merely as diplomatic, but existential.