South Korea, US Prepare to Conduct Joint Military Exercise 
Between talks with North Korea and the COVID-19 pandemic, this will reportedly be the third year in a row where exercises are held only via computer simulation.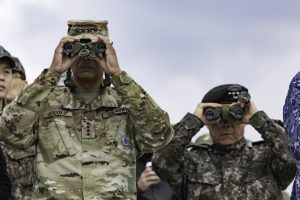 South Korea and the United States agreed to conduct a nine-day joint military exercise starting on March 8, according to local news reports. The South Korean Defense Ministry has not yet announced detailed information regarding the joint military exercise but it will be conducted as planned, according to statements by Defense Ministry officials.
The joint military exercise will be divided into two parts and will be conducted via computer simulations, not as a field training exercise, due to the COVID-19 pandemic. The allies have been conducting joint exercises as computer simulations since 2018 to support denuclearization negotiations between the United States and North Korea. Pyongyang has frequently complained about the drills, calling them a preparation for "invasion" of the North.
South Korean President Moon Jae-in said in his New Year's press conference on January 18 that the two Koreas might be able to discuss the U.S.-South Korea military drills through a joint inter-Korean military committee if necessary. However, U.S. officials expressed indirectly that it is not a topic for discussion with Pyongyang, and that scaling down the exercises was not desirable.
Robert Abrams, commander of U.S. Forces Korea, once criticized the new way of conducting the drills, saying that the joint military exercises should not be like a computer game. U.S. Defense Department spokesman John Kirby said in a briefing on February 22 that he is confident that Abrams will cooperate with counterparts in Seoul to ensure the highest level of readiness of the exercise.
Hawks in both Seoul and Washington have been worried about the recent exercises. South Korean and U.S. military forces had previously carried out command post exercises and large-scale field training exercises. But they decided to reduce the existing large-scale joint military exercises in the wake of the inter-Korean summit on April 27, 2018 and the North Korea-U.S summit on June 12 of the same year.
As a result, large-scale field training exercises with troops between South Korea and the United States, such as the previously annual "Foal Eagle" drill, have not been conducted for more than two years. Former military generals and security experts have expressed their opinion that the field training exercises should be resumed, lest it become difficult to maintain the U.S.-ROK alliance's military posture.
"As Kim Jong Un already raised the issue with the joint drill during the eighth party congress of the Workers' Party in January and demanded Washington to withdraw its hostile policies against the North, there is a possibility that North Korea will provoke after the U.S.-ROK joint military exercise," Park Won-gon, a professor of North Korean studies at Ewha University, told The Diplomat.
"If North Korea provokes through short-range ballistic missile launches such as the KN-23 and KN-24, Seoul and Washington are likely to restart conducting joint military exercises normally from the second half of this year," Park said.
To prepare for possible provocations from the North on the basis of what Kim mentioned in January, Seoul and Washington intelligence authorities are going to watch for signs of activity around the birthday of Kim Jong Il, Kim's predecessor and father, on March 16.
However, Kim Young-jun, a professor at Korea National Defense University, told The Diplomat that "the reduction of the joint military exercise does not mean a security threat" and it is important for the drills to be conducted under a strong U.S.-ROK alliance. "The joint military exercise includes not only missile system defense drills, but also all kinds of combined defense systems and power enhancement drills in preparation for all-out warfare and provocations," Kim said.
Just as experts have different perspectives on the function and purpose of the exercises, Seoul and Washington have different goals for the drills.
Before the end of Moon's term, Seoul wants to take back wartime operational control (OPCON) from Washington, which had been turned over in 1950. Restoring OPCON to Seoul is one of Moon's pledges. To reach that goal, military exercises should be conducted with full operational capabilities to evaluate and verify the military's status, but Washington has said that it would be challenging to do that because of the COVID-19 pandemic.
In 2014, the military authorities of the two countries agreed on three conditions for Seoul to fulfill to take back wartime OPCON. Three stages of verification and evaluation are underway to test the mission performance capabilities of Korean military, and its readiness to assume full control in a hypothetical war situation on the peninsula.
Initial operational capability, which is the first stage of this process, was completed in 2019. The second stage is full operational capability, which was scheduled to be evaluated through a joint military exercise in 2020. That could not be done due to the COVID-19 pandemic. Even a year later, experts say it is unreasonable to involve U.S. troops stationed not only in South Korea but also in other countries in a large-scale drill at a time when the pandemic is still active. Several military officers of the Joint Chiefs of Staff have tested positive for the coronavirus recently.
The Defense Ministry has not yet made clear the timeline and structure of this year's joint military exercises.