Taiwan Will Fight 'to the Very Last Day' If China Attacks
Amid growing worries that China is preparing for military action, Taiwan's foreign minister affirms Taiwanese "are willing to defend ourselves."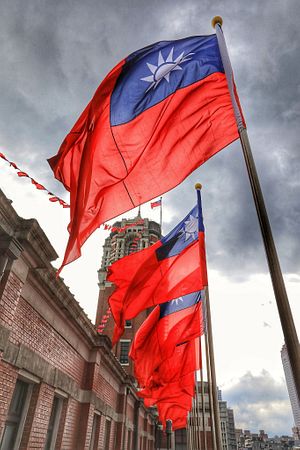 Taiwan's foreign minister on April 7 said the island will defend itself "to the very last day" if attacked by China.
Joseph Wu said China's attempts at conciliation while engaging in military intimidation are sending "mixed signals" to the island's residents.
China claims Taiwan as its own territory to be won over peacefully or by force.
Wu noted China flew 10 warplanes into Taiwan's air defense identification zone on April 5 and deployed an aircraft carrier group for exercises near Taiwan.
"We are willing to defend ourselves, that's without any question," Wu told reporters. "We will fight a war if we need to fight a war, and if we need to defend ourselves to the very last day, then we will defend ourselves to the very last day."
China does not recognize Taiwan's democratically elected government, and leader Xi Jinping has said "unification" between the sides cannot be put off indefinitely.
"On the one hand they want to charm the Taiwanese people by sending their condolences [in the wake of a deadly train accident], but at the same time they are also sending their military aircraft and military vessels closer to Taiwan aimed at intimidating Taiwan's people," Wu said at a ministry briefing.
"The Chinese are sending very mixed signals to the Taiwanese people and I would characterize that as self-defeating," Wu said.
The vast improvements in China's military capabilities and its increasing activity around Taiwan have raised concerns in the United States, which is legally bound to ensure Taiwan is capable of defending itself and to regard all threats to the island's security as matters of "grave concern."
U.S. military leaders have been warning that China is probably accelerating its timetable for capturing control of Taiwan "We have indications that the risks are actually going up," Adm. Philip Davidson, the most senior U.S. military commander in the Asia-Pacific region, told a Senate panel last month, referring to a Chinese military move on Taiwan.
"The threat is manifest during this decade — in fact, in the next six years," Davidson said.
Days later, Davidson's expected successor, Adm. John Aquilino, declined to back up the six-year timeframe but told senators at his confirmation hearing: "My opinion is, this problem is much closer to us than most think."
Chinese officials have scoffed at Davidson's Taiwan comments. A Ministry of Defense spokesman, Col. Ren Guoqiang, urged Washington to "abandon zero-peace thinking" and do more to build mutual trust and stability. He said that "attempts by outside forces to use Taiwan to seek to restrain China, or the use by Taiwan independence forces to use military means to achieve independence, are all dead ends."
Predictions of when China might decide to try to compel Taiwan to reunite with the mainland have long varied, and there is no uniform view in the United States. Larry Diamond, a senior fellow at Stanford University's Hoover Institution, said last week he doubts Chinese leaders are ready to force the issue.
"I don't think it's coming soon," he said.
Meanwhile, Wu said the military threat against his country is increasing, and while he said it was not yet "particularly alarming," the Chinese military in the last couple of years has been conducting what he called "real combat-type" exercises closer to the island.
China's military said on April 5 that the new naval drills were meant to help it "safeguard national sovereignty, security and development interests," terms often interpreted as being directed at Taiwan's leadership that has refused to give in to Beijing's demands that it recognize the island as part of Chinese territory.
Taiwan and China split amid civil war in 1949, and most Taiwanese favor maintaining the current state of de facto independence while engaging in robust economic exchanges with the mainland.
China has created conditions for greater economic integration, while also targeting some communities such as pineapple farmers in hopes of weakening their support for the island's government.
Chinese diplomatic pressure has been growing also, reducing the number of Taiwan's formal diplomatic allies to just 15 and shutting its representatives out of the World Health Assembly and other major international forums.
Taiwan has responded by boosting its high-tech industries and unofficial foreign relations, particularly with its key partners the U.S., Japan and others, and by building up its own defense industries, including a submarine development program, while buying upgraded warplanes, missiles, and other military hardware from the United States.