The US and Japan Must Lead on Climate Cooperation
Both countries have been criticized as climate change laggards. The Biden and Suga administrations are looking to change that perception.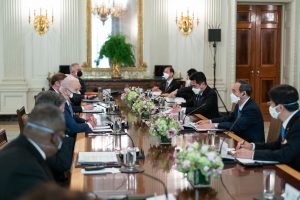 On April 22-23, U.S. President Joe Biden will host dozens of world leaders at the virtual Leaders Summit on Climate. The summit is an important opportunity for the United States and Japan to build on last week's bilateral meeting and reestablish their global climate leadership. In recent years, the two leading democracies have been widely criticized as climate change laggards, a narrative their leaders seek to reverse. This will require not only proactive diplomacy but also institutionalizing green policy and overcoming policy volatility at home.
Inconsistent Leadership
Over the past 30 years, climate policy in the U.S. and Japan has been unstable, inconsistent, and insufficient. In the U.S., climate change has become a polarized, partisan issue. Much like his recent Republican predecessors, former President Donald Trump rolled back a series of climate-change mitigation policies; he also withdrew from the Paris Agreement. Similarly, Japan has struggled to maintain progress on emissions reductions, and former Prime Minister Abe Shinzo (2012-2020) was condemned for scaling back Japan's feed-in tariff and supporting coal-fired plants at home and abroad.
Last week's bilateral meeting between Biden and Japanese Prime Minister Suga Yoshihide laid the groundwork for the climate summit, with the U.S. and Japan announcing their global climate leadership. The governments seek to use energy cooperation to address climate change, geostrategic challenges raised by China, and other issues of mutual concern. However, the two countries' track record of volatility and inconsistency makes some countries skeptical about their reliability as partners.
An urgent task for both countries is to institutionalize climate policy through domestic, bilateral, and multilateral mechanisms that outlast any single administration. This means building partnerships that emphasize business opportunities and irreversible investments in energy sector transformation. The institutionalization of initiatives and the creation of vested interests in green technologies and green growth will be critical in preventing future backsliding on climate commitments.
U.S.-Japan Climate Partnership
The U.S.-Japan Climate Partnership on Ambition, Decarbonization, and Clean Energy, announced on April 16 while Suga was in Washington, D.C., is a natural extension of existing bilateral initiatives, but it also signals a meaningful shift from the policies of the previous governments.
The Biden and Suga governments will continue ventures such as the Japan-U.S.-Mekong Power Partnership (JUMPP) and cooperation on nuclear energy technology. But, in keeping with Biden and Suga's stated intentions to pursue carbon neutrality by 2050, the Japan-U.S. Strategic Energy Partnership (JUSEP) has been upgraded to the Japan-U.S. Clean Energy Partnership (JUCEP), which will move beyond past cooperative activities on technology research and development, in the context of the Paris Agreement and the Free and Open Indo-Pacific strategy.
Most importantly, their joint statements and accompanying rhetoric have emphasized the role of the United States and Japan as emerging leaders in a number of areas connected with climate change mitigation. To exert true leadership, it will be critical to develop concrete measures and policies to not only deepen cooperation but also accelerate domestic decarbonization.
Green Technologies and Green Growth
The COVID-19 pandemic presents a potentially transformative opportunity for governments to overcome entrenched resistance to climate policies. This starts with a green recovery from the pandemic as the first step to sustainable green growth. Emerging green industries can be promoted and entrenched by government investment, support, and international linkages. Green growth can also address energy security challenges, such as Japan's longstanding dependence on fossil fuel imports. The pandemic further provides a window of opportunity to design multilateral frameworks to more effectively address global dimensions of climate change like taxation, green border adjustment, and asset revaluation.
The U.S.-Japan Climate Partnership expands on existing cooperation to include "renewable energy, energy storage (such as batteries and long-duration energy storage technologies), smart grid, energy efficiency, hydrogen, Carbon Capture, Utilization and Storage/Carbon Recycling, industrial decarbonization, and advanced nuclear power." The partnership will target both domestic and foreign needs. For example, both the United States and Japan need to upgrade their own grids and integrate renewables into the grid. And, through advancements in and transfer of smart grid technology, they can contribute to the modernization and efficiency of other countries' energy sectors as well.
Even though Japan is a leader in research and development in clean energy technologies, it has faced impediments in transforming that into profitable ventures in the marketplace. U.S. industry had early successes with clean energy technologies, but China has come to dominate much of the commercial landscape. In partnership, Japan and the United States may be able to compete more effectively with China and reassert their market share.
Offering an Alternative to China
Japan-U.S. energy cooperation is part of a larger geostrategic and geoeconomic strategy in the region and around the world. Their collaboration presents an alternative to China's Belt and Road Initiative in the energy infrastructure sector. Clean energy is consistent with Japan's promotion of quality infrastructure in the Indo-Pacific as an alternative to Chinese initiatives. For Japan, committing to a decisive shift away from coal will be critical in making this strategy credible.
Although China and the U.S. will need to cooperate on climate change, they are also likely to be competing in promoting their own visions for the future. The U.S.-Japan Joint Leaders Statement presented a vision of the world where the United States and Japan are on the side of "freedom, democracy, human rights, the rule of law, international law, multilateralism, and a free and fair economic order." Climate leadership was the missing piece in Japan's newfound leadership in support of the liberal international order. Multilateral cooperation on green technology, green recovery, green growth, and climate partnerships will be critical areas as the U.S. and Japan seek to re-exert their global leadership and present an alternative to China.
Leading Multilateral Cooperation
The joint statements by the U.S. and Japan have called not only for domestic efforts and bilateral cooperation, but also for promoting a global goal of net zero emissions by 2050. Although the UNFCCC process has important shortcomings and may be sabotaged by future administrations, the two countries should continue to work with global partners to push the agenda forward.
Aside from global multilateral cooperation, the United States and Japan can support Southeast Asian countries to address an expected 6 percent increase in annual electricity consumption without resorting to high-carbon technologies or an overreliance on Chinese debt diplomacy. Building on JUMPP, promoting green technology investments through bilateral and multilateral partnerships can perpetuate the U.S. and Japan as climate leaders and diplomatic partners in the region. It will have the added benefit of integrating U.S. and Japanese businesses and economic interests into the energy infrastructure of the region.
The Japan-U.S. bilateral commitment to climate is a meaningful development and encompasses national security, economic development, energy security, and environmental objectives. It also reflects the domestic and foreign policy interests of Biden and Suga. For Biden, it creates a clear break from the Trump administration and promotes key pillars of his domestic and foreign policy agenda, including a recommitment to allies and multilateralism, countering China's expanding influence, and clean energy infrastructure. For Suga, it burnishes his bona fides as a steady hand managing the Japan-U.S. relationship and signals Japan's continued willingness to play a global leadership role.
For both leaders, it will be crucial to move ambitiously and expeditiously in the direction of decarbonization. Future policy reversals can be made more costly through institutionalization, large-scale infrastructure investments, and the growth of successful green businesses that counter vested interests tied to the fossil fuel sector. For the United States and Japan to emerge as undisputed leaders in climate change, it will be critical to expand into new areas of cooperation and overcome potential sources of backsliding at home.