Trump Reveals What Many Already Suspected About His Korea Policy
A statement from the former president is a stark reminder of his transactional approach to both Koreas.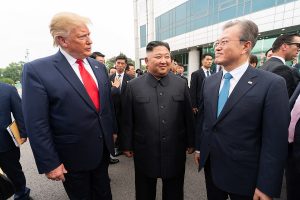 Before the next chapter in North Korea-U.S. relations is set to begin with the anticipated conclusion of the White House's North Korea policy review, South Korean President Moon Jae-in reflected on the Trump years and his hopes for how the Biden administration will approach Pyongyang in an interview with The New York Times last week. Although Moon appeared careful to temper his criticism of Donald Trump, the former U.S. president responded with an excoriating, wide-ranging public e-mail last Friday. While it is certainly not new for Trump to blow up at criticism, the exchange is highly suggestive of the thinly veiled dynamics that were at play in South Korea-U.S. relations over the past four years.
Moon's interview seems to have been directed at influencing President Joe Biden and his administration, underscoring the importance of U.S. policy in shaping the future of the Korean Peninsula. In it Moon says North Korea's denuclearization is a "matter of survival" for South Korea. What seems to have upset Trump is Moon's comment that "[h]e beat around the bush and failed to pull it through" to reach a deal with North Korean leader Kim Jong Un. However, Moon also credits Trump, stating "if we build on what President Trump has left," Biden could "go down as a historic president that has achieved substantive and irreversible progress for the complete denuclearization and peace settlement on the Korean Peninsula."
Still, Moon disapproved of Trump's position on military burden-sharing negotiations known as the Special Measures Agreement (SMA) – through which Washington had at one time reportedly asked for up to a 400 percent increase from Seoul – stating, "[Trump's] demand lacked reasonable and rational calculation." Moon then looked favorably on the resolution to the issue reached within Biden's first two months in office, asserting it is a "clear testament to the importance President Biden attaches to" the alliance.
In contrast to Moon's criticism of his North Korea policy, Trump's response did not "beat around the bush." In a rare statement cataloging three of his most significant policy actions on the Korea Peninsula, Trump claimed that Kim had never respected Moon and that he alone was the bulwark against North Korean aggression. Trump then attacked Moon as a "weak" leader and negotiator – with the exception of the SMA negotiations. On the issue, Trump said "We were treated like fools for decades however, I got them to pay billions of dollars more for the military protection and services we render," further adding, "The Biden Administration is not even going to ask for the additional billions South Korea agreed to pay us… The South Koreans are laughing all the way to the bank." To wrap up, Trump touted his renegotiation of the U.S.-Korea Free Trade Agreement (KORUS FTA) as a "new and FAR BETTER Trade Deal" that will "lead to billions of dollars in profits for the Great Farmers and Manufacturers of our Country!"
Most of Trump's assertions are dubious at best, but there is more to this response than just bluster. Two things stand out in particular. The first is that although Trump has been critical of South Korea on trade and military burden-sharing, this is his most direct public denunciation of Moon on North Korea policy. Secondly, it is one of the strongest pieces of supporting evidence yet that Trump viewed his policy actions on the Korean Peninsula as interlinked. To be sure, connecting the dots was by no means an arduous task for outside observers, but statements from Trump administration officials often attempted to cast doubt as to whether actions on, say, KORUS renegotiations or the SMA would have any impact on diplomacy with North Korea. Korea watchers were forced to read between the lines that the one-year SMA – rather than the five-year durations of the two previous agreements – reached in February 2019 was meant to temporarily smooth over alliance anxieties before the Kim-Trump summit later that month. Experts similarly concluded Moon's eagerness to reach a quick resolution to the KORUS amendment talks was at least partly driven by concern that negotiations could realistically interfere with diplomacy with Kim. If there were ever any doubts about whether either is true, they must surely now be quashed.
With Trump's presidency in the rearview mirror, Moon is assuredly not nostalgic for how his crucial North Korea policy was held at ransom to Trump's other priorities. Still, while Biden may allow for a less demanding relationship, it is no guarantee that significant diplomatic progress will be made with North Korea before Moon's time in office is up in May next year.