Nepal's Leaders Must Put Aside Differences Amid COVID-19 Crisis
For now, instead of endless politicking, Nepal's leaders must put their differences aside and work together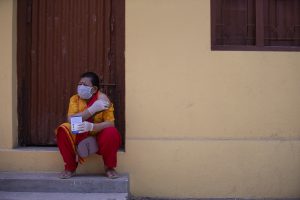 On May 10, Nepal's Prime Minister K.P. Sharma Oli appealed to the international community to help his country, which is struggling with a second steep surge in COVID-19 cases, with "vaccines, diagnostic tools, oxygen kits, critical care medicines and equipment … to save lives." 
It was a belatedly sensible call from a prime minister who had earlier asserted that Nepalis possessed "stronger immunity" against COVID-19 and preached the benefits of turmeric, ginger, and gargling with guava leaves in combating the virus. 
But Oli's misguided approach was symptomatic of a broader failure of leaders to address the pandemic. Rather than work together to develop a response to COVID-19, elected officials bickered their way through a period of constitutional turmoil that has seen the country's Parliament dissolved twice in the past five months. Meanwhile, the virus spread throughout the country. 
Notwithstanding the loss of more than 8,238 lives as of June 11, a figure widely thought to be a significant underestimate, it is still not too late for Nepal's leaders to come together to save lives and mitigate the damage that COVID-19 has wrought on the country's most at-risk and disadvantaged.
The situation right now in Nepal is dire. In the last week, Nepal reported almost 30,000 new confirmed COVID-19 cases, totaling 601,687 cases as of June 11. The virus, which had been limited to urban areas, now has spread far into the country's hinterlands, where almost no health services exist. 
With urban hospitals and healthcare services at capacity, patients are dying for lack of proper care and attention. A standard hospital bed is almost impossible to find, let alone an ICU bed or a ventilator, with many patients in critical condition being treated on hospital grounds, pavements, and lobbies. There also is an acute shortfall in oxygen, medicines, and trained health workers. Hopelessly overstretched, medical personnel are stressed and traumatized. Many have faced violence from the relatives of deceased COVID-19 patients. 
To make matters worse, vaccines are a distant prospect. According to the World Health Organization, Nepal has administered around 2.9 million vaccine doses, enough to fully vaccinate around 5 percent of the population (assuming two doses per person). But the COVAX Facility has been unable to fulfill its commitment to deliver vaccines and the vaccination rate remains sluggish.
In April, the country's Ministry of Health projected that an additional 300,000 people could be infected with the virus by July 15 and that daily cases could reach up to 11,000. While the number of infections recorded since mid-May appears to be lessening, the caseload across the country remains at a peak, amid concerns that infection rates outside Kathmandu are not being fully captured. 
Nepal's Constitution guarantees that "every citizen shall have the right to free basic health services and that no one shall be deprived of emergency health services." It also guarantees the "equal access" for all to health services. The Public Health Services Act, 2018 further consolidated these constitutional guarantees, recognizing citizens' rights to "obtain free basic services including vaccination services and services relating to both communicable and non-communicable diseases." Nepal is a party to the International Covenant on Economic, Social and Cultural Rights (ICESCR), and international law and standards clearly establish that everyone has the right to health, including emergency and preventative care such as vaccines.  
A full analysis of the failures of Nepal's government in preventing, controlling and treating the pandemic is for another day. For now, instead of endless politicking, Nepal's leaders must put their differences aside and work together to facilitate the procurement of oxygen and other desperately needed medicines. Large-scale international assistance and cooperation is also urgently needed to save lives. Now is the moment for states, the U.N., and international NGOs and foundations to come together and heed Oli's appeal for life-saving supplies such as oxygen, medicines, and ventilators. Like every other country in the global south, Nepal also urgently needs more vaccines.
In the words of the U.N. High Commissioner Michelle Bachelet, "vaccines have sadly become the new frontier in the struggle for equality, demonstrating that the gap between rich and poor remains as wide as ever." But this inequality has to be addressed urgently. Wealthier states have an obligation under international law to support other countries to uphold the right to health, especially in the face of a pandemic. This includes finding all ways possible to boost the manufacturing and distribution of vaccines, including through the transfer of technology and knowledge everyone can access vaccines. 
Nepal's leaders must unite and urgently focus on addressing the pandemic and fulfilling its human rights obligations. Likewise, the world must not lose sight of the truth: Until all of us are safe, none of us is safe.