COVID-19: Nepal in Crisis
The coronavirus crisis has brought to the fore — and exacerbated — a number of the Nepali state's long-standing weaknesses.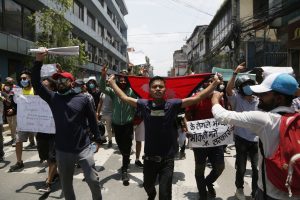 Until late May, Nepal was an outlier in South Asia and the world for its low number and slow rise of confirmed COVID cases. The country went into relatively strict lockdown on March 24 and cases remained under 1,000 up until May 28. However, cases have increased over 10-fold since then as tens of thousands of migrant workers began returning home from India, which eased its internal travel restrictions on June 1, and as Nepal began a phased reopening on June 15. Nepal's case tally is over 12,000 today, although the death rate remains anomalously low — fewer than 30 people have died. This may be partly explained by the fact that, so far, most of the infected have been youth.
Although Nepal has been spared the worst health effects of the pandemic so far, public frustration with the government is growing. In mid-June, groups of middle-class youth took to the streets in Kathmandu and other cities to protest perceived government apathy, incompetence, and corruption. The urban and rural poor have yet to take part in protests in significant numbers, yet they are also experiencing rising levels of anxiety and frustration regarding the government's healthcare and economic response to the pandemic. The coronavirus crisis has brought to the fore — and exacerbated — a number of the Nepali state's long-standing weaknesses like corruption, poor service delivery, and a failure to provide employment opportunities for millions of citizens who instead migrate to the Middle East, Malaysia, and elsewhere for labor jobs — and who now, unemployed, are beginning to return home in droves. These problems pre-date the current Nepal Communist Party (NCP)-led government, but have continued unabated under it.
Corruption has long been a problem within the Nepali state, and even before the pandemic, the NCP, which took power in 2017, was widely seen as lacking initiative to combat it. The corruption issue has continued to dog the government amidst COVID-19 after a healthcare procurement-related scandal emerged in early April. The health minister and several senior advisers in Prime Minister Khadga Prasad Sharma Oli's coterie were accused of taking kickbacks while purchasing Chinese personal protective equipment (PPE) and other equipment, resulting in delays and the delivery of testing machines that did not even work. Two separate investigations are underway. Oli has publicly distanced himself — awkwardly — from the alleged scheme, and has since transferred a number of crisis-related responsibilities to the Army. However, the Army has also been accused of corruption and, unlike other branches of government, is not under the jurisdiction of the government's anti-corruption watchdog agency.
The pandemic has also highlighted long-standing problems in government service delivery. Even during normal times, the public healthcare system is understaffed and under-resourced. Often, rural Nepalis have to travel hours or even days to see a trained doctor. Government medical personnel who are assigned to work in remote areas often abandon their posts and work in cities instead, leaving many essential functions to a rural corps of female community health volunteers.
Healthcare structural weaknesses have manifested in the government's chaotic rollout of COVID quarantine centers and isolation centers throughout the country. Due to a lack of primary care facilities, thousands of infected migrant returnees were put in ad hoc isolation centers, often set up in schools that lacked cooking and bathing facilities and where detainees slept on the floor or on students' benches. Many lack trained medical personnel or ambulances to take patients to a hospital if needed. Due to public outcry over the facilities, in which several people died, the government has recently begun allowing migrant returnees to undergo home-based quarantine and isolation.
Problems in the quarantine, isolation, and testing processes have also been exacerbated by long-standing conflicts between Nepal's federal, provincial, and local governments. Ever since Nepal began a federalization process in 2015, the different levels of government have often argued over budget allocations and overlapping jurisdictional powers. Amid COVID, the federal government has designed most of the policies and guidelines but it has charged provincial and local governments with most of the implementation. Local officials have complained to the provinces and the federal government about a lack of material and financial support, and they have traded barbs over who is responsible for shortcomings.
The pandemic has also highlighted Nepal's failure to provide opportunity and protection for migrant workers, up to a million of whom are now seeking to return to Nepal after losing jobs in foreign countries. Labor migration exploded during Nepal's civil war from 1996-2006. While successive Nepali governments have promised to create domestic employment opportunities so that youth do not need to migrate abroad, they have made little progress. Nepal is the fifth-most remittance-dependent economy in the world, with millions of Nepalis working in India, the Middle East, Malaysia, and elsewhere. Migrant workers are often cheated by manpower companies and employers abroad, with the worst instances of mistreatment — such as the story of World Cup "slaves" in Qatar — making international headlines. Other quotidian abuses take place daily. Meanwhile, the government is often criticized for doing too little to ensure migrant workers' safety.
The pandemic has exacerbated feelings that the Nepali state neglects migrants. In March, the country shut its borders to everyone — even Nepali migrants returning overland from India, who became stranded at the border. Though Indian border restrictions were eventually eased for migrants agreeing to undergo quarantine, hundreds of thousands of migrants still remain stranded in third countries. The government began allowing chartered flights into Nepal's sole international airport in Kathmandu in mid-June, but the task of repatriating workers is far from finished. As of June 25, less than 7,000 have returned from the Gulf and Malaysia, while the government estimates that between 400,000 and 1 million need to return.
Some migrants lack the money to buy a chartered flight ticket to return home. The Supreme Court recently ordered the government to pay for tickets by mobilizing a special welfare fund into which all migrants deposit money before departing, but the government has been reluctant to spend this money. Reports have also emerged that the chartered flights have prioritized passengers with political connections over those most in need, further fueling frustration with the government's handling of the migrant crisis.
Meanwhile, the NCP government has shown a reluctance to bear criticism. During recent weeks the police have dispersed protests with tear gas and water cannons, and the government has sought to silence prominent critics within the bureaucracy. This comes along with an ongoing effort, which began before the pandemic, to pass new laws that could undermine freedom of expression and the free press.
The government's image has been helped, to some extent, by events unrelated to the pandemic. In May, India announced it had completed a new road in Kalapani-Lipulekh, an area along Nepal's western border to which Nepal has long laid claim. India's announcement created a public uproar in Kathmandu. Oli, who in his first term took a popular stand against India's 2015-16 unofficial blockade of Nepal, capitalized on the furor. He led parliament in endorsing a constitutional amendment modifying Nepal's official map to include the area in question — although India still has de facto control on the ground. More recently, parliament endorsed a bill that would make it more difficult for foreigners to become naturalized Nepali citizens through marriage — a move that is targeted at Indians, many of whom inter-marry with Nepalis from the plains, or Madhesis. Public attention has also turned to the ratification of the United States' Millennium Challenge Compact and its possible implications for Nepal's foreign policy vis-a-vis the U.S., India, and China.
However, international relations crises and nationalist posturing are unlikely to benefit the government for long.
The prime minister's most immediate threat is probably not protesters on the streets, but rather members of his own NCP. The NCP was formed through the unification of two communist parties in 2018, but divisions between the heads of the erstwhile parties — the ex-Maoist leader Pushpa Kamal Dahal and Oli himself — remain deep. In April, Oli issued two controversial ordinances that nearly led the NCP to break up. The party was saved only after Oli withdrew the ordinances and agreed to share more responsibilities with other leaders — an agreement that some allege was brokered by the Chinese, who have been strong supporters of the unified NCP. But the party is still riven by factions.
Nepal's coronavirus crisis is poised to worsen in the coming weeks. As the country reopens and allows in more migrant returnees, the infection rate is likely to skyrocket. The Health Ministry recently projected 40,000 cases by mid-July, with 2,000 patients requiring intensive care — numbers the current healthcare system is poorly equipped to handle. As of June 29, under 216,000 PCR tests have been performed, which experts say is far less than necessary as Nepal continues the reopening process. Meanwhile, Oli has begun downplaying the severity of the virus in public remarks. As the health crisis worsens, long-standing governance problems will continue to become more pronounced — and frustration will likely continue to grow.
Peter Gill is a Nepal-based journalist.
Janak Raj Sapkota is a journalist who focuses on migration. He is Senior Sub-Editor at Kantipur, Nepal's largest daily newspaper, and tweets at @janakrasa