Taiwan, US Trade Officials Set to Meet in 'Coming Weeks'
Trade talks might be back on the agenda, picking up the momentum from a flurry of late action by the Trump administration.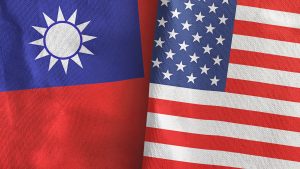 Taiwan and the United States are set to convene a meeting of their Trade and Investment Framework Agreement Council in the "coming weeks," the office of U.S. Trade Representative Katherine Tai said on June 10.
Tai met virtually with Taiwanese trade negotiator John Deng on Thursday, days after U.S. Secretary of State Antony Blinken signaled the pending resumption of trade talks. Deng's office called the conversation "harmonious and constructive."
The announcement also comes shortly after three U.S. senators visited Taiwan aboard a C-17 U.S. military aircraft – the first time a U.S. military plane had touched down in Taiwan in decades. The senators promised the United States would give Taiwan 750,000 doses of COVID-19 vaccines.
U.S. President Joe Biden has maintained Washington's steady support of Taiwan, which enjoys bipartisan backing. Still, many analysts had expected Biden to shelve trade talks with Taiwan as he focused on domestic political priorities.
The talks may not have to wait much longer. Blinken, when asked about the administration's position on a bilateral trade agreement with Taiwan at a June 7 House committee, said the United States is "engaged in conversations with Taiwan, or soon will be, on some kind of framework agreement, and those conversations should be starting."
These conversations do not mean the U.S. will commit itself to pursuing a bilateral trade agreement, and many obstacles remain before such a pact becomes a reality.
Taiwan's President Tsai Ing-wen has already removed one of them. In a politically risky move to bolster her long-time push for a trade pact, her administration lifted bans on U.S. pork containing the controversial feed additive ractopamine.
Removing the ban was seen as a precondition to the U.S. considering a trade pact. But it may not last, as Taiwanese voters will decide whether to reinstitute a ractopamine ban in an August public referendum.
Taiwan and the United States inked a memorandum on economic cooperation last November, part of a late push by the team of then-President Donald Trump to restart trade talks that had been dormant since the administration of his predecessor, Barack Obama. The Trump administration had previously focused its efforts on trade negotiations with China.
Taiwan has also expressed its interest in joining the Trans-Pacific Partnership, which was originally conceived by the United States to link it with Asian countries and counter the economic influence of China. Trump, however, withdrew the U.S. from the pact in 2017.
A senior official at Taiwan's economic ministry told Reuters this week the country is "cautiously optimistic" about resuming Trade and Investment Framework Agreement talks this year.
Beijing, meanwhile, has expressed its opposition to the U.S. holding economic talks with Taiwan. Zhao Lijian, a spokesperson for the Chinese foreign ministry, said on June 8 that Washington should "stop any form of official exchanges with Taiwan, handle the Taiwan issue cautiously, and refrain from sending any wrong signals to Taiwan independence forces."
Days earlier, China's Defense Ministry called the visit to Taiwan by three U.S. senators an "extremely vile political provocation." In response, Chinese internet users took to social media to criticize their government's inaction.