Timor-Leste's Bid for ASEAN Membership Tarnished by Myanmar Vote
Abstention on the U.N. resolution is a "vote of shame," says Nobel laureate.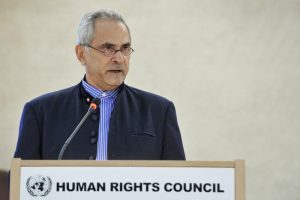 Timor-Leste is emerging as an unlikely regional diplomatic player amid a renewed push to gain membership of the Association of Southeast Asian Nations (ASEAN) when Cambodia takes over the bloc's rotating chair next year.
Cambodia is backing the bid after earlier expectations, including membership by 2018, failed to materialize. But the stakes are high, and led to an unfortunate result: Dili sided with Phnom Penh in abstaining from a vote on a nonbinding resolution in the United Nations General Assembly condemning Myanmar's military junta.
Abstaining from the vote, which also called for a curb on weapons sales to the junta, was widely interpreted as a sell-out for a tiny country with a violent past, but one that desperately needs Myanmar's support if it is to become the 11th member of ASEAN.
Former President Jose Ramos-Horta apologized, describing the decision as a "vote of shame" and said to his "utter dismay" his country had only isolated itself within ASEAN after Indonesia, Malaysia, the Philippines, Singapore, and even Vietnam supported the U.N. resolution on Myanmar.
The 1996 Nobel Peace Prize laureate couched it like this: "Abstention on a violent military coup, abstention on the murder of more than 800 civilians, on the incarceration of the elected national leaders, on the targeted assassination of youth, artists, writers, singers, dancers."
At home, Parliament had already approved a resolution calling for a solution to the crisis. Ramos-Horta noted that the prime minister, president, and senior people in foreign affairs were not consulted over the vote and asked: "Who made the decision?"
Brunei, Laos, Thailand, and Cambodia joined China and Russia in abstaining as 119 countries passed a resolution that was nonbinding, but at least put the junta on notice and will help lay the legal groundwork needed to prosecute Myanmar's generals in future.
Those abstentions should come as no surprise.
Brunei is a shariah state ruled by an absolute monarch. Laos is a hermit-like one-party communist state heavily indebted to China, while Thailand's rulers hail from the military classes who came to power through their own coup d'etat in 2014.
And while Dili might have secured Myanmar's backing for membership to ASEAN by abstaining from the vote, its move will hardly impress Singapore, the one country within the bloc that to date has opposed Timor-Leste's entry to the bloc.
Other members might now also be prompted to rethink their support for Timor-Leste's entry to ASEAN, despite a statement from the Foreign Ministry justifying the abstention on the grounds that "there was no common position among the ASEAN member states."
Does it really need to be said that Timor-Leste is not yet a member of ASEAN, is an independent country, and can vote with its own conscience?
Getting Dili into the regional bloc is a tall order for Cambodia, also a one-party state and one that hardly ranks among the powerful members of ASEAN.
Its influence will be greatly enhanced when it takes the chair and can form its own agenda with Timor-Leste's ASEAN ambitions near the top. But Cambodia can only punch above its weight because of its unique and close ties with China.
That will put Phnom Penh in the hot seat. Prime Minister Hun Sen will have to deal with an increasingly hostile West, fed-up with Beijing's bullying in international waters and its ludicrous maritime claims from the Indian to the Pacific oceans.
He will also have to contend with ASEAN's fading relevance as reinvigorated Western alliances embark upon a long-overdue challenge of the status quo in East Asia, including the Quad, CANZUK, and the Indo-Pacific strategy.
Timor-Leste needs to tread carefully in the rapidly evolving security environment.
Its democracy was forged in blood during the fight for independence and the carnage of the late 1990s. It consistently ranks higher as a democratic state than other members of ASEAN and Dili simply does not belong on the Myanmar abstention list.
The idea that Timor-Leste can win ASEAN acceptance by abstaining and effectively handing Myanmar's junta tacit support in the U.N. is as cowardly as it is disturbing, particularly in light of its own tragic past.