Kim Joon-hyung on How Seoul Can Lead Denuclearization on the Korean Peninsula 
The Diplomat's Mitch Shin interviews Dr. Kim Joon-hyung, chancellor of Korea National Diplomatic Academy, on the Korean peace process.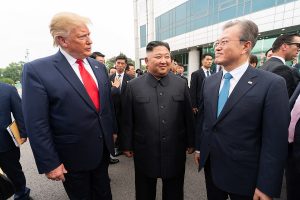 Since South Korean President Moon Jae-in took office in 2017, he has been actively seeking opportunities to lead North Korean leader Kim Jong Un to engage in his primary agenda – building a "nuclear-free" and "peaceful" Korean Peninsula. He and then-U.S. President Donald Trump each had summit meetings with Kim, but the trilateral dialogue and negotiations for the denuclearization of the Korean Peninsula stalled after 2019 Hanoi Summit broke down without productive results. Moon leaves office in May next year – what can he achieve before then?
For an in-depth look, the Diplomat's Mitch Shin interviewed Dr. Kim Joon-hyung, chancellor of the Korea National Diplomatic Academy (KNDA) and professor of international studies at Handong Global University in South Korea. Kim was a member of Moon's presidential campaign team, providing consulting and writing major foreign policies. After Moon was elected, Kim joined the Government Transition Committee and became a member of the Presidential Commission on Policy Planning (in the Security and Foreign Policy Subcommittee). In addition to that, he belongs to Advisory Committees for the Ministry of Foreign Affairs, Ministry of Defense, Ministry of Unification, and National Security Council. Dr. Kim earned his bachelor's degree at Yonsei University (1986), and M.A. and Ph.D. at George Washington University.
The interview below has been lightly edited for clarity.
Since President Moon took office, how has South Korea's diplomacy or foreign policy changed?
The first and most striking difference is the commitment to the peace process on the Korean Peninsula. Preventing another war and building sustainable peace on the Peninsula has been President Moon Jae-in's signature policy. In 2017, the Moon administration faced the Trump administration's hardline policy toward Pyongyang and North Korea's completion of its nuclear weapons program that could have erupted into a military conflict on the Peninsula. However, President Moon's commitment and efforts resulted in successful summits in Panmunjom, Singapore, and Pyongyang in 2018. Of course, the setback in Hanoi has led to a long deadlock, but tensions have been drastically reduced compared to 2017 when President Moon took office, and North Korea has not conducted strategic provocations – nuclear and ICBM tests – for years.
The second difference is the diversification of Korean diplomacy. It would not be an overstatement to say that Seoul's diplomacy used to focus mostly on the U.S. and North Korea in the past. However, over the past four years, Seoul has diversified diplomatic counterparts, re-orienting its diplomatic overtures toward broader regions. In particular, the New Southern Policy and New Northern Policy, which I first coined the terms for and wrote about from the initial stage in President Moon Jae-in's election camp, are the key achievements of the diversification of Korean diplomacy. In addition, the recent Korea-U.S. summit and G-7 meetings showed that Korea's national power and international standing increased further. This is attributable to Korea's strengths in the two most important "value areas" in the current international order – value system and value chain. Korea is now to play an important role in value areas such as democracy and human rights, and Korea has been perceived as a critical link in global value chains – semiconductors, batteries, and biotechnology. And Korea will likely play a greater role on multiple fronts on the international stage in the coming years.
Can the unification and denuclearization of the Korean Peninsula be achieved through the Korean government's diplomacy?
Normatively and realistically, there is no choice but to resolve the North Korea and unification issues through diplomacy. First, the recurrence of war on the Korean Peninsula can never be acceptable. It is also unacceptable to turn a blind eye to North Korea's nuclear weapons program and recognize it. Some argue that tightening sanctions could lead to a North Korean regime collapse, but history tells us otherwise. The imposition of stringent sanctions itself has never led to regime collapse. It seems to me that North Korea's regime collapse is simply a myth or wishful thinking. After the collapse of the socialist camp in the 1990s, the possibility of a North Korean collapse drew much attention. North Korea, however, has survived the so-called "Arduous March," the 1990s famine that killed more than 2 million of North Koreans, natural disasters, and diplomatic isolation, and even succeeded in developing nuclear weapons. Recently, with North Korea facing a complex set of challenges posed by the COVID-19 pandemic, flooding, and sanctions, speculations over the possibility of regime collapse and the reinforcement of sanctions emerged again. The situation in North Korea is difficult, but it is far from regime collapse.
Bringing up the issue of regime collapse would only create a vicious cycle in which North Korea keeps launching strategic provocations to show its robustness. Although the current sanctions against North Korea are the strongest in the U.N.'s history, the impact on the Kim Jong Un regime's survivability seems overestimated. China and Russia will not let North Korea collapse either. After all, diplomatic negotiations are the only way out.
Regarding the issue of unification, I believe the two Koreas could achieve it once the two sides build sustainable peace on the Korean Peninsula so that neither side is perceived as a threat. In this regard, unification will be possible only after achieving peace on the Korean Peninsula through diplomacy. Korean unification is more about the process than the outcome. President Moon and I are basically in agreement on this.
Does Washington actually want the denuclearization of the Korean Peninsula? What kind of relationship does Washington seek to build with North Korea?
I am quite sure that there are different views in Washington's political circle. Some would sincerely want North Korea's denuclearization while others want to use the North Korean challenges to provide leverage against a rising China and strengthen the U.S. alliance in Northeast Asia. But more to the point, the denuclearization of North Korea is not an urgent issue in U.S. diplomacy although it is one of the key issues. And it appears that many in Washington view the issue as a high-risk, low-return agenda that has lasted more than three decades.
Pyongyang has claimed that it has developed its nuclear weapons program because of Washington's hostile policy and that it will denuclearize itself only when Washington withdraws that stance first. But the U.S. has demanded that Pyongyang act first by dismantling its nuclear weapons and facilities. However, it seems unlikely that Washington will move first to make breakthroughs as it is facing pressing domestic issues. North Korea has refrained from relying too much on China, saying it wants to improve ties with the U.S., and even said that it could play a role in keeping China in check, as India and Pakistan have done. But it appears that the U.S. is not intent on doing so.
It is often the case that Washington demonizes Pyongyang out of deep-seated distrust and is reluctant to negotiate with Pyongyang. From Washington's perspective, North Korea is the object to defeat ultimately, not just a negotiation counterpart with good intentions. It is correct that North Korea is a one-man dictatorship and the people have been suffering under tyranny. Nevertheless, it should be recognized as a dialogue partner, because doing so is in the interests of both Seoul and Washington and would open up avenues for denuclearization and sustainable peace on the Korean peninsula. Former Ambassador to ROK Donald Gregg said in his memoir that the biggest reason behind the failure of U.S. foreign policies was the tendency of demonizing leaders or groups in hostile nations.
Can the South Korean government persuade Washington hawks and politicians who are pessimistic on dialogue with North Korea?
For now, the U.S. holds the key to breaking the current impasse. So, it is most critical to persuade Washington. The priority should be dispelling some of the prejudices that the U.S. holds. The two things I have already mentioned are the myth of North Korean collapse and demonization of North Korea. The next is the premature conclusion that Pyongyang will never give up its nuclear weapons program and that dialogue is a time-earning tactic to strengthen its nuclear capabilities. North Korea's willingness to denuclearize itself is not a fixed principle. Instead, its willingness is likely to change depending on conditions and circumstances. Chairman Kim Jong Un's denuclearization promise is conditional after all, which means that he will drop nuclear ambitions only for something better than possessing the weapons. From where we stand, it is reasonable to persuade the North to give up its nuclear weapons program as fast as possible with the slightest concessions. However, from Pyongyang's perspective, it is reasonable to get the most out of the negotiation process, not giving up its nuclear programs until the last minute. The skepticism over North Korea's willingness to denuclearize itself can motivate the North to further advance nuclear and missile capabilities.
The Korean government needs to persuade the U.S. to adopt a different approach. The U.S. needs to adopt a phased approach rather than a comprehensive. Of course, it is understandable that the U.S. is sick of Pyongyang's "salami tactics." However, considering North Korea's nuclear advancements and the diversification of its capabilities, the "one-shot" solution is no longer feasible. Steering the denuclearization process in two or three stages could be most reasonable and effective. In the context of the Korean government's consistent stance – "comprehensive agreement, phased implementation" – the Hanoi summit can be considered an intermediate stage, and efforts were made to close part of the Yongbyon nuclear complex in exchange for the lifting of sanctions. As U.S. Secretary of State Blinken said, "Now the ball is in North Korea's court." However, that kind of approach only causes a delay in solving the problem, raising the possibility of the return of strategic patience. The best starter at this moment would be providing humanitarian assistance, including COVID-19 vaccines, food, and fertilizer, through international organizations to underscore good intentions without setting preconditions for the resumption of nuclear talks.
Would China support the U.S. and South Korea's plans to lead the denuclearization of the Korean Peninsula?
China has consistently opposed North Korea's possession of nuclear weapons and even agreed to impose U.N. sanctions. However, the extent to which Beijing recognizes Pyongyang's nuclear weapons as a threat is very different from that of Seoul and Washington. In particular, China does not intend to achieve North Korean denuclearization by pressuring it to an extent that damages its relationship. And at a time when the U.S. is trying to strengthen the ROK-U.S.-Japan alliance to keep China in check, Pyongyang can at least serve as a buffer state. Taken together, China is less likely to push too hard to denuclearize North Korea, even if China supports the DPRK's ultimate denuclearization
During the Obama era, the U.S. maintained strategic patience and urged China to use its leverage over North Korea to pressure the regime. China refused to take concrete action, claiming that its leverage over North Korea is not as strong as the U.S. thinks. When the Trump administration bypassed China and negotiated directly with Pyongyang, Xi Jinping tried not to be sidelined by meeting with Kim Jong Un several times, and North Korea leveraged its relations with China to negotiate with the U.S. For this reason, Trump later put the blame on China for the failed negotiations.
The Biden administration has called North Korea's denuclearization a possible area of cooperation with China, along with climate change and the coronavirus pandemic. Diplomacy is necessary to encourage China to be an important contributor to denuclearization and peace on the Korean Peninsula in order to prevent China from using North Korea as a means of countering the United States. In this regard, the Beijing Winter Olympics could be a good opportunity. China also could take the Olympic Games as an opportunity to promote its image as an important contributor to world peace, not a threatening country that seeks to change the international order as portrayed by the United States.
What principles should South Korea follow to formulate a foreign policy between the two superpowers, the U.S. and China?
The number of U.S. allies and partner countries combined is about 60 countries, and the number of countries having China as the No. 1 trade partner exceeds 110. The problem is that most of these countries overlap. Korea faces the biggest burden, as the country's economy heavily depends on China while it relies greatly on the U.S. in terms of security. But as a matter of fact, the entire world is now caught between the two great powers. Currently, Korea is trying to keep its foreign policy underpinned by the ROK-U.S. alliance while refraining from damaging its relations with China. This is different from strategic ambiguity, and it is not about seeking a pure balance. If the two Koreas choose a path that leads to confrontation amid the U.S.-China strategic competition, the Korean Peninsula could become the center of the New Cold War. To avoid this, it is necessary to actively communicate discourse on peaceful coexistence. The Korean Peninsula must show the world that it can overcome its "peace deficit" and send compelling messages to the broader international community.
Next, it is necessary to work together with countries that have the same stance to prevent the revival of geopolitics and restore the liberal international order. Instead of being forced to choose between the U.S. and China, we can establish the so-called "third zone" in solidarity with countries that share the same vision and will. Pivotal countries such as the ROK, France, Germany, Canada, and ASEAN member states can work together to buffer the U.S.-China conflict and avoid making a binary choice, while assisting developing countries that are suffering from the disappearance of global governance. One specific example can be the recent blame game between Washington and Beijing over the WHO investigations into COVID-19 origins. Although it is difficult to find a clear scientific answer, the investigations are quickly becoming politicized, creating a framework that forces other nations to choose a side. Against this backdrop, South Korea should make diplomatic efforts to lead international discourse by sending a message that the international community must now focus on resolving the most pressing problem – the global spread of COVID-19 together. And as a country with a successful quarantine strategy, Korea can and must prove that it is the world's vaccination hub with leading technologies that power our COVD-19 response.