Why Is China Looking to Establish Banks in Nigeria?
For China, the establishment of banks in Nigeria presents an opportunity to further integrate itself with the financial systems of the African continent.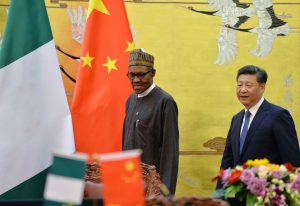 During the commemoration of the 2021 Chinese Mid-Autumn Festival in Nigeria's capital city, Abuja, Chinese Ambassador to Nigeria Cui Jianchun announced that he was in talks with some of China's big banks to establish operations in Nigeria. Cui talked up Nigeria and China's growing links and spoke about the importance of banking and banking systems in the development of both countries. He then spoke about potential conversations with Nigeria's Central Bank and the Nigerian central government in Abuja about establishing a substantial banking presence in Nigeria.
This new proposal of deeper financial links is a solidification of China-Nigeria relations. In 2018, Nigeria and China signed an initial three-year currency swap agreement that saw Nigeria move some of its foreign reserves to China. The size of the swap deal was put at 15 billion renminbi or 720 billion naira.
The currency swap deal was the beginning of a change in relations between Nigeria and China, and in fact a change in relations between China and the African continent as a whole, where financial deals had long centered on loans for infrastructure and trade. In 2020, Zimbabwe became the fourth African country after South Africa, Nigeria, and Ghana to sign a currency swap agreement with China.
In recent times, the African trade landscape has seen a large and monumental shift from colonial trade routes to majority trade with China. China is now sub-Saharan Africa's most visible and biggest trade partner.
Since the early 2000s, China's trade with Africa has increased by over 2,000 percent, reaching $200 billion in 2019. China has since announced its $1 billion Belt and Road Africa infrastructure development fund to help build roads and necessary infrastructure to aid trade on the continent. But the African continent has also seen a change in its business landscape. As of 2017, there were reportedly over 10,000 Chinese-owned firms operating across the continent. These Chinese businesses are valued at over $2 trillion.
China has been positioning itself as a growing superpower offering an equal economic partnership different from the West. But its presence in Africa is strategic. While providing loans and investments to African countries in accordance with its non-interference policy, which means these investments have no strings attached, it is able to develop new allies.
Nigeria, at least on paper, has been a leader on the African continent. Thus, this new proposal by China presents an opportunity for China to further integrate itself with the financial system of the continent. But for Nigeria, it is also a chance to lead, perhaps as a financial hub for the continent – something like a pre-Brexit London. For China, the establishment of banks in Nigeria and subsequently on the continent is meant to help achieve its goal of becoming a global reserve currency.
"This is all part of a carefully constructed strategy by China to broaden the acceptance of the yuan as a global reserve currency," Arthur Dong, a teaching professor of strategy and economics at Georgetown University's McDonough School of Business, told The Diplomat. "China has chosen Nigeria for a specific reason. It's oil. Nigeria being an OPEC member state records its oil sales in dollars. This move is to persuade the energy sector in Nigeria to accept payments for its oil in yuan."
Looking at the conversations around climate change, the rest of the world is moving on from the petroleum driven economy. The world, however, is still decades or even a century away from shifting completely away from petroleum and fossil fuels. Meanwhile, China is a big and growing player in the supply of rare earth elements, the very elements that are supposed to take over from petroleum.
For sustained clean energy and growth in the world today, materials like lithium, cobalt, praseodymium, and other resources essential for the production of electric cars, cloud and quantum computing, medical and telecom devices, are crucially important. To this end, China has been making inroads in Nigeria and the rest of Africa.
"Petroleum is not a good growth opportunity. While for the rest of our lifetime, it will remain a commodity, it is far more likely that the points for growth will be in education, healthcare, and agriculture," Matthew Page, an expert on Nigeria at the Carnegie Endowment for International Peace, explained to The Diplomat. "The Chinese financial, banking and trade relationships will be a more serious driver for global importance especially in Africa."
Through its spending sprees, China has been able to adjust African policy in its favor. After a $40 billion pledge in Chinese investments to Nigeria, the Nigerian government adjusted its diplomatic relationship with Taiwan and ordered its trade mission out of Nigeria's capital of Abuja. In the U.N., 25 African countries backed Beijing during a recent vote about the Hong Kong national security law.
These spending sprees have also offered China the opportunity to gain concessions and rights to mine in African countries. In 2008, the Democratic Republic of Congo's national mining company gifted concessions to Chinese miners. In Nigeria, the Chinese government has made solid inroads with the state governments, giving Chinese companies access to mine gold in the country.
A closer look at Africa's trade balance with China reveals the downside of the current relationship, however. In 2019, Africa's trade deficit with China was over $17 billion. Due to the nature of African markets, in which exports are dominated by primary goods, countries like Nigeria have a heavy trade imbalance with China. The production value of goods is often not high enough to create local jobs, so they are shipped off to China for processing and then reimported back into the country.
This deficit has basically shifted Africa's economic dependence from its older colonial partners to China.
At the same time, financial intertwining of this scale will definitely help Nigeria, especially in the short term. This move will allow for Nigeria and Nigerians to tap into Chinese capital beyond government loans and aid for development. Chinese banks and an expansion of the currency swap between both countries will help stabilize Nigeria's forex market. The establishment of new Chinese banks in Nigeria will provide more jobs and new businesses in the country.
That said, the proposal for Chinese banks is not a magic wand that the government can simply wave in order to change its fortunes. The Nigerian government has in recent times positioned itself as anti-investment and business; it recently froze the bank accounts of a number of fintech companies.
Nigeria does not exactly present as a great investment opportunity at the moment. The quality of the market as well as the government's many missteps regarding its economic policy makes it volatile.
"The crackdown on fintech companies has done a lot of damage to Nigeria's status in finance in the world. The potential alliance with China is not sufficient to make Nigeria a major financial fighter beyond what it currently is," Page said.
But China still sees a valuable opportunity in Nigeria and, by proposing an intertwining of financial futures, is getting more skin in the game.
Meanwhile, China's economic stability has also been called into question. China's recent crackdown on its rich and wealthy makes it an unlikely destination for wealth flow. "The U.S. is still the world's safe haven. It offers a stability that China does not. When things get tough, people and their capital moves to the United States and not to China," Dong explains.
In other words, China and Nigeria are both fighting uphill battles in their respective races to global and regional dominance.
Meanwhile, China has been in a Cold War-style battle with the U.S. and the West for global dominance. That puts Nigeria and other African countries indirectly in the middle of a power contest between China and the United States.
The gains from a potential intertwining of Nigeria's financial system with China's are still years away from being realized. China has shown and proven that it is interested in playing the long game. Dong believes that the United States should not be underestimated in its ability to maintain its status as a world power, but very recently, China has made significant inroads on the African continent, especially with its soft power initiatives.
Still, the problems with Chinese investment and funding on the continent are regular talking points. One charge commonly laid against China is the problem of debt traps on the continent. However, the state of many African economies as well as the lack of political and economic savvy by leaders on the continent points to a much larger problem. As long as those issues, remain unresolved, even if the West increased its investment on the continent, it would still be seen as a debt trap. Future African leaders and generations will have to deal with the potential economic fallout, regardless of who they partner with.
While there are growing sentiments in Nigeria and around the continent that China is turning Africa into an annex, there is a good faith argument to be made for China in Africa. As the latest proposal shows, China has identified Africa as a business opportunity, beating the West's short-sighted approach to the continent.