China Snubs India, Backs Pakistan in Dueling Afghanistan Meetings
China bowed out of security talks on Afghan in New Delhi, but will join a similar meeting in Pakistan held the next day.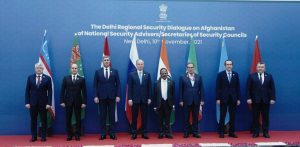 China will take part in "extended troika" talks on Thursday, as officials from China, Russia, and the United States will gather in Pakistan to discuss Afghan issues. Notably, Afghanistan's foreign minister, Amir Khan Muttaqi, will also be in Islamabad for the meeting, making him the first minister from the Taliban's interim government to visit Pakistan.
The extended troika meeting will be the first to bring together all the parties since the Taliban took over Afghanistan in August. A previous iteration, hosted by Russia in October, was not attended by the United States.
"Troika Plus has become an important forum for engagement with Afghan authorities," an unnamed Pakistani diplomatic official told Dawn. "It will express support for an inclusive government, discuss ways to prevent a humanitarian crisis in Afghanistan as well as the protection of human rights, particularly women's rights."
China will be represented at the meeting by Special Envoy for Afghan Affairs Yue Xiaoyong. "China supports Pakistan in hosting this extended meeting of the China-U.S.-Russia consultation mechanism and supports all international efforts conducive to promoting peace and stability in Afghanistan and building consensus among all parties," Chinese Foreign Ministry spokesperson Wang Wenbin told reporters on Wednesday.
Beijing was not as supportive of similar multilateral talks in India on Wednesday, however.
The troika talks in Pakistan come the day after India held its own multilateral meeting centered on the situation in Afghanistan. India's National Security Adviser Ajit Doval hosted security chiefs from Iran, Kazakhstan, Kyrgyzstan, Russia, Tajikistan, Turkmenistan, and Uzbekistan in New Delhi on Wednesday. Afghan representatives – or, to be blunt, Taliban representatives – were not invited.
Pakistan was invited but refused to participate in the New Delhi-led talks, with Pakistan's National Security Adviser Moeed Yusuf last week calling India a "spoiler" and not a "peacemaker" in Afghanistan. Pakistan has a long-standing distrust of Indian engagement with Afghanistan, fearing encirclement by its archrival.
China bowed out of the New Delhi talks as well, though more politely: Wang, the Foreign Ministry spokesperson, told reporters that "China is not able to attend" the India-hosted meeting "due to scheduling reasons."
In addition to showing support for its "iron brother," Pakistan, China has its own tensions with India stemming from simmering tensions along their unsettled border.
A joint statement released after the meeting in New Delhi said the eight participating nations discussed the ramifications of the Taliban takeover of Afghanistan, including threats arising from terrorism, radicalization, and drug trafficking as well as the need for humanitarian assistance. The statement also called for "ensuring that fundamental rights of women, children and minority communities in Afghanistan are not violated" and emphasized the need for "an open and truly inclusive government in Afghanistan."
The extended troika talks in Pakistan are expected to cover similar ground, but with a different cast of characters. Russia will be the only country to take part in both dialogues.
The New Delhi meeting was the third round of a format called the Regional Security Dialogue. The first two meetings, with some variation in the guest list, were hosted by Iran in 2018 and 2019. China had attended both iterations in Tehran.
India's foreign ministry officials said Pakistan's refusal to attend the meeting was "unfortunate, but not surprising" and "reflects its mindset of viewing Afghanistan as its protectorate." Indian officials, by contrast, downplayed China's non-participation, saying that bilateral consultations between China and India on Afghan issues were ongoing.
Sheikh Saaliq of the Associated Press contributed reporting from New Delhi, India.