Japan Steps in to Support India Against China in South Asia
The Quad may still be a mist-covered structure but Indo-Japanese cooperation against China is becoming more concrete.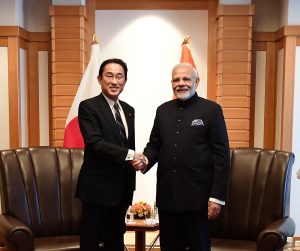 When it comes to the economy, the sun of China's might is casting a Himalayan shadow over India. The result of this disproportion is felt not only in their bilateral relations, but in China's growing economic involvement in India's immediate neighborhood and New Delhi's limited scope of reactions. Over the last few years, however, one of the countries that has offered India various types of assistance on this front is its Quad partner Japan.
Briefly speaking, there are four areas where Indo-Japanese cooperation against China can be noticed: growing security collaboration; Japan's promises to help India reduce its economic dependence on China; Japanese assistance in enhancing infrastructure connections between India and its neighbors, and joint Indo-Japanese projects in smaller South Asian states.
A Partnership Based on Bases?
There is currently no evidence of a Chinese naval presence in most South Asian countries. All talk of a "string of pearls" – a chain of navy bases which the People's Liberation Army-Navy (PLAN) was to surround India with – turned out to be more fiction than reality. China does not seem to be operating a navy base anywhere in South Asia, and does not even seem to have rights to possess one. The only exception may be in Pakistan, but even there evidence of a permanent military presence has not appeared to date, and there is no proof that the Gwadar port is becoming such a base – though some observers point out that such a base may potentially be established elsewhere in the Gwadar district. 
At the same time, what China is actually doing in the Indian Ocean with a growing number of naval appearances, and with the opening of a base in Djibouti, is concerning enough for India. There is also no denying such developments are seen as a security challenge in New Delhi. 
Deepening cooperation between India and Japan is a reply to the aforementioned process. These avenues of collaboration include joint naval exercises, the entire Quad framework, and the current negotiations of a bilateral agreement that would reportedly allow India to use the Japanese base in Djibouti and allow Japanese forces to use the Indian facilities on the Andaman and Nicobar islands. 
Additionally, Japan is providing grants in aid to enhance power generation on the same archipelago. While this a project for civilian purposes, there is no denying it is being realized on sensitive territories: the isles are India's first line of defense in case of China's naval threat.
Make South Asia Less Dependent (on China) Again
Japan has been involved economically in India, and elsewhere in South Asia, for decades. Tokyo's engagement has usually been seen as primarily economic in nature, rather than politically motivated. Most of Japan's activities in this area are still arguably apolitical. Yet recently, some joint Indo-Japanese undertakings have been seen as aimed at countering growing Chinese influences South Asia.
Support of this kind – helping India reduce its economic dependence on China – is new, but so far is only promises and announcements. The 2020 tensions in Ladakh strengthened New Delhi's resolve to decrease imports from China by offering incentives to domestic producers and talking of better conditions for foreign, non-Chinese investors. The Indian government has also become more wary of China in the cybersecurity sector, a development that can be seen in its sterner approach to building 5G networks by apparently deciding to exclude Chinese firms. It is of little surprise that in the same period Japan started to offer its assistance in building such networks in India.
Second, Tokyo is helping New Delhi to improve its infrastructure connections with neighbors. It may be argued that such projects could have taken place anyway, regardless of the state of Sino-Indian relations. And yet, Japan is visibly helping India exactly in those regions that New Delhi considers sensitive (the Northeast) and in building connections to some of the countries where India is wary of Chinese influence (Bhutan, Bangladesh, Myanmar). Japanese funds are being used, among others, to develop highways in northeastern states like Mizoram, Meghalaya, and Tripura, with a plan to improve connectivity in this underdeveloped Indian region, but also with Myanmar. This does not mean that such infrastructure will be used for military reasons but rather, more simply, it is meant to deepen India's connections with its neighborhood, and hence indirectly decrease the fear of Beijing's influence.
Third, Indo-Japanese nascent cooperation on containing China in other parts of South Asia is visible, even if nascent. In Bangladesh, a Japanese and Indian company jointly won a project to build the Dhaka Metro Rail Line-6 in 2018, and this has been portrayed by some as an aspect of rivalry with China. The connection of this contract to geopolitics may be disputed, however.
As for Sri Lanka, the Colombo port story is probably the best-known case of an Indo-Japanese undertaking that was seen as an attempt to balance Sri Lanka's new overdependence on China. During the previous Sirisena-Wickramasinghe government, a deal was signed according to which Indian and Japanese firms would jointly develop the East Coast Container Terminal in Colombo port. Given that the island nation is already massively indebted to China as a result of the Hambantota port project, an Indo-Japanese engagement in Colombo could have offered Sri Lanka a chance not to further deepen its financial dependence on China. However, under a new political regime (of the two Rajapaksas: the president and the prime minister) the deal was cancelled by the Sri Lankan government at the beginning of 2021. The official explanation is that in return for their financial assistance, the Indian and Japanese companies wanted to obtain a 49 percent stake in the terminal, while Colombo has decided to keep the terminal's ownership to itself. While more recent reports suggest the project has been given to a Chinese company, this has yet to be confirmed.
As what seems to be its own act of balancing, the government of Sri Lanka has at the same time (February 2021) announced that another terminal in the same port, the West Coast Container Terminal would be developed by Indian and Japanese firms. In this case, it was initially reported that Colombo would have accepted foreign ownership of the stake, and even a majority share, given that the terminal project would have to start "from the scratch." A few months later, it has been reported that the project has been awarded to an Indian company, the Adani Group, although once again it is better to watch for further news of these developments. Such wrestling matches between Indo-Japanese tandems and Chinese firms for infrastructure projects in South Asia are a type of event which we may witness again in the coming years.
Finally, the Quad group has started promising to jointly provide vaccines to the countries of Southeast Asia, but also, more broadly, the Indo-Pacific region. Given the current circumstances, the most likely scenario would be that three Quad members – U.S., Australia, Japan – would provide funds to even more enhance vaccine production in the fourth, India, from where such vaccines could be sent to other countries. It is equally expected that such moves would be meant to counter Chinese influences in states that have been receiving or purchasing COVID-19 vaccines from China.
The Partnership of One Who Needs With One Who Can
Nascent Indo-Japanese cooperation against China in South Asia has two main aspects: the security level, where the goal is to deter further Chinese naval inroads by demonstrating a growing partnership; and the economic level, where the goal is to reduce dependence on China where it has been growing (in India and elsewhere), or partially avoid its growth by deepening India's cooperation with smaller neighbors. It is, in a nutshell, a partnership of one country that by virtue of geography has to fight off Chinese influence but lacks sufficient funds with another country that has more funds and wants to deter Beijing as well, but is further removed from the subcontinent. For Japan, the South Asia region is, of course, not a geographical bulwark against China but perhaps something of a secondary front, an area where it would be good to try halt China's march, since there is money available to do it, and political will to try. 
What is noticeable, however, is that so far other Quad nations have not worked with India on similar projects in South Asia (when it comes to economics – for when it comes to security, the U.S. has deepened its cooperation with India more than Japan has). If deterring China in South Asia is to be taken seriously by the Quad, Washington should step in to collaborate in the joint economic front as well.